The trailer of Jayam Ravi's much-awaited film, Comali, is finally out. The actor had earlier dropped nine posters of the film since he will be donning nine different looks in the film including that of a caveman. Kajal Aggarwal plays the female lead in the film that also has Yogi Babu playing a pivotal role. Not just the actor but fans are also equally thrilled about the film.
[wp_ad_camp_1]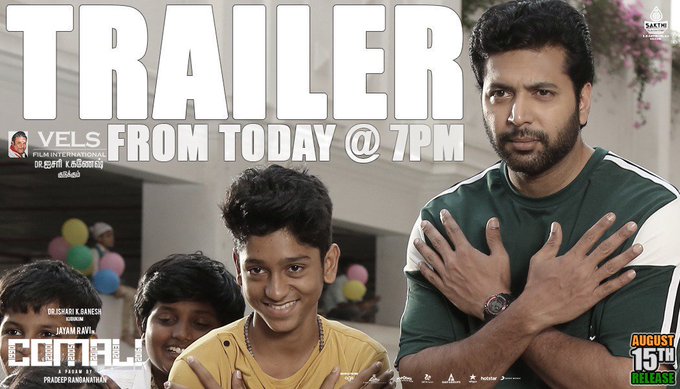 Comali does come across as a really interesting film that will leave you in splits. Considering Yogi Babu is also an important part of the film, you know it's going to be a laughter riot. The trailer shows Jayam Ravi waking up from Coma after 16 long years. The issues he is facing due to this health issues seems to be the plot of the movie.
Watch the trailer here :
Towards the end, the makers decided to take a sly dig at the political entry of Superstar Rajinikanth. To prove that they are living in 2016, Yogi Babu switches on the TV in which we can see Rajinikanth announcing his political arrival. Jayam Ravi who denies to believe it says that it is 1996. This irked many Rajinikanth fans who considered it as a severe mocking. Many started trending hashtags such as #BoycottComali, #நாளைய_தமிழகம்_ரஜினி etc. Few stated the fact that the day Rajinikanth announced his political entry is December 31, 2017 not 2016. Fans also said that Rajinikanth has never officially announced his political entry before 2017.
[wp_ad_camp_1]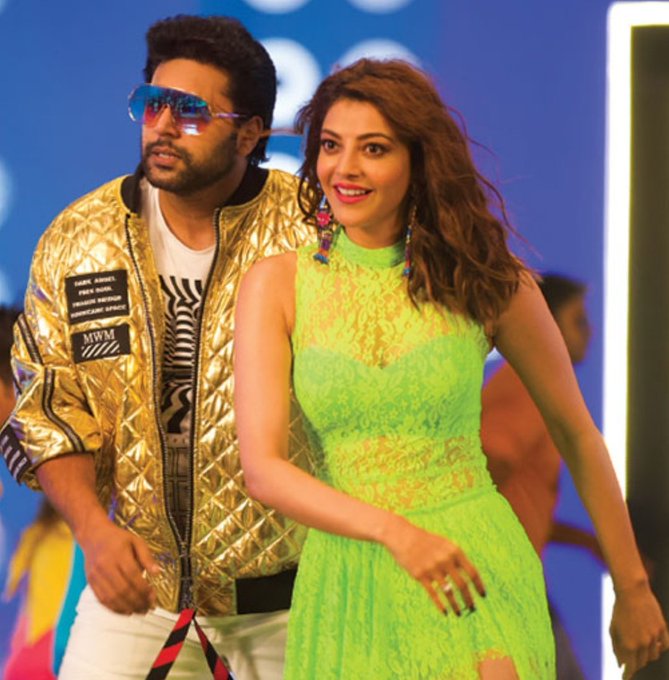 Check out some of their comments :
Lost ur credibility Mr Ravi #BoycottComali

😠😠😠 pic.twitter.com/iBf87eBf8y

— PONNA.MBA (@PONNA_MBA) August 3, 2019
That scene must Be Removed From The Movie #BoycottComali

— Rajini Soldiers (@RajiniSoldiers) August 3, 2019
Thani oruvan – Kadasiya nalla odina padam!

Innum solla pona..Jayam Mattum thaan intha aaluku blockbuster nu sollalam! Ivan poi 😂😂#BoycottComali

— Sarcastic Troll (@tamilmemesmania) August 3, 2019
We demand for an apology from all the Comalis @pradeeponelife @actor_jayamravi #BoycottComali 🚨🚨🚨#நாளைய_தமிழகம்_ரஜினி#Thalaivar pic.twitter.com/pseDj9sW9n

— SuseeMaha (@SuseeMaha16) August 3, 2019
This guy, Yogi babu has been consistently making fun super star, but still he gets to act in #Darbar , which I fail to understand#boycottcomali

— ஈரோடு சிவகிரி (@yetuyegambaram) August 3, 2019
How can u insult Indian SUPER STAR in a Movie 😤😤#BoycottComali

— Mugundhan s (@Mugundhans2) August 3, 2019
[wp_ad_camp_1]
ரஜினி அரசியலுக்கு வருவது உறுதி என்பதை சொன்னதே டிசம்பர் 31 2017 தான் பொய்யை பரப்பாதிங்க

நகைச்சுவை எல்லோரையும் சிரிக்க வைப்பது தானே @actor_jayamravi உங்க படத்தில் இடம்பெற்ற காட்சிகள் மனதை காயப்படுத்தியுள்ளது,இந்த காட்சிகளை நீக்குங்க,#நாளைய_தமிழகம்_ரஜினி

— Darbar (@imAnish30) August 3, 2019
ஏங்க எல்லாரும் இப்படி இறங்கிட்டீங்க? அவரு என்னங்க பண்ணாரு உங்களை யெல்லாம்? படத்தின் promotinஅ அவர நோகடிச்சுதான் பண்ணனுமா? என்னமோ பண்ணுங்க.. Any way நல்லாருங்க🤗 #நாளைய_தமிழகம்_ரஜினி

— Prabananthan 🤘🤘🤘 (@Prabhu80224084) August 3, 2019
நன்றிய மறந்த கேடுக்கெட்டவன் pic.twitter.com/wOlP6dDbrs

— Sathiz🤘 (@ksatysh) August 3, 2019
I was just waited for your trailer but such a worst thing you did guys you have to apologize for that😡😡😡#நாளைய_தமிழகம்_ரஜினி ❤🔥💪💪💪

— Suji_thara_rejini (@Suji_thara_) August 3, 2019
இனி உன் படத்தை தியேட்டர்ல பார்க்க மாட்டேன். ஏற்கனவே பலர் லிஸ்ட் ல இருக்காங்க.

தொலைஞ்சு போங்கடா.

தலைவர் அமைதியா இருப்பதால் கண்ட நாயெல்லாம் நக்கல் அடிக்குது.

இது பேரு காமெடியில்ல ஒரு பொய்யான செய்தியை மக்கள் இடையே கொண்டு செல்வது.

ஆண்டவன் இருக்காண்டா. இதற்கானதை அனுபவிப்ப

— Murugan 🤘🏻 (@iMurugani) August 3, 2019
 "Comali will not have some of the regular ingredients that are associated with entertainers. It's basically a comedy movie and I appear as an early man, a caveman, a king, a modern man and so on. The evolution of human beings is conveyed through multiple appearances in the film." said Jayam Ravi while talking about the film. However, there is no official clarification from him for this issue !! What do you think on this glimpse of the trailer ?? Comment your views below !!