Jaspirit Bumrah Getting Married With Anupama This Week ??
By Dhiwaharan
Indian Pacer Jaspirit Bumrah is not playing the fourth test match that is currently taking place between India and England after he requested leave from the BCCI for personal reasons. The Board of control for cricket in India relieved him from the fourth test and it has been reported that the cricketer took a break for the preparations for his marriage.
[wp_ad_camp_1]
Reports emerged saying that the 27 year old is going to be busy preparing for his wedding ceremony which is going to take place privately in Goa with the presence of close relatives. "Jasprit Bumrah made a request to BCCI to be released from India's squad ahead of the fourth Test owing to personal reasons. Accordingly, the fast bowler has been released and he will not be available for selection for the fourth Test," the BCCI said in a statement.
Though the details of the event are yet to be disclosed by the cricketer, a number of link ups regarding the groom has started doing rounds in social media platforms. The first and biggest name that got involved in the rumour is "Premam" fame Anupama Parameshwaran.
It all started when the duo started "liking" each other's post in Instagram. Without any evident connection such as region, language or field of career, both the celebrities started to follow each other in social media platforms and both of them "liked" each other's post which caught the attention of the Internet users.
[wp_ad_camp_1]
Many fans from social media started commenting Bumrah's name in the comment section of Anupama's social media posts. Now, as the cricketer applied for leave from BCCI, Anupama Parameshwaran also uploaded a post in her Instagram account writing "Happy holiday to me" as her caption.
Check out her post below :
To this post, the actress's friend uploaded a comment saying "To us" and Anupama replied "yes better be that way, you know what I mean"
Anupama's friend replied back saying "Only I know what you mean ! we definitely deserve Oscar for patience category"
Here's the screen shot of their conversation :
The actress also shared a story saying that she is leaving to Rajkot with a heart which is the native place of the young cricketer.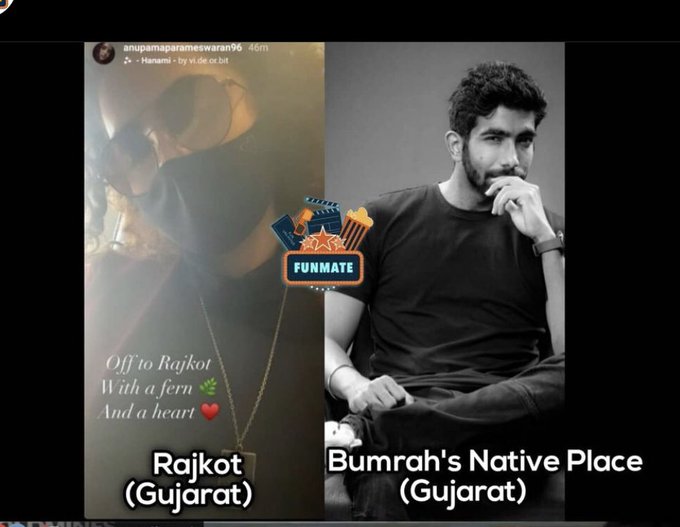 [wp_ad_camp_1]
These online activities of the actress are more than enough for the online users who started speculating a link up between the cricketer and the actress.
The plot thickens.. pic.twitter.com/tCjOr7ztYf

— Harisankar (@harish_staycalm) March 4, 2021
Ohooooo🤔🤔🤔

Bumrah-Anupama engaging??? @anupamahere @Jaspritbumrah93 ??? pic.twitter.com/FE32CiLpNP

— bull king🥤 (@DalAndDeadlift) March 4, 2021
Bumrah திடீர்னு Personal reasonsனு லீவு வாங்குறான், Anupama இப்ப Rajkot பக்கம் போயிட்டு இருக்கா!! ஹும்ம் டும்டும்டும் தான் போலயே!! pic.twitter.com/OQdBWszsY3

— Ethir Katchi (@sudhanks) March 4, 2021
Jasprit Bumrah @Jaspritbumrah93 wedding Anupama Parameshwaran @anupamahere? She too is in 'holiday' while Bumrah has taken leave. Something fishy… #Bumrah #JaspritBumrah #wedding #Anupama #AnupamaParameshwaran #Kerala pic.twitter.com/Br6QE930I1

— Jithin George (@JithinG31197510) March 2, 2021
However, various other reports emerged saying that the cricketer is going to get married to a sports presenter named Sanjana Ganesan. She who has been covering IPL tournaments for a long time, has been linked up with the cricketer after he applied for leave. Various other reports doing rounds saying that the cricketer is going to marry actress Rashi Khanna. Media portals also reporting that he is going to marry a non-celebrity girl in Goa.
However, we have to wait till the cricketer announces the details about the mystery bride himself !!