Jarvo Once Again Entered Field !! Fans Not Happy
CM / Updated: 2021-09-03
19:21 IST
By Dhiwaharan
The popular intruder Jarvo entered field once again and this time, he physically contacted with English batsman Johnny Bairstow which baffled the entire cricket fraternity. He entered the field, gesturing to bowl at the Oval, while Umesh Yadav was bowling. Jarvo has managed to hog the limelight more than one time in this ongoing India-England test series. Wearing a jersey with number 69, Jarvo has invaded the field as many as three times in this ongoing test series.
[wp_ad_camp_1]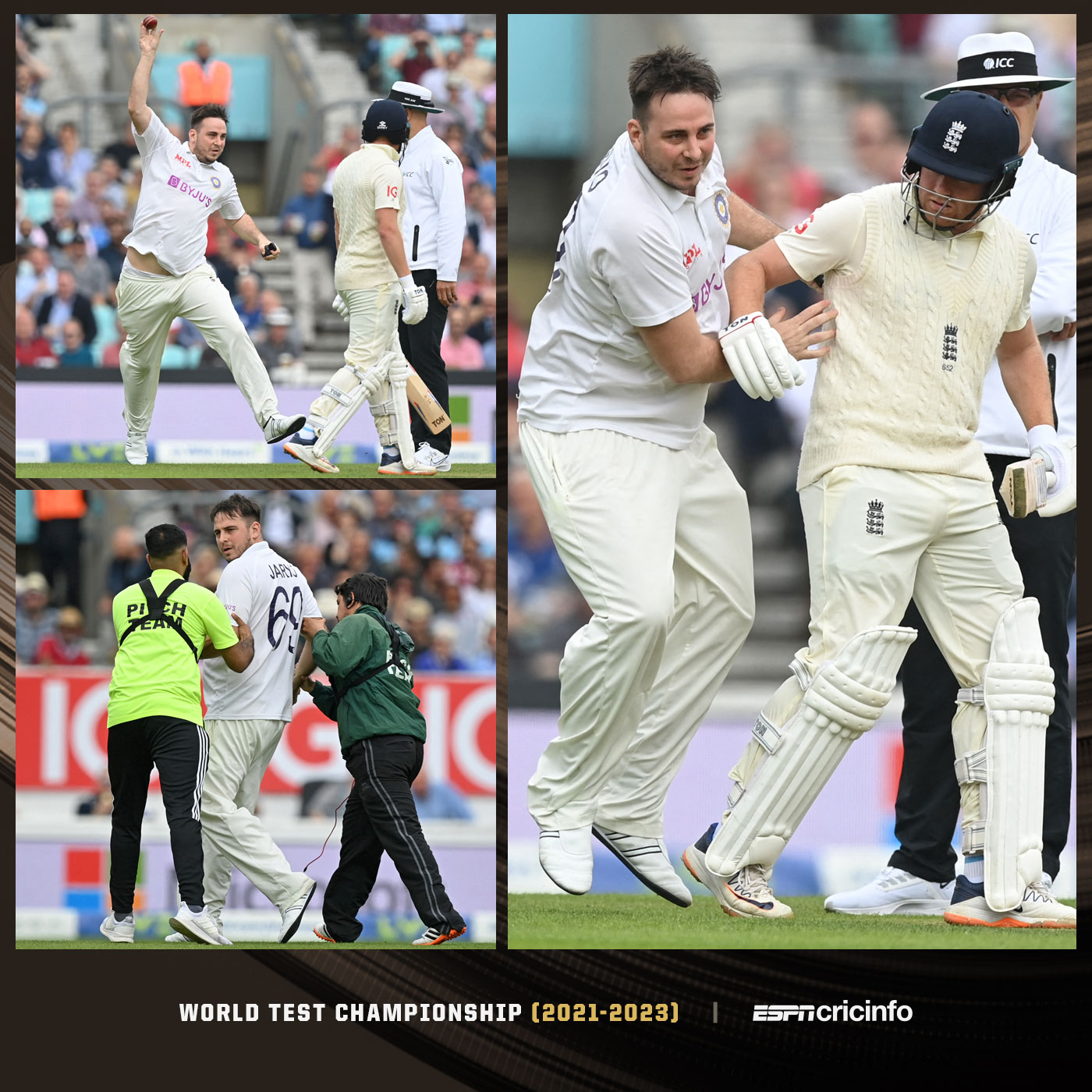 The third and recent instance took place first session of the second day of the ongoing fourth test. While, team India were looking for a breakthrough as the partnership of Johnny Bairstow and Ollie Pope was blossoming, Jarvo jumped into the ground to bowl during the 34th over. Along with the run-up, he also rammed into Bairstow who who was surprised by Jarvo's sudden appearance on the field.
Watch the video below :
Let him bowl fgs #jarvo69 #jarvo #IndvsEng pic.twitter.com/HiSED9OOVK

— Naman Kumar (@Naman_OFFiCi4L) September 3, 2021
[wp_ad_camp_1]
The play was halted for few minutes and the security entered the field to remove him. After Jarvo did it twice in Headingley, he was banned for lifetime from the ground and also fined a significant amount. Jarvo whose real name is Daniel Jarvis, identifies himself as a filmmaker, comedian and prankster. His pitch invasions has given him a huge fan following in social media, especially in India. His continuous pitch invasions gained him a stark increase in the number of followers as well. He also runs a youtube channel and enjoys 1 lakh plus followers as well.
However, this time, many cricket experts, former players and even some fans expressed their disappointment over the intruder entering the field once again. It is notable that, Irfan Pathan, former India player, dropped a tweet saying that it would be an outrage in India if the same guy intrudes twice. "Won't be funny" his hashtag read.
Imagine the outrage if the same guy invade the field twice in India. #wontbefunny

— Irfan Pathan (@IrfanPathan) August 27, 2021
"I think a few people need to be sacked at grounds in England. This is a very serious security lapse and it just continues. Not even a prank anymore." said Harsha in his tweet for the third time entry of Jarvo with others such as Wasim Jaffer trolling the securities of England grounds.
Check out some of such reactions below :
I think a few people need to be sacked at grounds in England. This is a very serious security lapse and it just continues. Not even a prank anymore. #Jarvo #Idiot.

— Harsha Bhogle (@bhogleharsha) September 3, 2021
Jarvo is back on the field of play. And this time he's physically bumped into Olie Pope. I hope nobody is seeing humour in it anymore. Appalling that he's allowed to attend every game in this series. #EngvInd

— Wear a Mask. Get Vaccinated, India (@cricketaakash) September 3, 2021
Jarvo needs an RKO out of nowhere from Randy Orton.

— Srini Mama (@SriniMaama16) September 3, 2021
[wp_ad_camp_1]
Absolute nuisance from the organizers who've not banned this shit called Jarvo even now. Serious security lapse! Can't happen in every game! We need Andrew Symonds' close line 😀 #Jarvo #INDvENG #ENGvIND
Video courtesy: Channel 9 pic.twitter.com/aJOprRD4sL

— हर्ष बिंदल (@Harsh_Bindal) September 3, 2021
This not funny anymore😡#Jarvo entering the cricket field and reaching the main wicket should be taken as a serious offence now. pic.twitter.com/Ji7U2uDLc1

— Sunandan Lele (@sunandanlele) September 3, 2021
What are @ECB_cricket doing to ban this idiotic Jarvo? Once was funny but three times show there's some serious security issues at English grounds. If this was an Indian/Asian, it would be all over the news! #engvsindia #ENGvIND

— Arup Ghose (@arup_ghose) September 3, 2021
Now that's how you deal with #Jarvo – could've been a footy player with his tackling skills. https://t.co/YvUFzH9msc

— Angry Angry Middle Aged Man (@AAMAM180) September 3, 2021
Security guards at English grounds: #Jarvo #EngvInd pic.twitter.com/0TE4S4vmS5

— Wasim Jaffer (@WasimJaffer14) September 3, 2021