Famous invader Jarvo's tweet after the cancellation of 5th test between India and England is going viral among the cricket fans. Through his tweet, Jarvo said that he was planning to keep wickets on the first day of the fifth test and expressed his disappointment over the match getting cancelled. He who asked whether it is some kind of sick joke, asked his followers where should he play next.
[wp_ad_camp_1]
In last match, Jarvo entered field for the third time and he physically contacted with English batsman Johnny Bairstow which baffled the entire cricket fraternity. He entered the field, gesturing to bowl at the Oval, while Umesh Yadav was bowling. Jarvo has managed to hog the limelight more than one time in the India-England test series. Wearing a jersey with number 69, Jarvo has invaded the field as many as three times and says he was planning to enter again.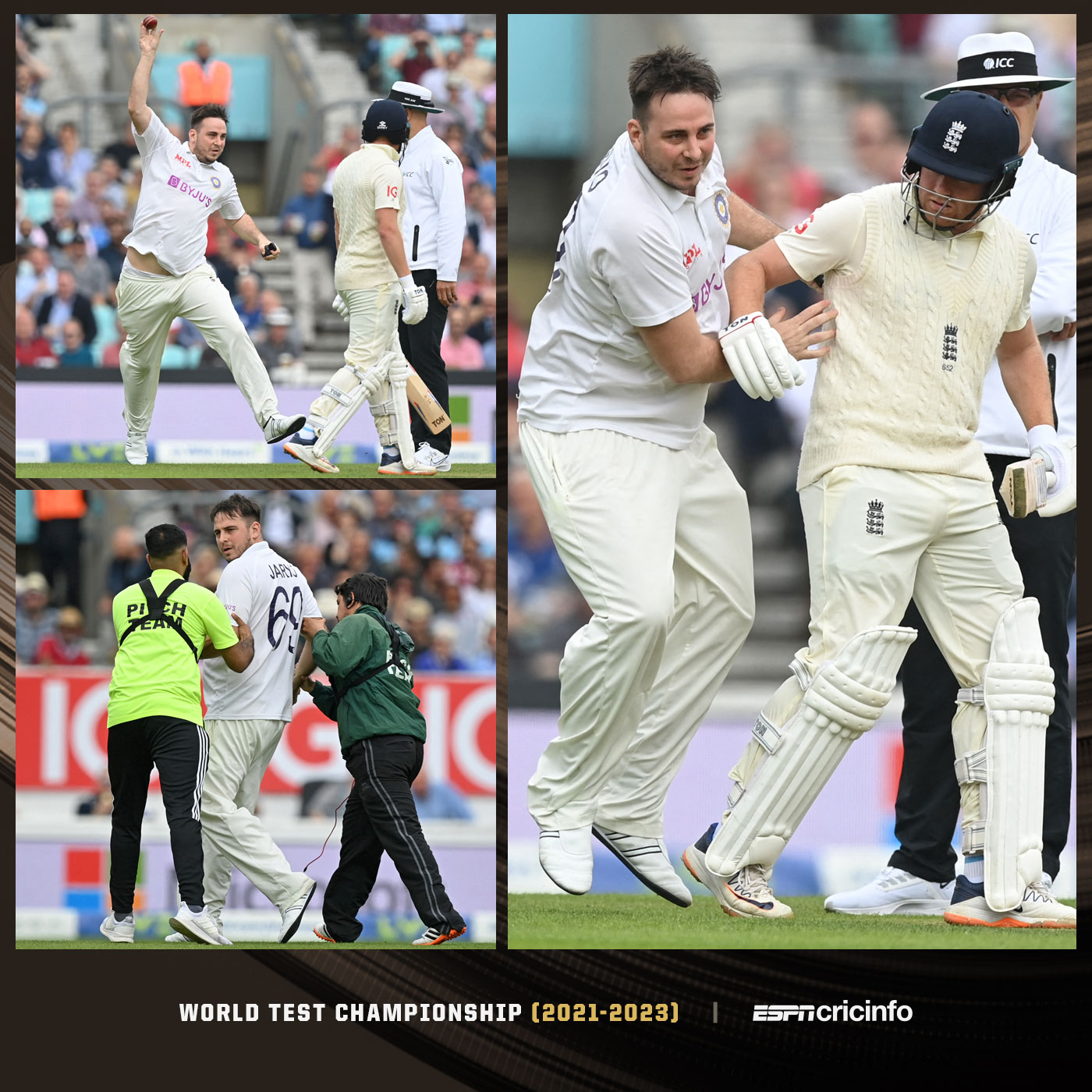 Jarvo whose real name is Daniel Jarvis, identifies himself as a filmmaker, comedian and prankster. His pitch invasions has given him a huge fan following in social media, especially in India. His continuous pitch invasions gained him a stark increase in the number of followers as well. He also runs a youtube channel and enjoys 1 lakh plus followers for it as well.
However, his repeated invasions left many in a frustrated state as well. Cricket experts, former players and even some fans expressed their disappointment over the intruder entering the field once again. Now, as the final test match got called off due to the increasing number of COVID 19 infections in the Indian camp, Jarvo came up with a tweet revealing his plan.
"The 5th test has been cancelled, I was meant to play as the Wicket Keeper today for India vs England. Is this some kind of sick joke? Where shall I play next?" Jarvo said through his tweet and added a picture of himself wearing gloves. In the past three matches, Jarvo appeared as a fielder, batsman and a bowler. Check out his tweet below :
[wp_ad_camp_1]
The 5th test has been cancelled, I was meant to play as the Wicket Keeper today for India vs England. Is this some kind of sick joke?

Where shall I play next?
Follow all my social media FB,Youtube,IG,Tiktok = @BMWjarvo all others r fake!#jarvo69 #jarvo #bullshit #engvsindia pic.twitter.com/sjbeRnwhx2

— Daniel Jarvis (@BMWjarvo) September 10, 2021
Check out some of the reactions his tweet received :
How about the middle of the M25 at rush hour 🙄🙄

— Erika Morris (@ErikaMorris79) September 10, 2021
You miss the wicket keeper match man… You just miss the opportunity 😜.. there might be possibility to give rest to Rishab pant to pick you as wicket keeper Batsman 🤪😜🤪.. wait for next time…

— Sushil shaun🏏🇮🇳 (@SushilShaun) September 10, 2021
[wp_ad_camp_1]
Dubai await you for ICC Men's T20 World Cup 2021. Your presence as always will help Team India win .

— Dr Ankur Saikia (@DrAnkurSaikia2) September 10, 2021
Ban him from every cricket ground in the country. Wasn't funny the first time

— MediumPaceDobbler (@MediumPaceDobb1) September 10, 2021
Clearly the ecb bottled it as they new you were out to get them

— mark francis (@markfrancis1968) September 10, 2021
jarvo in Indian team pic.twitter.com/yx1hL3xpww

— A n i k e t (@Aniikett03) September 10, 2021