Janany Got Thrashed For Her Insensitive Comment On Rachitha !!
Written by Dhiwaharan Published on Nov 29, 2022 | 22:30 PM IST | 156
Follow Us
Comments: 0
Bigg Boss contestant Janany's comment on her co-contestant and senior Television actress Rachitha didn't go well among the viewers of the show. The Sri lanka based news anchor made an insensitive comment on the way Rachitha was dressed. While talking to Dhanalakshmi, the 22 year old said that it looks like a saree was wrapped on a buffalo on seeing the way Rachitha was wearing it. Many fans started slamming her after the video went viral among the online users.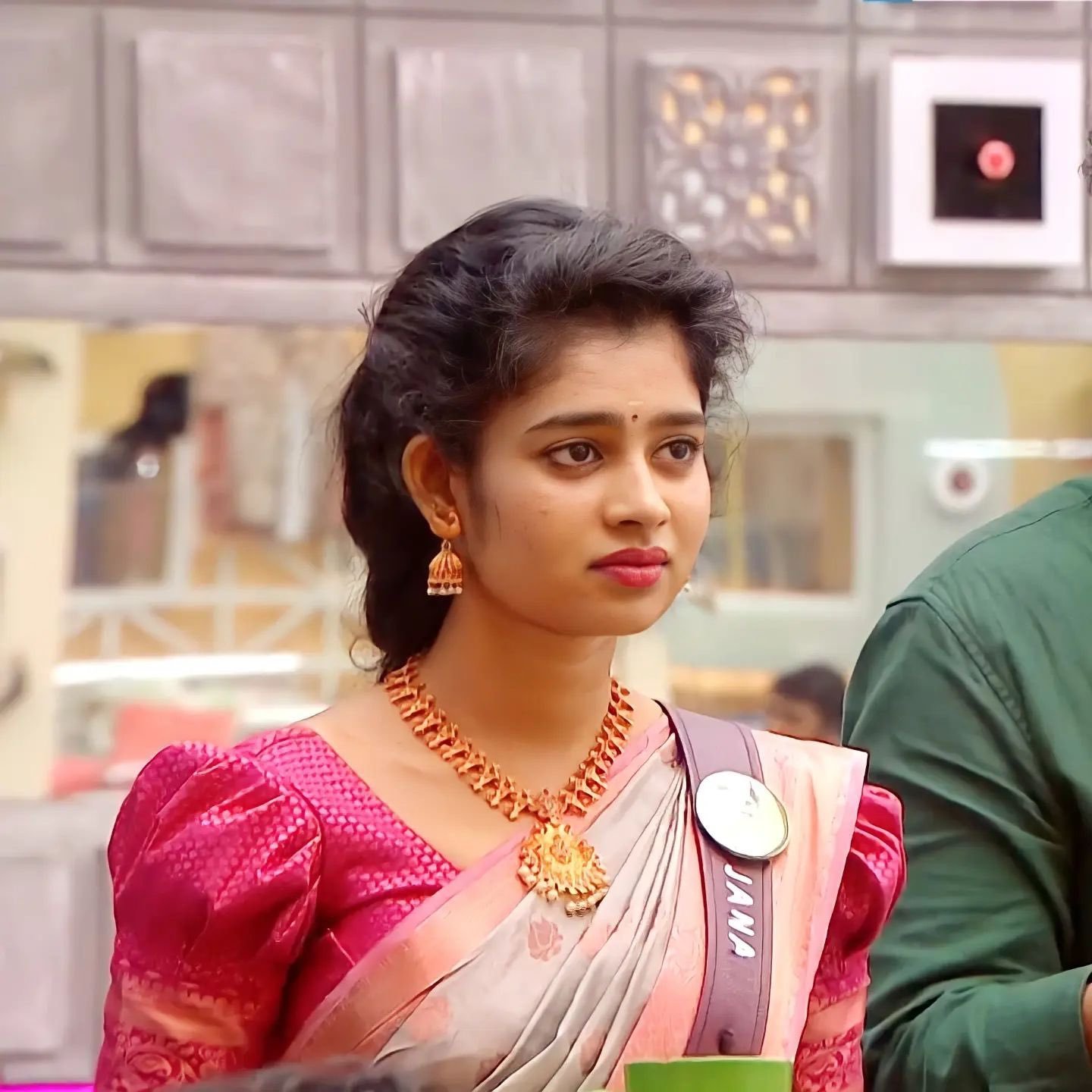 Janani's eye candy expressions and unique Tamil gained her enough population among the Tamil television audience to keep her inside the house by voting for her. She never came under scanner among the Bigg Boss audience for her behaviour or the way she interacts with her co-contestants before. Now, the remark made by her on Rachitha has caused hatred against her.
While Janany was adjusting her saree, Myna told Rachitha that saree suits her well and it looks like she was born to wear sarees. Janany who was listening to everything, went to Dhanalakshmi and asked it truly looks good on Rachitha. She who thought that Myna appreciated Rachitha in front of Janany, said "Is it truly looks good ?? It looks like that saree was wrapped on a buffalo"
Watch the video below :
Stop lying here is the full video show where #dhana said tht, its so clear #Janany saying tht comment for #Rachita only#BiggBossTamil6 https://t.co/EwdPiUU0kR pic.twitter.com/KcNIR35LxV

— Netfreak💻 (@Netfreak555) November 28, 2022
"Day by day Jan behaviour so cheap. Criticize #Ayesha illnesses… #Vikraman tamil issue.. now @Rachu… Really worst behaviour" a follower of the show said after watching the video whereas another one wrote "Dude wtf is this? Eruma maadu mathiri irukka??! Such a low life janany so cheap 👎"
Check out some of the reactions below :
Wtf ?Erumamaadu? For real? Hey , puppet #janani who gave yoh the rights to say her like that you cheap girl ! You lost all the respect! Echa ! 🤮🤮 #rachitha is prettiest, prettier than u in all the attire , she is the only sareequeen ! #BiggBossTamil6 #BiggBossTamil pic.twitter.com/MjduxYjRTb

— Rachitha_destiny (@RachithaDestiny) November 28, 2022
Janany was extremely rude to Rachita about how she looked and especially said "Erumamaadu".

She should have said that she was upset with what Mynaa said but NOT downgrade Rachita in the process.#BiggBossTamil #BiggBossTamil6

— ѕ𝔀ஆ𝑔 (@apisha2000) November 28, 2022
#Janany behaving like a boomer. That eruma maadu comment is Azeem Adk league type comment.#Rachitha slays in her saree. She carries herself well all the time.

There are many reasons to criticize #Rachitha, but not her dressing.#BiggBossTamil6 #BiggBossTamil https://t.co/IXSUjImxsW

— The_Wall 🇮🇳🇸🇬 (@_TheWall__) November 28, 2022
Initially Janany said "Innaikku avangalukku enna vadivava(azhava) irukku? Unmaiya vadivilla thaana? "

And bla, bla "Unmaiya nallava irukku, etho erumaikku katnathu pola. #Janany is clearly pointing #Rachitha, hence editor is showing Rachitha's then.
#BiggBossTamil6 pic.twitter.com/mDRjyJMsIM

— Voiceless Tweeple (@voicelesstweepl) November 28, 2022
#jannay can't take Criticism, no one should appreciate another one's look in front of her . Extremely jealous and degrading behaviour. #rachitha didn't even take #myna's friendly compliment to head .#janany full time vermin .#biggbosstamil6 pic.twitter.com/vdQ5yipSan

— Old joy (@Oldjoy2006) November 28, 2022
Must say Rachitha may be a safe gamer by diplomatic & quiet at times but she's far better than this backbiting, venomous & jealous over the top duo Janany & Dhana 🤐💀 pic.twitter.com/S8sutPxgxy

— Daemon Targaryen (@DaemonTargaryn9) November 29, 2022
#Janany saniyan papa so much vanmam on rachitha but still she is showing u lots n lots of love….
ni lam rachu unna thangachi madhri treat panradhuku kuduthu vechirkanum🤧🤧🤧🤧 a perfecr best frnd/sister that anyone would yearn for#rachitha #biggbosstamil6 pic.twitter.com/1DrOxLjc17

— Rachitha Army (@RachithaFan) November 29, 2022
#janani .. seriana silraya irupa pola.. 🤬🤬🤬

She will expose her dirty character soon…#Rachitha#BiggBossTamil6#BiggBossTamil https://t.co/E0Ah9xRMQ4

— NK (@thinkit04) November 28, 2022
#janany & #Rachitha in saree in 1 frame. Can anyone say what is that J wearing. Is it a saree draping. The picture speaks itself for who weared it best. J has neither body or elegance to drape saree/ no right to comment R. Half baked. #BiggBossTamil6 #biggbosstamil pic.twitter.com/vRXWgnPDbe

— Advik (@Advik91296608) November 29, 2022
Day by Day #Janany showing her real face 😡
1st i like her lot Now
I hates her lot 🤦🏻‍♂️💦#Ayesha #BiggBossTamil #BiggBossTamil6 #Rachita pic.twitter.com/0dwWx3ERaf

— Prabhakar (@itz_Prabhaa) November 29, 2022