"Irandam Kuthu" Director Countered Bharathi Raja's Statement !!
Kamal
Santhosh
Tik Tik Tik
CM / Updated: 2020-10-08
18:06 IST
By Dhiwaharan
Santhosh P Jayakumar, director of upcoming adult horror film "Irandam Kuthu" posted a tweet replying to the accusation made by legendary filmmaker Bharathi raja. He said that the filmmaker's 1981 flick "Tik Tik Tik" contained more adult content than his upcoming film. He shared a poster featuring Kamal Haasan sitting with three heroines standing near him wearing bikini outfits and questioned back the filmmaker.
[wp_ad_camp_1]
The teaser of "Irandam Kuthu" got released in Internet recently and left legendary filmmaker Bharati raja in a dejected state. Director Santhosh P Jayakumar who made Tamil films such as Hara Hara Mahadevaki, Ghajinikanth, Iruttu Arayil Murattu Kuthu released the first look of his upcoming film "Irandam Kuthu" last week. Santhosh is making his acting debut through the sequel of his adult horror film "Iruttu Arayil Murattu Kuthu". The first look poster showed Santhosh and Danny holding an artificial banana in a beach atmosphere with a girl wearing bikini.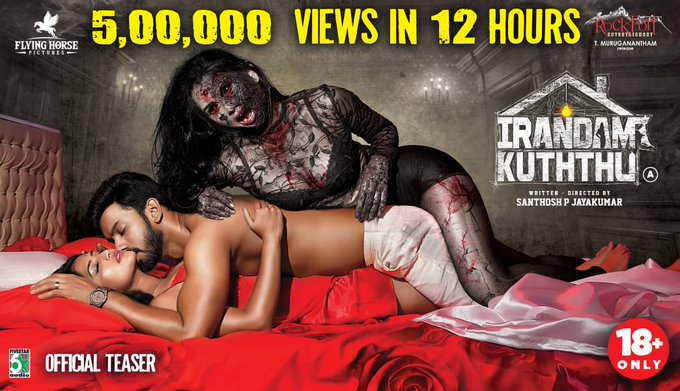 On Wednesday, makers of "Irandam Kuthu" released the teaser of the film which had double meaning dialogues and visuals containing graphic contents. The 97 seconds long video showed clips such as the leads masturbating, an artificial human penis, woman showing obscene hand gestures etc.
In the press note, Bharathi Raja said that it feels painful for him to see people destroying the art form in the name of doing "business". "Yes, cinema is a business too. But using "banana" in a cheap way to promote the film among public makes me upset. Is this why legends configured Cinema ?" Raja asked.
"Cinema can reflect real life. They can show such things in a semiotic way. But keeping the bedroom for public's views is not a right way to do it. I am not a person who whines about "culture". But I want my home to be disciplined" he said in his press note.
"I couldn't bear seeing the advertisements for the film "Irandam Kuthu"" said Bharati Raja who questioned whether there is no women in the families of those people who made this film. "Don't the women in their families condemn these activities of them ? No matter if they condemn or not, as a senior person of this industry, I would condemn these kind of activities. I request government and censor board to take strict actions against these kind of films." he said.
The filmmaker further accused that these kind of films are influencing crimes against women and children and requested people to realize it.
[wp_ad_camp_1]
Now, replying to his accusation, Santhosh came up with a reply tweet countering the senior filmmaker. He uploaded a posted of 1981 flick "Tik Tik Tik" and questioned. "With all due respect to him. Tik Tik Tik movie in 1981 la idha paathu koosadha kannu, ippo koosirucho…?" Santhosh's tweet read.
Check out his tweet below :
With all due respect to him
Tik Tik Tik movie in 1981
la idha paathu koosadha kannu, ippo koosirucho…? @Danielanniepope @Rockfortent @behindwoods @news7tamil https://t.co/ZcGzsKAAfs pic.twitter.com/I7zqtWGMqs

— Santhosh P Jayakumar (@santhoshpj21) October 8, 2020
Check out some of the reactions his reply tweet received :
நீ மொதல்ல 16 வயதினிலே, முதல் மரியாதை, வேதம் புதிது மாதிரி atleast ஒரு நல்ல படம் எடுத்துட்டு அப்புறம் பேசு தம்பி. எடுத்த ரெண்டு படமும் பலான படம் இந்த அழகுல நீ எல்லாம் பாரதிராஜா பத்தி பேசலாமா? நீ எடுத்த படத்தை உங்க அம்மா, அப்பாவுக்கு போட்டு காட்டு ரொம்ப பெருமை பாடுவாங்க😂😂

— Nagarajan (@nagarajrnr) October 8, 2020
[wp_ad_camp_1]
Idhuvum adhuvum onna ungaluku pic.twitter.com/fJDTMUz8kW

— Dhivakar (@Dhivakar31ravi) October 8, 2020
Ivanga kaalathula start panni vittatha thaan ipo Santhosh um panraar. Appudi than indha padathila irukku nu ellarum idhukkaagavey paakathan poranga. Negative publicity creates free promotion and hype more to any film.🤣

— Shankar G N (@Shans_z) October 8, 2020
yenda menda pu***…TIK TIK TIK padam paathurukiyada 1st…unna mathiri oolu mattumey Kadhaiya vachu,, 2meaning dialogue mattumey pesi kandravi maira antha padam irukkathu….Story Stronga irukum..Nee Olukku mattumey padam edukkura su***..Nee Bharathirajava compare panriya👊

— ஈசன் சதிஸ் 🇮🇳 (@easansathish07) October 8, 2020
Comment your views on this reply of Santhosh !!