Articles
IPS Officer's Tweet About "Karnan" Is Trending !!
IPS officer Vijayakumar's tweet after watching "Karnan" starring Dhanush is trending in social media platforms with various kind of reactions. Tweeting about the film which talked about the police brutality, said that the film is a powerful one. In no time, the tweet went viral with 6k plus likes and with thousands of retweets.
[wp_ad_camp_1]
As soon as the film got released in theatres, reports emerged saying that the film is based on a true incident that took place during mid 90s in a village named "Kodiyangulam". Karnan's plot revolves around a fearless youngster fighting against the influential people who are oppressing the villagers. The period film which is set in the suburbs of Tirunelveli district, talks about the struggles faced by the people who belong to a small village named "Podiyankulam".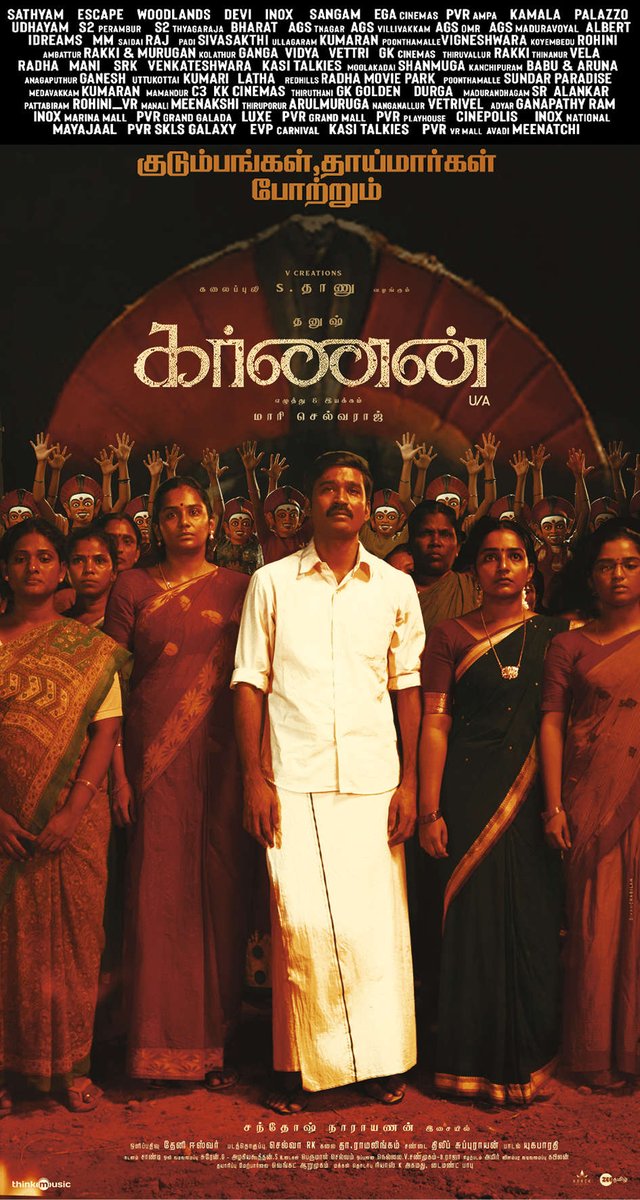 One of the main problems which acts as a barrier for the growth of "Podiyankulam" residents is the absence of government buses and a bus stop. As a result, people are finding it difficult to make ends meet. Men couldn't go to work, Pregnant women couldn't make it to the hospital at the right time and youths are finding it difficult to get educated.
It has been reported that the film got collected Rs. 10. 50 crore on the first day and became the first film of Dhanush to reach such number of the first day itself. Critics are also lauding the film's intriguing content and the performances of the leads. From Vijay Sethupathi to ace cinematographer PC Sriram, almost all the celebrities expressed their awe after watching the film. Notable political personalities also posted tweets appreciating the film.
[wp_ad_camp_1]
Now, IPS officer Vijayakumar who is also serving as a Superintendent of Police for Tirupathur district, uploaded a tweet in his official twitter account, after watching the film. He said that the film is special film which was elegantly made. "karnan resist and rise against unfairness and injustice, make the audience pause and reflect. powerful film! நேர்த்தியாக எடுக்கப்பட்டுள்ள சிறந்த திரைப்படம். #கர்ணன்" his tweet read.
Check out his tweet below :
karnan resist and rise against unfairness and injustice,
make the audience pause and reflect. powerful film! #karnan
நேர்த்தியாக எடுக்கப்பட்டுள்ள சிறந்த திரைப்படம். #கர்ணன்

— Vijayakumar IPS (@vijaypnpa_ips) April 12, 2021
On seeing an IPS officer lauding a film which talked about police brutality, many users of micro blogging social media site said that his tweet reiterates the film's core. Check out some of their reactions below :
@mari_selvaraj @Mari_SelvarajFC
ஒடுக்கப்பட்ட மக்களின் வாழ்க்கை நிலை மிக நேர்த்தியாக படம் அமைத்து உள்ளீர்கள் மனமார்ந்த வாழ்த்துக்கள்.@mari_selvaraj @vijaypnpa_ips
படத்தின் மையக் கருவின் புரிதலே இந்த பதிவு என்று நினைக்கிறேன்…

சிறப்பு ஐயா…

— R.Singaravelan (@RSingaravelan15) April 12, 2021
[wp_ad_camp_1]
வலிகள் நிறைந்த நன்றிகள்… #வென்றான்_கர்ணன்

— Selva (@Selva39573985) April 12, 2021
முதலில் நன்றி தெரிவித்துக் கொள்கிறேன் ஐயா உங்கள் பணியில் இருக்கும் சிரமம் உள்ளது என்பதை மிக்க அறிவேன் ஐயா இருந்தாலும் ஒரு திரைப்படத்தை பற்றி நல்ல ஒரு முடிவையும் அதை பற்றி ஆராயும் மனப்பக்குவமும் உள்ள சிறந்த மனிதர் சகலகலாவல்லவன் என்பதே எனது மனதில் தோன்றிய எண்ணம்

— Thangavel. G 🌹BJP🌹 (@bjp_thangavel) April 12, 2021