The new part of "Spiderman" franchise named "No way home" released in theatres recently with much expectations among the fans of the Super hero character. The film is running successfully in theatres and saw the Spidermen of all the universe for the first time together. Tobey Maguire who played Spiderman in the inaugural trilogy of the movie franchise, Andrew Garfield who gained wider recognition for playing Spiderman in the 2012 superhero film The Amazing Spider-Man and its 2014 sequel and Tom Holland who is playing Spiderman currently appeared together for the first time.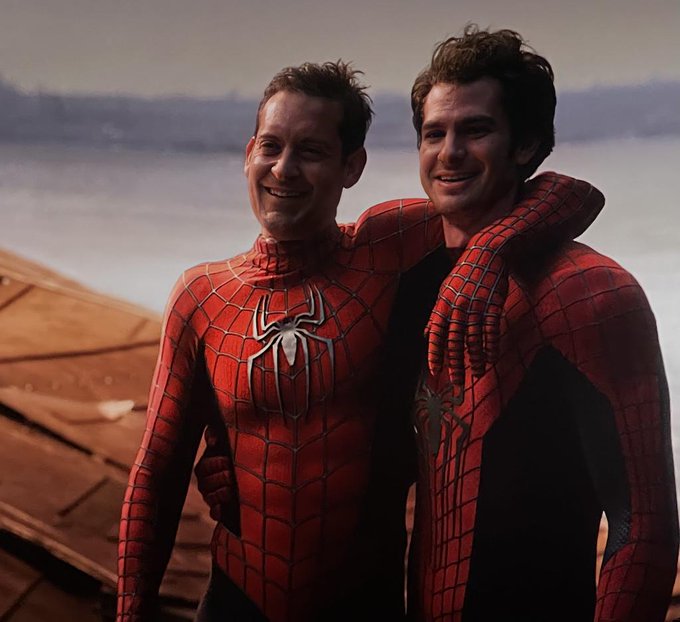 The film is being received well by the audience and is running successfully across the globe. Fans are busy reviewing the film and many could be seen cherishing the moment where all the three spidermen shared screen space together. Meanwhile, Andrew Garfield who played Spiderman in two parts, became a centre of attraction for the way he denied his presence in the movie prior release.
In many interviews, Andrew completely denied acting in "Spiderman-Now way home" and went on to state that a picture that got leaked was a photoshopped one. Watch the video below :
Just a compilation of Andrew Garfield denying that he is in NWH (part 2) pic.twitter.com/7nWhg2aBlj

— ً (@dcurachel) December 20, 2021
Andrew Garfield continues to deny a rumoured appearance in #SpiderManNoWayHome.

"I'm not in the film, I love Spider-Man, always have and I was so lucky to play the part. And I'm so excited to see what they do with the third one" pic.twitter.com/XguwyRbLj3

— Spider-Man: No Way Home Updates (@spideyupdated) November 15, 2021
Now, after witnessing him in the movie, many fans started trolling the actor for giving his everything to hold the surprise for the audience. A fan said that Andrew would still continue denying acting in "No way home", saying "'oh nah I wasn't in that, good for Tom Holland tho" with another follower comparing him with a student who gets centum in exam after lying that he didn't study anything.
Check out some of the hilarious reactions that surfaced in online below :
Spider-Man no way home spoilers //

I really want Andrew Garfield to just continue denying he's in nwh. like he'll be doing an interview in five years time and they'll be like 'how was spiderman nwh??' and he'll just go 'oh nah I wasn't in that, good for Tom Holland tho'

— Alex (@CANONCASTlEL) December 20, 2021
Exam ku sathyama padikala da!

*scores a centum* pic.twitter.com/Qd89ZNOAQq

— cyanide kuppi (@arjunvish7) December 20, 2021
BREAKING NEWS – Andrew Garfield continues to deny he's in #SpidermanNoWayHome

'I never got the call. If I was in it I would know but I'm not. I don't want people to get their hopes up and be disappointed when I'm not there (makes werewolf howl)' pic.twitter.com/hNlXNsALlL

— Steven Spoilsberg (@heavyspoilers) December 19, 2021
I hope Andrew Garfield continues to deny he's in No Way Home tbh pic.twitter.com/AaC0qJr8SF

— Grayson (@KnightFleck) December 18, 2021
Andrew Garfield still continues to deny his appearance in Spider-Man: No Way Home. pic.twitter.com/mS3tUt0qMz

— Spider-Fan 🕷🕸 (@SpiderFanNewz) December 20, 2021
honestly andrew garfield needs to be compensated for the amount of mental stress he went through having to deny spiderman allegations in every interview this year pic.twitter.com/1924YNQgl1

— 🍓桥🐰 (@madeoforchids) December 19, 2021
Please I want Andrew Garfield to still deny being in Spider-Man No Way Home even if we see him in it 😭😭😭

— riyad 🕷 (@riyadwithay) December 15, 2021
nwh spoilers ??
–
–
–
–
–
can't wait for andrew garfield to still deny being in nwh even though the film is out now pic.twitter.com/BnY6yjBAuZ

— SPIDERMAN NWH (@chaergyu) December 20, 2021
Andrew Garfield continues to deny he's in Spider-Man: No Way Home

'I never got the call. If I was in it I would know but I'm not. I don't want people to get their hopes up and be disappointed when I'm not there' pic.twitter.com/ona8YiCgwy

— Spider-Fan 🕷🕸 (@SpiderFanNewz) December 20, 2021
Andrew Garfield's commitment to deny his appearance in #SpiderManNowWayHome is more than the commitment of some governments to their citizens. Straight faced lying is something I hugely appreciate. Thank you for your service Andrew pic.twitter.com/rfeNMXyadf

— Saumya (@SPN_FreakSaumya) December 19, 2021
NO WAY HOME SPOILERS
–
–
–
–
–
–
–
Andrew Garfield really drew the short straw having another movie come out just before and having to constantly deny he was in no way home in interviews 😭😭😭 give the man an oscar for that alone

— Abi (@abimacedo_) December 17, 2021