On Tuesday, the Polling in 234 constituencies went off peacefully with a voter turn out of 71.79 per cent at the end of the 12 hours. Kallakurichi district topped the list with a voter turn out of 78 % followed by Namakkal and Ariyalur where 77.9 % and 77.8 % of voters appeared to register their votes to choose their leader.
[wp_ad_camp_1]
Among the minor scuffles among cadres and glitches in the electronic voting machines in some parts of the state, what disappointed people the most is the lowest number of people casting their vote from the capital of the state. It is reported that only 59.4 % people from Chennai city made their presence in the polling stations to cast their vote on the day which was declared as a public holiday.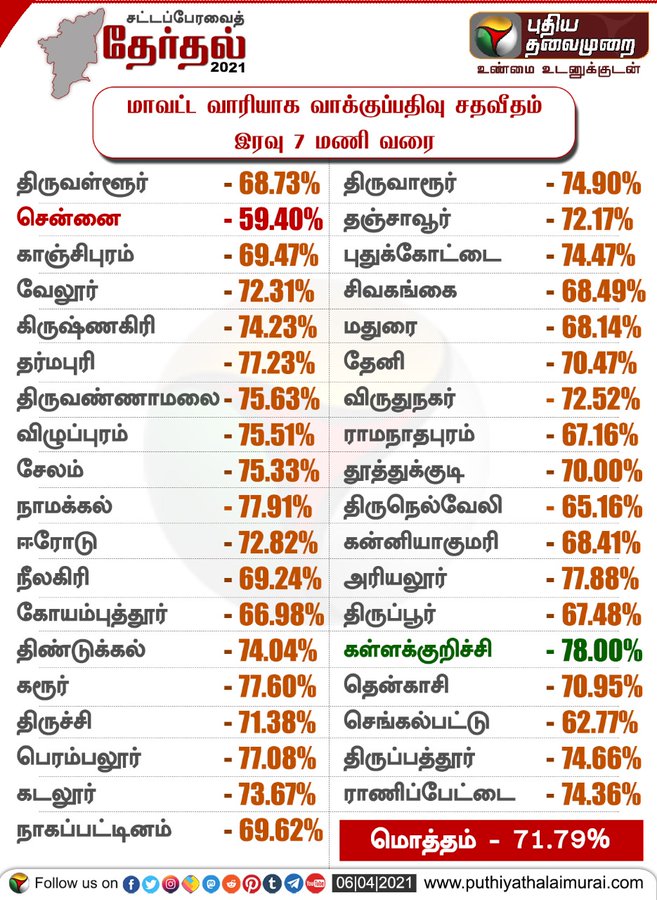 The city grabbed the last spot among the 38 districts and people from other district already started criticizing the Chennaites who missed to perform their basic duty. A number of celebrities from film industry and political personalities have also expressed their dejection over the people of the state who are regularly showing poor results in voting percentage.
"Wondering what 40% of Chennai was doing without going out to vote today." questioned singer Chinmayi in her tweet whereas a twitter user uploaded a news of an elderly man casting his vote despite of his wife's demise and questioned what Chennai voters were doing without voting.
Check out some of the reactions below :
#chennaivoters இவர விட அப்படி என்னடா பெரிய புடுங்குற வேலைல இருந்தீங்க 🤦🏾‍♂️🤦🏾‍♂️ #TNElections2021 pic.twitter.com/xnMOprkFHq

— மகாநடிகன் (@mahaanadigan) April 7, 2021
[wp_ad_camp_1]
Wondering what 40% of Chennai was doing without going out to vote today.

— Chinmayi Sripaada (@Chinmayi) April 6, 2021
படிச்சவங்க அதிகமா இருக்க சிங்கார சென்னையில வாக்குப்பதிவு கம்மியாவது வழக்கமானது தான்

அதுலயும் தென்சென்னை பகுதியில இருக்க பல மேதாவிகள் பல தேர்தல்ல ஓட்டு போட்டுருக்கவே மாட்டாங்க #TNElections2021

— Vignesh Theni (@Vignesh_twitz) April 6, 2021
சென்னைவாசிகள் vote பண்ணது 59.40%😂😂😂👏👏

இதெல்லாம் எவ்ளோ பெரிய கேவலம் தெரியுமா தமிழ்நாட்டு தலைநகரம்னு சொல்லிட்டு மத்த மாவட்டத்துக்காரனுக்கு கிளாஸ் எடுக்குறது ஓட்டே போட வராம சோத்தை அமுக்கிட்டு ஊட்ல இருந்துருக்கானுங்க👎

மல்லாக்க படுத்து நீங்களே காரி துப்புக்கிலாம்🔥🔥🔥🔥

— 💥கில்லி💥 (@ghilli005) April 6, 2021
சென்னைவாசிகளே. அப்படி வேற என்ன தான் டா வேலை இருந்துச்சு ! pic.twitter.com/Q6IcNXhu8J

— Stalin SP (@Stalin__SP) April 6, 2021
Wondering why always voters from chennai city gets less then any other place in Tamilnadu.
Are we comfortable or just ignoring our problems..!!#Sorrychennai https://t.co/f18IRcBtrN

— Yuvi (@yuvan538) April 6, 2021
Should bring this boy and make him slap all using his feet who didn't vote in Chennai. #AssemblyElections2021 #TamilNaduElections2021 pic.twitter.com/1lfDSfBzAK

— Rajaram (@rajaram1891) April 7, 2021
Chennai la irukuravanuku ena vela apdi vote podratha vitutu avan avan night oda night ah bus,train nu pudichi poi vote podrom pakathu Street pakathu area la poi vote podrathuku ivangaluku kastam ana night full ah line la ninu csk daww nu kathitu irupanga. Priorities people 🤦

— vivek (@vivekvivy) April 7, 2021
[wp_ad_camp_1]
Villagers travelled 20 KMS by foot to cast their vote. #Respect

I always used to laugh when 'AC room armchair activists' give lectures in public & TV shows that we need to create 'awareness' in Rural India to strengthen our democracy.

Chennai 59.40% turnout – Lowest in State. pic.twitter.com/VqzloHOV63

— Ambedkar Ramanujar(हिन्दव:सोदरा:सर्वे)ரமேஷ் ஹிந்து (@ramesh70chennai) April 7, 2021
சென்னை மக்களே..!! pic.twitter.com/WbXANTk6BP

— Adeline (@adln1412mj) April 6, 2021
However, it is believed that a sum of Chennai voters residing in abroad and the double voter ID holders who vote in their home town could be the reason behind the constant fall in vote percentage in Chennai. COVID 19 outbreak and the Chennai weather are also being stated as prominent reasons. But that doesn't deny the fact that many people failed to do their duty despite of having the polling stations nearer to their residents.