Internet Questioned Pa. Ranjith For Casting John Vijay !!
By Dhiwaharan
While people who watched "Sarpatta Parambarai" are lauding director Pa. Ranjith for his perfect casting in the film, a number of social media users came up questioning the filmmaker for opting John Vijay for one of the important roles in his film. They cited the MeToo accusations that were made against him by TV anchor Sri Ranjani three years ago and asked Ranjith why he paved way to make people celebrate him by casting him in his period drama.
[wp_ad_camp_1]
"Sarpatta Parambarai" of Pa. Ranjith released amidst much anticipations among the fans in the online streaming platform Amazon Prime and is receiving positive reviews from all the directions of the Internet. It has been reported that the "Kaala" maker had exceeded the expectation level of fans with his tight screen play and perfect castings.
Pa. Ranjith who is known for raising voice for the oppressed through his art work, has raised the expectation level with his intriguing trailer cut and millions of fans have watched the film overnight, as soon as it got released in the OTT platform. Produced by Ranjith himself under his "Neelam Productions" and "K9 Studios", the film includes an ensemble cast that has Pasupathi, John Vijay, Kalai Arasan, Sanchana Natarajan, Kaali Venkat, "Gilli" Maaran and others.
[wp_ad_camp_1]
The film is set in 70s and showcases the lives of the boxing clan that battled with each other in the North Madras. In the film, John Vijay played the role of Daddy Kevin and impressed the audience. Amidst the showering praises, a number of social media users called him out based on the complaint made by anchor Sri Ranjani in the year 2018. The anchor accused him of calling her in a midnight and approaching her to have a phone sex with him.
When she threatened him to tell about it to his wife, the actor dropped it, Sri Ranjani said in her post. She also accused him of misbehaving with the intern girls who are working for his agency. "I did
a fun interview with him and out of the blue, about a month later, he called me up in the middle of the night and said he was upset that I hadn't informed him about when it was telecast. I was half asleep and said l'd call him the next day. But he pursued the conversation obviously hinting at the possibility of phone sex. When I couldn't politely decline anymore, I threatened to tell his wife which is when he dropped it and that was the last time we interacted outside of a public setting." she said in her post which was uploaded in the year 2018.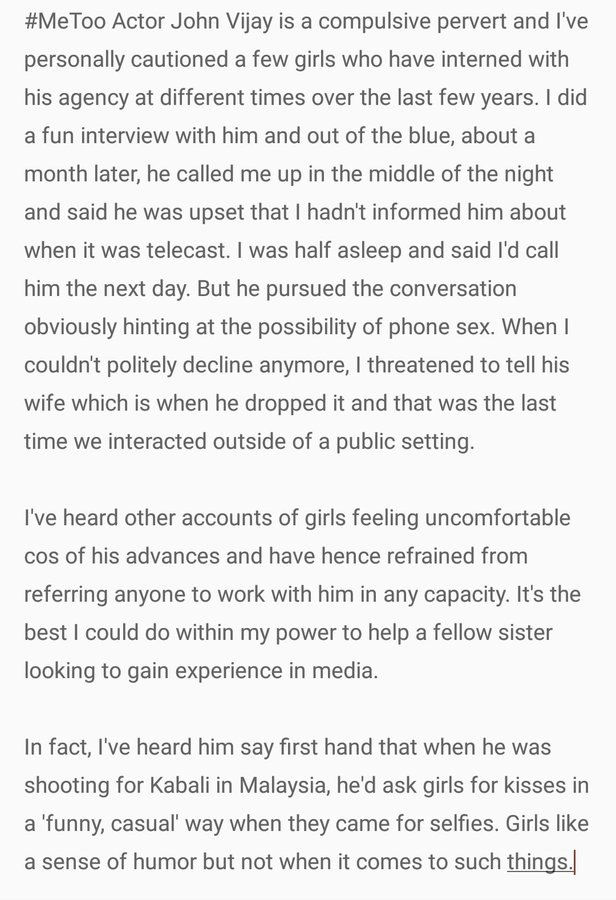 Sivaranjani also said that she stopped suggesting girls to do intern for his agencies. Check out her post below :
#MeToo This incident happened in 2014 with actor John Vijay. Thanks hubby @NOTamitbhargav for the nudge. And thanks @Chinmayi @TheRestlessQuil for making noise. I'm speaking up too! #TimesUp @muthupradeep you know when this happened. pic.twitter.com/EfzqdgDvVH

— Sriranjani T S (@Sri_TS) October 17, 2018
[wp_ad_camp_1]
After the release of "Sarpatta Parambarai", a social media user shared the post by tagging director Pa. Ranjith and said "Pa. Ranjith, didn't expect this. It's inconvenient to bring this up while d movie & his role is being celebrated. But it's important to identify predators and enablers!! This wasn't even an anonymous accusation. I'm sorry that I wasn't aware & didn't do better!" whereas Journalist Subhakeerthana wrote "JohnVijay is a creep. And, this is no secret. The Tamil film industry should stop engaging with sexual predators." in her tweet.
"Similar to how we question #GVM for working with #SingerKarthik, shouldn't we also ask the same question to #PaRanjith?" a twitter user asked.
Check out some of the reactions below :
I guess nobody cares about #MeToo movement in Tamil cinema. Even Pa.Ranjith who is known for his political correctness and ideologies works with a guy like John Vijay.

— Arun Ashok (@arunashokhere) July 23, 2021
And in the third screenshot of this tweet, you will also see what #JohnVijay did.. #MeToo

The same questions that we ask #GVM regarding hiring #Karthik should also be asked of #PaRanjith too especially since he says he supports the #MeToo movement. https://t.co/P970PBQpjb

— ZanDude (@RakitaMode) July 22, 2021
#JohnVijay is a creep. And, this is no secret. The Tamil film industry should stop engaging with sexual predators. https://t.co/iSBaxtXfRR

— Subhakeerthana (@bhakisundar) July 22, 2021
Ranjith has been supportive of #Metoo and knowing his stand it's savarna feminists have taken this up, and at this time. While not engaging with Pa Ra. Again John Vijay if accused by others needs to be called out and made accountable.

— தோழர் Guppy (@guppystweet) July 23, 2021
Actor John Vijay// @beemji didn't expect this.

It's inconvenient to bring this up while d movie & his role is being celebrated. But it's important to identify predators and enablers!!

This wasn't even an anonymous accusation. I'm sorry that I wasn't aware & didn't do better! https://t.co/gBs3EXNjUU

— thithlii🦋 (@puddle_eyess) July 22, 2021