Internet Divided After Rajinikanth's Press Meet !!
Written by Dhiwaharan Published on Mar 12, 2020 | 17:43 PM IST | 91
Follow Us
Comments: 0
Superstar Rajinikanth has attended his first ever official press meet after his announcement on his political entry. In his press meet, Rajinikanth said three important agenda of the party he is going to initiate. "December 31, 2017 is the first day I announced about my political entry. Whenever they asked about my political entry, I used to point out at God. So I believe people won't say that I have been talking about entering politics for past 25 years" Rajinikanth said in his press meet.
Talking about the three important points, Rajinikanth said that he wants to change the political system of Tamilnadu. "There are more than 50,000 party positions in Tamilnadu. That kind of positions are needed during the election time. But after the election, a party doesn't need that much employees. I have seen many politicians using their power to earn money in illegal ways. It will cause danger to the lives of people. After coming to the power, I wish to work with limited number people"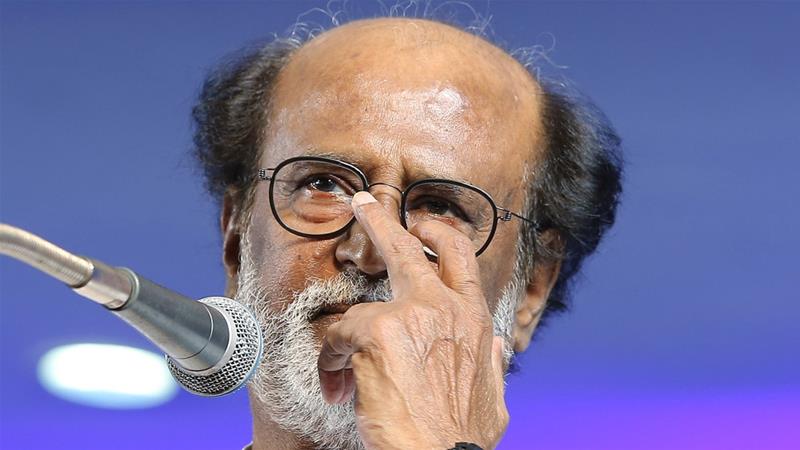 After that Rajinikanth insisted on bringing youths to his party. "Youths won't get power easily in politics. Only the sons of MP, MLA could get power. In my party, I intend to bring youths under 50 years of age as 60- 65% of my party members. The else 35% will be filled be sane peoples such as judges, lawyers, IPS, IAS and by the other party members with good reputation" he said.
Thirdly, the "Annaththe" actor said that he will not compete the upcoming election as CM candidate. He said that he will select an appropriate candidate to be as Chief minister and will lead his party as party leader alone. Rajinikanth displayed his political entry speech to reiterate his statement on not being a CM-aspirer. "It was not in my blood. I can't think of being a Chief minister at all. You all know the incident that happened in 1996 where many influential people asked me to contest as CM. That is not in my mind at all. I will remain as party leader" he said.
Watch the video below :
Source : Thi Cinemas
As soon as the video of his speech surfaced, it went viral in social media platforms. Many started reacting in various ways, including director Karthick Subbaraj. Check out some of their reactions below :
Clear Visionary, New Ideology ,Selfless, Practical,Genuine & Straight from the heart..That's Thalaivar in Politics!!

Great speech Thalaiva..
Our HOPE for a Political Change 🙏

Let the Movement begin..

இப்ப இல்லைனா எப்பவும் இல்ல!!#RajiniPoliticalRevolution #ThalaivarPressMeet pic.twitter.com/fcWoQ39cdQ

— karthik subbaraj (@karthiksubbaraj) March 12, 2020
இது சர்கார் படத்தோட கதைப்பா..#பயந்துட்டியா_கொமாரு pic.twitter.com/pvMwe3ypeU

— T R 😎😎😎 (@thaufikrahman19) March 12, 2020
Such a Selfless Person, Practical, True from the heart.. What a man !! Thalaivaaaaa🤩🤩🤩

Our HOPE for a Political Change 🙏

இப்ப இல்லைனா எப்பவும் இல்ல!!
Real Truth 🔥🔥#RajiniPoliticalRevolution #ThalaivarPressMeet #RajiniPoliticalDebut pic.twitter.com/blsLLQuHU9

— 🔥Thalaivar Rajni fans Club (RFC)👑 (@Rajnifanclub) March 12, 2020
The real "Jardha Beeda" Kaathavarayan.. pic.twitter.com/vHnwkwtu3H

— Arun Pandiyan (@ArunPandiyanMJ) March 12, 2020
The expected game ends! 😢
But the unexpected revolution begins! ❤️🤘#RAJINIPoliticalRevolution pic.twitter.com/E7iwgCf9pD

— Ⓜ️a🤘on ᴬᴺᴺᴬᴬᵀᵀᴴᴱ (@MayonTweets) March 12, 2020
வழக்கமா ஹேட்டர்ஸ்களுக்குத்தான் டின் கட்டி உட்டு வேடிக்க பாப்பாரு
இன்னைக்கு நம்ம டவுசர்லையே டின்ன கட்டி உட்டார்ல 😒😒 pic.twitter.com/scKd1N0BwR

— RCB சனியன் சகட (@SelvaaRocky) March 12, 2020
இனி தான் ஆரம்பம்🤘🤘

"The Man With a Golden Heart"#RajiniPoliticalRevolution#RajiniMakkalMandram #Rajinikanth #Thalaivar #Rajinikanthpoliticalentry
pic.twitter.com/aMTw3egCco

— Trends Rajini ™ 🤘🤘 (@TrendsRajini) March 12, 2020
பாட்ஷா எதிர்பார்த்து போனவங்க பாபா பார்த்துட்டு வந்த மாதிரி இருக்கே! 🤔#RajinikanthPressMeet

— Meera Srinivasan (@Meerasrini) March 12, 2020
ஆயிரம் கொற சொல்லுங்க… பதவி வேணாம்னு சொல்ற ஒரு ஆள இப்ப தா பாக்குறேன்..

— Runner (@RxRaja_) March 12, 2020
சீமானாவது பரவால்ல அரசியலுக்கு வந்துட்டு ஆட்சி என்கிட்ட குடுங்க நான் பார்த்துக்கறேன்னு சொல்றார்… ரஜினி ஆட்சிய என்கிட்ட குடுங்க அப்பறம் அரசியலுக்கு வர்றேன்னு சொல்றார்… 😂😂

— திரு (@thirumarant) March 12, 2020
Comment your views on this speech of Rajinikanth !!