Indu Makkal Katchi Claimed That Vijay Is Wearing A "Jesus Cross" In Arabic Kuthu !!
Written by Dhiwaharan Published on Feb 16, 2022 | 05:36 AM IST | 222
Follow Us
Comments: 0
Official twitter handle of "Indu Makkal Katchi" which is led by Arjun Sampath claimed that actor Vijay is donning a "Jesus cross" contained chain in the recently released "Arabic Kuthu" song and said that they welcome him for openly displaying his religious identity. However, fans who corrected the post saying that it is not a "Jesus cross" but an "Anchor" symbol, trolled the party for always searching for aspects that support their religious ideologies.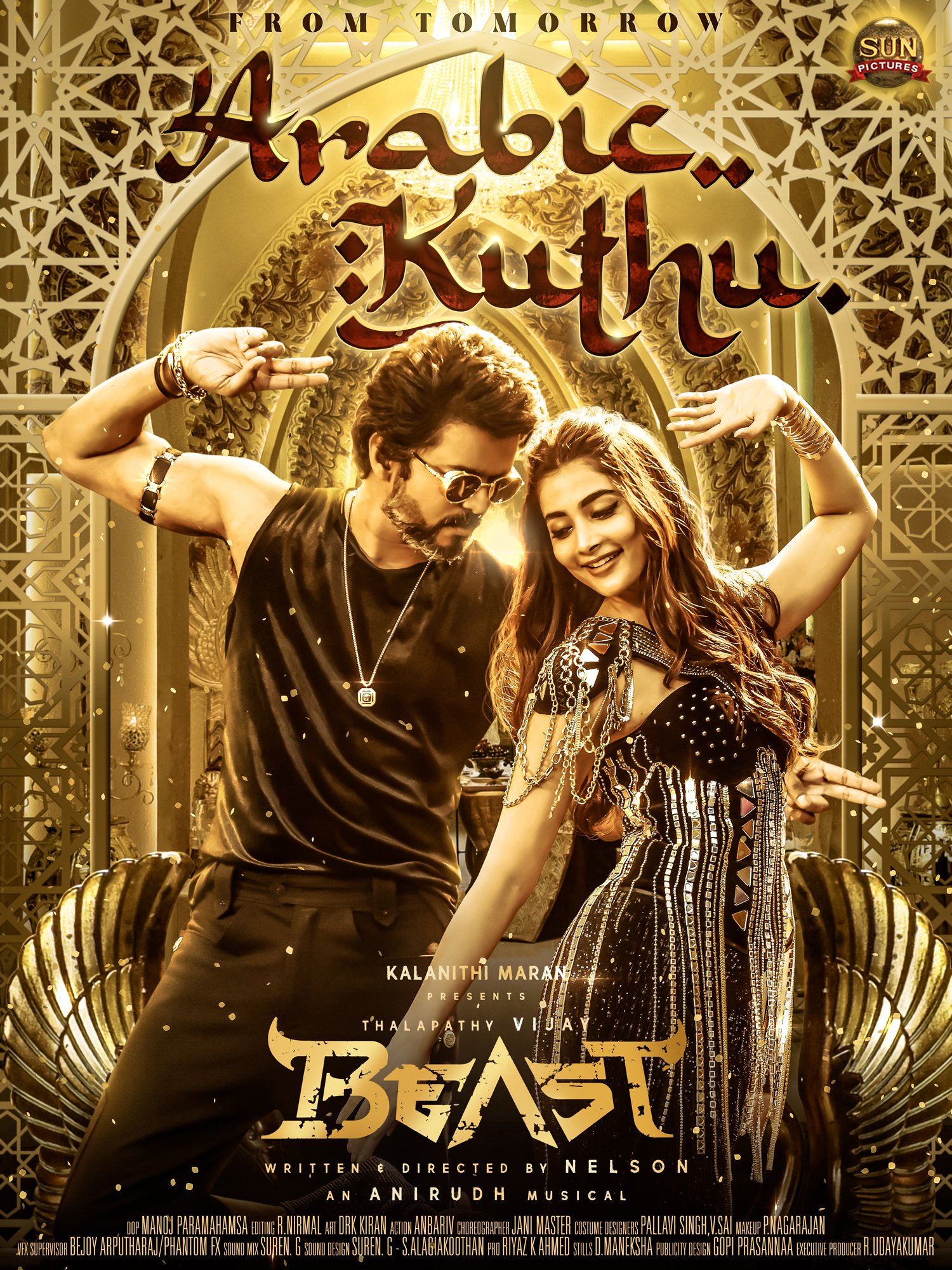 The most awaited "Arabic Kuthu", first single of Vijay's upcoming film "Beast" released sharply at 6 PM on Valentines day and is breaking records of all the previously released lyric videos in youtube. Fans of actor Vijay are going gaga over the 4 minute 43 seconds song which was sung by Anirudh Ravichander and Jonita Gandhi. The video song featured Vijay and Pooja Hegde shaking their legs together for the fast number with lyrics popping up simultaneously. The song also garnered 25 million views in less than 24 hours and is currently trending at no.1 in youtube with 40 million views.
Written by Sivakarthikeyan, the hook line of the song is Malama Pitha Pithadhe" and it's hard to tell what it means. It is not sure whether it has any base in Arabic language as well. To the surprise of fans, the lyrical video also has a glimpse of Vijay and Pooja Hegde performing the signature step of "Arabic Kuthu". Glimpses of set making and choreography were also provided for the fans in the lyric video.
Among the many who reacted to the song, the official twitter handle of "Indu Makkal Kattchi" came up with a tweet claiming that Vijay is wearing a chain that contains jesus cross in it. "Joseph Vijay wearing Cross is a welcome sign, he is unapologetically and boldly displaying his religious identity – what's wrong in it. IMK welcomes this, every one has freedom of religion in India. Unnecessary propaganda must be avoided. We have to choose our battles wisely" caption of their post read.
We have to choose our battles wisely.

— Indu Makkal Katchi (Offl) 🇮🇳 (@Indumakalktchi) February 16, 2022
Fans quickly pointed out that it is not a "Jesus sing" but an anchor. "That's an anchor why is this IMK man so stupid" a follower tweeted with many others trolling the party for he baseless claim.
Check out some of the reactions below :
That's an anchor why is this IMK man so stupid https://t.co/qk8PWRB3bC

— kirthana (@kirthanaaaaa) February 16, 2022
Cross க்கும் Anchorக்கும் வித்தியாசம் தெரியாத தற்குறிப்பயலே https://t.co/qqUvhXBTcf

— Arrjun Vasudevan (@arrjunvasu) February 16, 2022
yow, adhu anchor ya.😩😭 https://t.co/frhe9Ixgza pic.twitter.com/wBhLtKsl28

— nikhi.🦋✨ (@SKNikhita) February 16, 2022
/Unnecessary propaganda must be avoided/ note to self ah? 😁😂 https://t.co/yCpa3Mu81A

— Sonia Arunkumar (@rajakumaari) February 16, 2022
music video-va laam christopher nolan padam madhiri analyze pandraangale aiyo

think pieces over an anchor necklace? please get over yourselves https://t.co/vEFZnUiN9o

— levi ackerman's gf (@skalirs) February 16, 2022
நங்கூரத்துக்கும் சிலுவை க்கும் வித்தியாசம் தெரியாத உனக்கு மூளை பு** எதற்கு#Beast https://t.co/yyCRWzPSlO pic.twitter.com/VPQTSpH5sJ

— JOHN WICK™ (@itz_johnwick1) February 16, 2022
விட்டா ரெண்டாம் க்ளாஸ் பசங்கள கூட்டல் குறி (+) கூட போட விடமாட்டானுங்க போல😂😂🤦‍♂️🤦‍♂️🤦‍♂️ https://t.co/7WtpcT3elp

— Risk Babu (@erbabu08) February 16, 2022
விஜய் அஜித்னு வெறித்தனமா அடிச்சுக்கிட்டு மாத்தி மாத்தி குடும்பத்தயே அசிங்கப்படுத்தி Worldwide Tag trend பன்ற பசங்களே ஒரு நாளும் அவங்க மதத்த வெச்சு சண்ட செஞ்சது கிடையாது டா!! இந்த பருப்பெல்லாம் இங்குட்டு வேகாது நாயே ஓடிப்போ!! https://t.co/O23SppobaU

— Ethir Katchi (@sudhanks) February 16, 2022
எங்க வாய திறக்காம விட்ருவிங்களோனு தான்டா பயந்தோம் … வாடா வாடா … சங்கி … https://t.co/p2Ar8nOFmz

— வெற்றி !!! 🇧🇭 (@ragavanradhakri) February 16, 2022
அவனும் தெரிஞ்சுதான் பண்றான். நீயும் சொல்லி வச்ச மாதிரி trigger ஆகுற…

ரெண்டு பேரும் சேர்ந்து promote பண்றீங்களோ pic.twitter.com/zxLZxtF0om https://t.co/gFLp4PmobP

— nodus tollens (@iravaadi) February 16, 2022
நங்கூரத்துக்கும் சிலுவைக்கும் வித்தியாசம் தெரியாத முட்டா ன்னி

உனக்கு எதுக்கு புரட்சி ன்னி https://t.co/rhLaeO4TgT

— . (@__BoyHasNoName) February 16, 2022
First learn the difference between a cross and an anchor 😂😂

Fans like him for his profession and not for his religion … https://t.co/cAKv6zjspS

— Dr Sharmila (@DrSharmila15) February 16, 2022
இவனையெல்லாம் எப்படி கட்சித் தலைவரா வச்சிருக்கானுங்க…😂 https://t.co/i3fQjKn9f2

— பெரு.ஆறுமுகம் (@peru_arumugam) February 16, 2022