India's Youngest Billionaire Slammed By The People For Showcasing His Donation To Kerala !!
CM / Updated: 2018-08-19
03:16 IST
By Dhiwaharan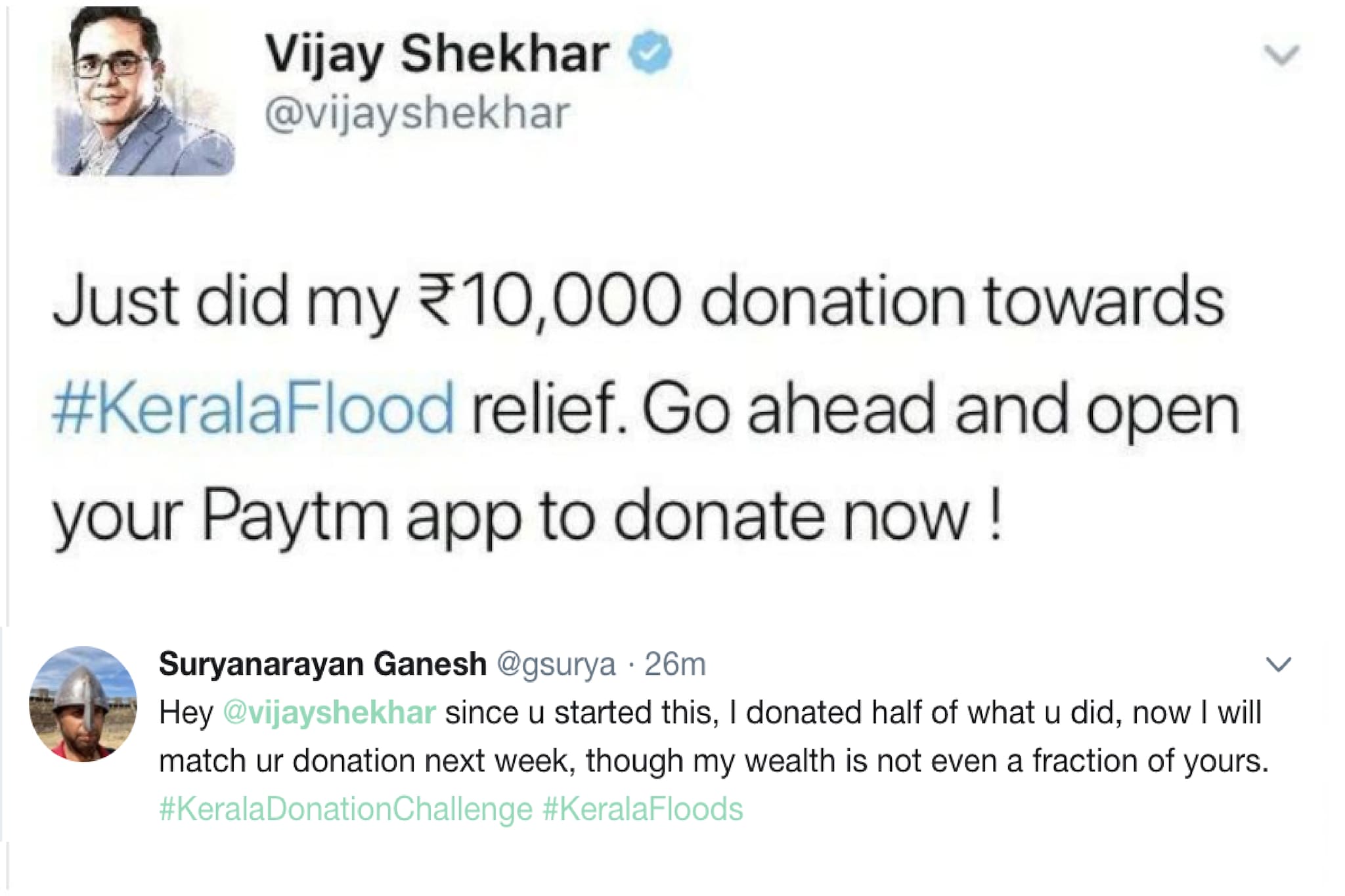 Kerala is drowning and several influencers, industrialists, celebrities and politicians have turned benefactors for the state, donating small to large sums of money.
However, India's youngest billionaire Vijay Shekhar Sharma, the founder of the immensely successful e-commerce payments portal PayTm, was slammed on social media for what many on social media referred to as a 'paltry' donation – Rs 10,000.
[wp_ad_camp_1]
On Friday, the billionaire posted a tweet that has since been deleted, announcing that he had donated Rs. 10,000 to Kerala to help with the calamity. He attached a copy of the receipt and went on to ask people to 'open their PayTm apps and donate now'.
In the last 48 hours, PayTm has raised almost 3 crores via public donations. While many defended the founder saying that his tweet would encourage more donations, Sharma's
chosen denomination for his personal contribution did not sit too well with Twitterati, who were quick to slam him on the micro blogging site. Sharma's call to people to 'open their PayTm apps' and start donating also appeared tasteless and advertorial to many.
Paytm founder @vijayshekhar Sharma, The youngest Indian billionaire with net worth of $1.7 billion did a self promotion by posting a screenshot of him donating a huge amount Rs.10000 via his @Paytm app towards #KeralaFloods. Deleted it later. pic.twitter.com/ML7GHh1Y8i

— Unofficial Sususwamy (@swamv39) August 18, 2018

Billionaire Vijay Shekhar makes a 10k donation and posts a screenshot to promote himself. Heights of being cheap. What will happen when Paytm starts selling Mutual funds? A single market downturn and the majority investors will panic? #Harshtruth #Advisorjarurihai @vijaimantrimfpic.twitter.com/VVxVc8tGUN — Aditya Singhania (@Adi_Singhania) August 18, 2018
Shame ,did u donate only 10000? The screenshot is getting viral on whatsapp n ur credibility at stake …

— NriDoctor (@atheist_bihar) August 18, 2018

This is not the first time that the billionaire's generosity has been questioned. In December 2017, Sharma was heavily trolled on social media after he donated Rs 500 to the Indian armed forces on Armed Forces Flag Day and shared screenshots of the transaction on Twitter.
[wp_ad_camp_1]
Just sent ₹501 to Armed Forces Flag Day Fund. #🇮🇳 @DefenceMinIndia pic.twitter.com/B5KD7wcdb9

— Vijay Shekhar (@vijayshekhar) December 1, 2017

The ongoing floods in Kerala have been the most severe in almost 90 years and has cost the state irrecoverable damage and losses to the tune of nearly Rs 19,512 crore after torrential rains wreaked havoc across the state. The lives of over 300 people have been lost and 3.14 lakh people have officially been displaced from their homes.
People from all walks of life have been making contributions, small and big to help aid the victims of the flood. CM Vijayan and the people of Kerala have been raising regular requests on social media and other platforms for more and more people to donate to the 'Chief Minister's Distress Relief Fund'(CMDR) as every penny counts.
Rajasthan Royals cricketer Sanju Samson donated Rs 15 lakh through a cheque handed over directly to the Kerala Chief Minister Pinarayi Vijayan. Sun TV and TVS Motorcompany donated one crore each. Anand Mahindra announced on Twitter that his Mahindra group would also be donating to the CM's fund.
Retweeting because the situation is worse than when I first posted this. I will donate again tomorrow… https://t.co/pltb6HdKWb

— anand mahindra (@anandmahindra) August 17, 2018

Hanan Hamid, who recently gained fame after images of her selling fish in a market to support her education went viral and sparked a public funding campaign to help her education, donated 1.5 lakh toward relief proceedings. Hamid said that she had received the money through donations herself and wanted to give back to the people the same way they came forward to help her when she was in need. Malayalam actor Mammootti and his son Dulquer donated 25 lakh.
[wp_ad_camp_1]
On Saturday, PM Narendra Modi who surveyed the situation in Kerala on a helicopter declared a Rs 500 crore interim relief package for the state in response to Vijayan's demand for Rs 2000 crores. This comes in addition to the 100 crore that the Home Ministry had already given in response to the state's demand for Rs 1220 crores.