"India" To Be Renamed ?? "Bye Bye India" Trending !!
Written by Dhiwaharan Published on Jun 02, 2020 | 10:35 AM IST | 202
Follow Us
Comments: 0
After Independence, the constituent assembly adopted two names, India and Bharat for the country. Many members wanted "Bharat" to be the primary name. A petition is in the Supreme court seeking to "drop" India from constitution and keep "Bharat" as the only name. As per reports, Supreme court is all set to hear the plea of amending the constituion on June 2.
[wp_ad_camp_1]
When India got Independence from British rule, a furious debate took place in the constituent assembly regarding the name of the country. British called the country as "India". Mughals, the biggest empire in India, called the same as "Hindustan".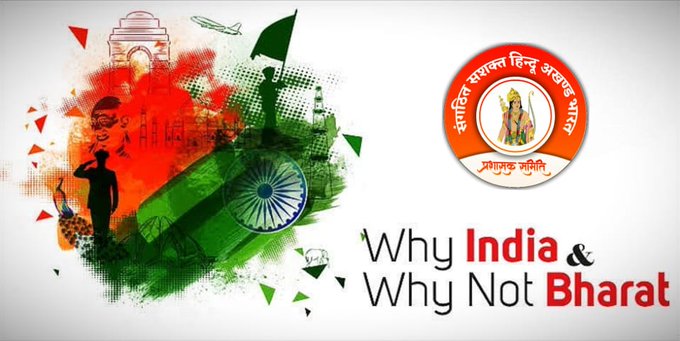 The constitution finally decided to adopt two names India and Bharat. Now, a petition has been filed by Namah, a resident of Delhi, in Supreme court seeking removal of "India" as the name of the country and keeping just Bharat as the solitary identity of the nation. He says that "India" is a symbol of slavery while seeking to recognise "Bharat" or "Hindustan" as the only name of the country.
As the hearing of this case in going to take place in Supreme court, Twitter users, especially those who wants to change the country name as "Bharat" started trending "Bye Bye India Only Bharat" in twitter. One of a twitter user went one step ahead and said that the color of our national flag is going to change soon into saffron. Check out some of the tweets under the hashtag below :
National Flag of Bharat…..very soon!

Do you agree??#ByeByeIndiaOnlyBharat pic.twitter.com/KaKc3C8ZMD

— Deepak (@deepakspot) June 2, 2020
India say #ByeByeIndiaOnlyBharat we want only Bharat and Hindustan pic.twitter.com/yYWbrHVGJ4

— Dharmveer sharma (@dharm314) June 2, 2020
[wp_ad_camp_1]
Bharat is Original Name
Hindustan name was given by Muslim rulers
India name given by British.

Lets Back to our Original BHARAT !!#ByeByeIndiaOnlyBharat@ANI @BJP4India

— Bhagwaan Das (@Samraat32488429) June 2, 2020
Yes,Instead of INDIA it's good to see BHARAT written on our cricketers uniform .. #ByeByeIndiaOnlyBharat pic.twitter.com/4tuFGjgaOJ

— RAJESH (@PisodeRajesh) June 2, 2020
We got freedom form British Rule in 1947.
Now it's time to get freedom from their name India. #ByeByeIndiaOnlyBharat pic.twitter.com/ogrCcPHx5D

— Kishlay Jiggar (@kishlayjiggar) June 2, 2020
'India' was a fancy name given by the British and the practice should be abolished soon.rb&17#ByeByeIndiaOnlyBharat pic.twitter.com/LiteESfvxS

— राहुल बर्फा🚩#प्रसाशक समिति (@rahulbarfa1991) June 2, 2020
Another set of twitter users who got irritated on seeing this hashtag trending nationwide, asked Supreme court to prioritize what is important. They asked the Supreme court to concentrate migrant crisis amidst this COVID pandemic. "Migrant workers – eyes shut, political prisoners – eyes shut. You are willing to hear the case on changing the name from India to Bharat?" an agitated Twitter user sarcastically asked on the micro-blogging site .
Check out some of their reactions below :
[wp_ad_camp_1]
Supreme Court to hear plea striving to shift name from India to Bharat in Indian constituion.
While other valuable judgements are lined up for earshot.
Law students, Article 368 be like: pic.twitter.com/qdkucnV4Kg

— Aishwarya (@_____aishwarya_) May 30, 2020
#ByeByeIndiaOnlyBharat
Me realising my IQ drops down by 1 bar after seeing this hashtag pic.twitter.com/lWhU0ec0nj

— Prashant (@Pr4sh4nt_) June 2, 2020
Comment your views on this hashtag "Bye Bye India Only Bharat" trending in twitter !!