Articles
"I Will Work With You Soon" – Vijay Devarakonda After Watching "Soorarai Pottru"
Vijay Devarakonda, Youth icon of South Indian film industry watched Soorarai Pottru with his friends and reviewed it through his official twitter account. The 31 year old actor said that his friends literally cried while watching the film and expressed his wish of working with director Sudha Kongara in future. He also expressed his admiration towards Suriya who pulled off "Maara" and backed the project financially.
[wp_ad_camp_1]
"Watched it with a big gang of friends, all boys, 3 of them cried, I was just raging through the film and fired up to see the outsider make his statement and a statement was made!" Vijay wrote in his tweet and went to laud the prominent personalities who made the project successful.
Talking about Suriya, Vijay dubbed him as a "Terrific performer" and dropped a heart for his producing such a powerful product. He also awed the rawness in the role played by Aparna Balamurali and asked where Sudha manages to find such women to play in her films. "I will work with you soon 🙂 This is me professing my admiration for you as a director." he said to appreciate Sudha Kongara and mentioned GV Prakash, Nikesh Bommi in his tweet as well.
[wp_ad_camp_1]
To know the authenticity of the story of "Soorarai Pottru", Vijay said that he is going to order the book "Simply Fly". The actor, to express his anger towards the antagonist, wrote "Also Fck people like Paresh Goswami :)" in his tweet.
Check out his tweet below :
@Suriya_offl na – what a terrific performer, you just feel love for him as an actor giving it his all, even backing it as a producer. ❤️ @Aparnabala2 – I kept wondering where does Sudha find these amazing women to play in her films, so real, an actress totally in command.

— Vijay Deverakonda (@TheDeverakonda) November 16, 2020
[wp_ad_camp_1]
I dont know how much is true and how much fictionalised – so ordering the book #SimplyFly to read more about Captain's journey… Also Fck people like Paresh Goswami 🙂 Definite watch in Telugu or Tamil – cheers!

— Vijay Deverakonda (@TheDeverakonda) November 16, 2020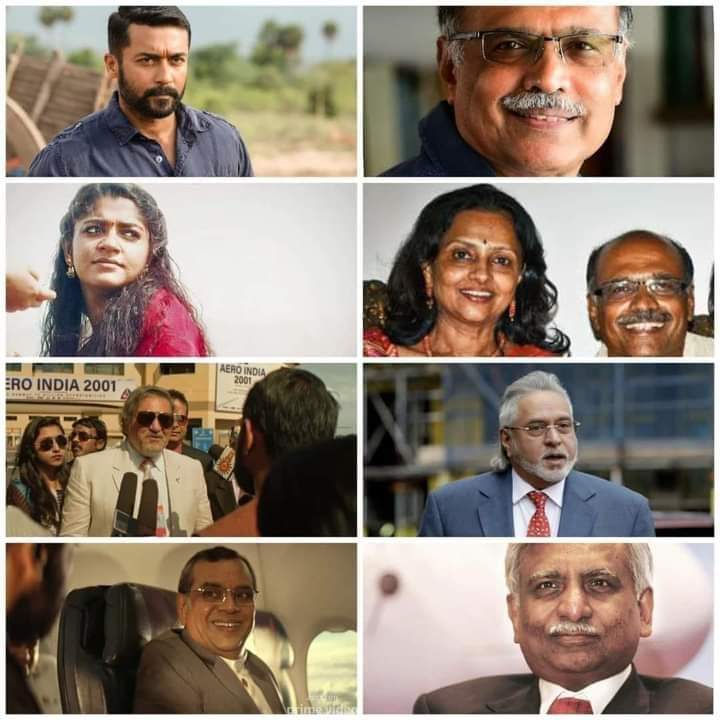 Paresh Goswami, the character portrayed in the film is widely believed to be inspired from Naresh Goyal of Jet airways. Following the 2005 IPO of Jet Airways, Forbes magazine declared him the 16th richest person in India. A character named as "Bhallaiya" resembles Vijay Mallya for some reasons as well. As we all know, The film which is inspired from the life history of Air Deccan founder G.R Gopinath, is touted to be a coming of age semi-biographical drama. It is notable that Gopinath is a retired Captain of the Indian Army, an author, and also a politician.
The film's plot revolves around Nedumaaran Rajangam's constant struggles to initiate an Airline of his own to make simple people travel in it. Director Sudha Kongara, in an interview said that she took inspiration from G.R Gopinath's autobiography "Simple fly" and made a story that is suitable for the entertainment medium.
Comment your views on this review posted by Vijay Devarakonda !!