Articles
"I Take Print Outs & Screenshots Of Memes To Correct Next Time" Director Hari Opens On Trolls !!
Director Hari is one of the few filmmakers who strongly cemented the stature of Suriya and Vikram as bankable box-office stars through his blockbuster projects such as Saamy and the Singam series. Saamy Square , where Hari teams up with Chiyaan Vikram for the third time after 14 years, is gearing up to hit screens worldwide on today. In this exclusive chat with FirstPost, Hari talks about the film, his working experience with Suriya and Vikram, and his sportive take on social media trolls.
"When we were shooting Saamy itself, I had planned to make a sequel and had a storyline too. But I felt the performance-oriented factors needed for an artist like Vikram was missing. It took a while for me to do the script and meanwhile, Vikram and I got busy with other projects. Finally, things began to fall in place, and here we have arrived," tells Hari, who has set the story of Saamy Square nearly fourteen years after the prequel.
[wp_ad_camp_1]
Hari has collaborated with Vikram thrice and Suriya five times. Talking about working with them, Hari said, "Both Vikram and Suriya are self-made actors. The fame and respect they garnered are the results of nothing but years of hard work. Even after they carved out a niche for themselves, they don't take their successes to their head. Once Vikram arrives at the sets, he will lit (sic) the place with his buoyancy. I wonder how the hard work, time and effort he invested while doing Saamy has not ebbed away even after a decade."
Hari says he will always be very keen on signing a strong antagonist for his movies. "In my opinion, a hero's strength in a film is the antagonist. Even if you cast a big hero, an inept villain will make the whole movie ineffective. Also, a villain and his strategies should be realistic. I have done all my films having this in mind. Kota Srinivasa Rao's intensity in Saamy can never be forgotten, and he has a role in Saamy Square too. Also, it's a sentiment to have him on board."
[wp_ad_camp_1]
National award-winning actor Bobby Simha will lock horns with Chiyaan Vikram in Saamy Square, which is bankrolled by Shibu Thameens under the banner Thameens Films and stars Keerthy Suresh as the lead heroine.
"Bobby Simha has a substantial role. After I watched his Vatti raja character from Neram, I settled on him to play Raavana Pitchai," says Hari about roping in Bobby Simha for the role.
Saamy Square grabbed the headlines a few months back when Kaaka Muttai actress Aishwarya Rajesh was signed to replace Trisha, who opted out of the film citing creative differences. "Aishwarya Rajesh is a fine artist, and we are fortunate to have her in Saamy Square. Her subdued performance in Kaaka Muttai blew me. Bhuvana is a very subtle and homely character, and not everyone could do justice to that role. When we approached her at the last minute, she immediately agreed to do her part," said Hari.
[wp_ad_camp_1]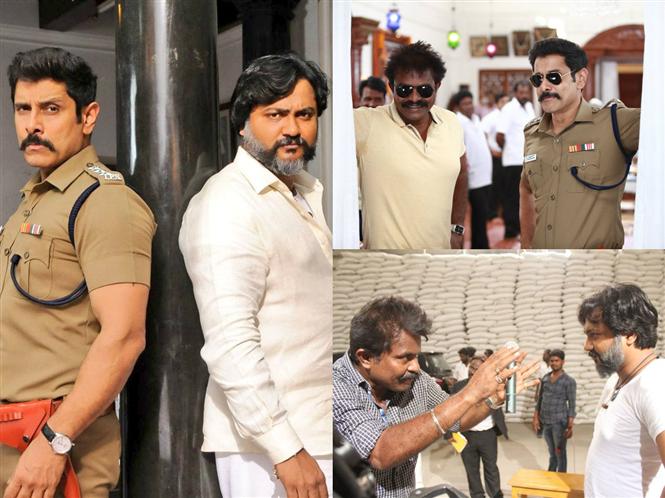 Asked if the trolls on social media affected his grit, a very sportive Hari says, "I respect my audiences' thoughts and feedbacks. Saamy's punchlines were a sell-out, and I took that in the right spirit to cater well. Now Saamy Square's few punchlines are getting trolled in the social media, and I should consider that too, I know. The film is for the audience, if they don't like something about it, I must evolve with their liking. I always wanted to be a sport for the trolls and memes."
"My boys will screenshot the trolls and print out the feedback to give it to me which will be helpful for my future projects. I like the video memes the most where they will insert counters of other comedians. I like that creativity" he added.
Watch the video below :
Source : Cinema Vikatan