"I Need 25 Million Likes" – Samantha's Video Irked Her Own Fans !!
Written by Dhiwaharan Published on Jun 20, 2022 | 06:01 AM IST | 148
Follow Us
Comments: 0
A video of actress Samantha asking Instaram users to provide her 25 million likes in order to go on for a bike ride with Sadhguru is trending in online platforms with many fans trolling the actress for involving herself in such irrelevant programs. A twitter user compared the video of "Kaathuvaakula Rendu Kaadhal" actress with Sai Pallavi who recently made a statement comparing "Kashmiri Files" with "Lynching of a cow smuggler" and stood by her stand by releasing a clarification video.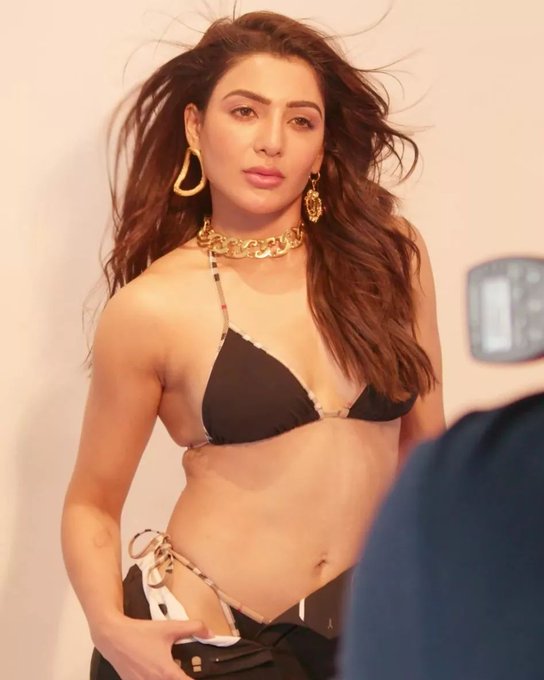 Samantha recently met Sadhguru at an event to mark his 100-day journey for the Save Soil movement in Hyderabad and discussed about several issues. The actress who is known as an ardent follower of the self styled Godman, danced with him to promote the save soil movement. In a video, the actress was also seen asking the users of Instagram to give 25 million likes to a post in order to make her go for a bike ride with Sadhguru who is originally known as Jaggi Vasudev.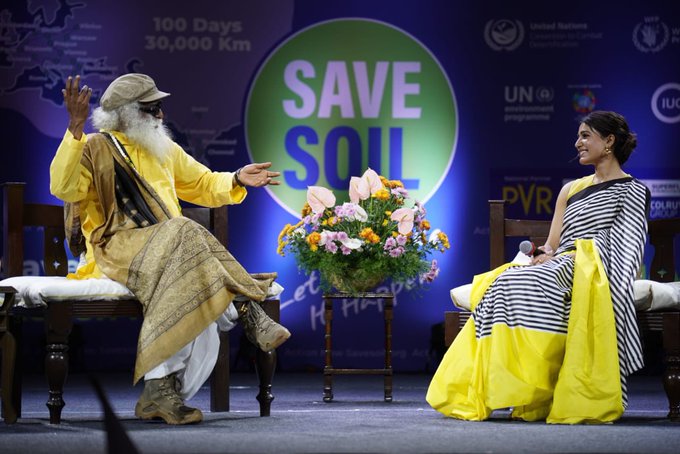 In the video which was uploaded in the Instagram handle of "Conscious Planet", Samantha was seen saying "I was nervous, very nervous. Sadhguru is such an important part of my life. It was very special to be interviewing him today and I loved the interaction. two and half hours felt like and half an hour"
A pleasure to be with all of you in Hyderabad. If something is significant to us, we must do everything it takes to make it happen. Nothing is more integral to human Life than healthy Soil. #SaveSoil. -Sg #SaveSoilTelangana @Samanthaprabhu2 @AnchorSuma @Ram_Miriyala @iamMangli pic.twitter.com/3RHtvMmERK

— Sadhguru (@SadhguruJV) June 16, 2022
Further she asked 25 million likes for the video in order to go on for a bike ride with Sadhguru. "I need to get 25 million likes for earth buddies. This is my request, Get me 25 million likes, I really need to go on a bike ride with Sadhguru. Save Soil" samantha said in the video.
The video was uploaded in "Conscious Planet" Instagram handle with a caption that said "Samantha Ruth Prabhu Flaunts Her #SaveSoil Earrings"
Watch the video below :
View this post on Instagram
The post didn't go well with many of the actress's followers which is evident through the posts that surfaced in the social media platforms. "Who all took part of #SaveSamantha campaign by not liking that Samantha reel where she asks for 25m likes for a bike ride with Sadhguru" a user of Twitter said whereas another one wrote "Sai pallavi is out there addressing a controversy and instead of taking her statement back, she's advocating humanity more than any religion while someone's out there saving soil for 25 MILLION LIKES 🤡🤡🤡🤡"
Check out some of such reactions below :
Sai pallavi is out there addressing a controversy and instead of taking her statement back, she's advocating humanity more than any religion while someone's out there saving soil for 25 MILLION LIKES 🤡🤡🤡🤡

— Punk (@punk___21) June 19, 2022
Who all took part of #SaveSamantha campaign by not liking that Samantha reel where she asks for 25m likes for a bike ride with Sadhguru.

— Shiv (@wtfShiv) June 18, 2022
These actresses are stupid vulnerable and lonely af that they think they are in pursuit of some spiritual Mumbo jumbo or isssalll just business.

Sam belongs to the former category 🥹 https://t.co/s3dkpEgMgr

— W (@SatanIsCurious) June 19, 2022
Why 25 million likes ? @SadhguruJV

To keep a check on your relevancy ? https://t.co/3dYkWQRPO0

— Punk (@punk___21) June 18, 2022
View this post on Instagram
Lost respect https://t.co/lUwrJiIEH4

— naveen (@_twt_naveen) June 19, 2022
no more samantha simping man her sadhguru worshipping nonsense is insane yuck

— Pavitra (@pavitrash_) June 18, 2022
Are we all gonna ignore Samantha's Sadhguru fanatic behaviour?
The guy is a crook..

— Carpe Noctem (@iravaadi) June 19, 2022