WATCH : "I Just Wanted To Submit My Assignment" – Girl Student Who Got Harassed By Mob!!
CM / Updated: 2022-02-08
22:06 IST
By Dhiwaharan
The girl who shouted "All Hu Akbar", in response to "Jai Shree Ram" slogans that were chanted against her by a bunch of saffron boys in the viral video, has been identified as Muskan and interacted to media about what really happened inside the college campus while she was trying to enter the class room.
"They (Hindu friends) all supported me. They said they (the saffron scarf group) are all outsiders": Muskan, student who was heckled in Karnataka's Mandya pic.twitter.com/TnjZo3y837

— NDTV (@ndtv) February 8, 2022
"I was going to college to submit an assignment. There were some people who were not allowing me to go to the college because I was wearing a burqa. They were asking me to remove the burqa and enter the college" Muskan said, according to India Today.
Earlier, in a confrontation that was caught on camera, a student in a hijab stood her ground as she was heckled by a large group of slogan shouting young men wearing saffron scarves at a college named Mandya Pre-university college in Karnataka. In the video, the young woman could be seen parking her scooter and heading towards the college campus.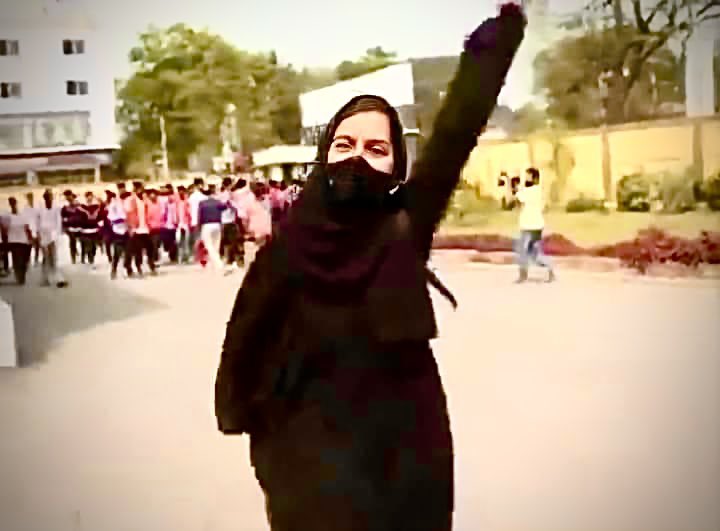 On seeing her, a bunch of students wearing saffron scarves shouted "Jai Shree Ram" and advanced towards her. The lone student didn't look intimidated as she was seen shouting back "All hu Akbar" by raising her hand. The men followed her when se walked forward. "What is the problem if I am wearing the burqa ?" she says to a person.
However, the men continued following the girl, chanting the slogan and the college officials stepped in to guard the girl and stopped the men. Watch the video below :
The way she walks without any fear!!!
More power to you ❤️ https://t.co/Ga5ZB1kGnO

— تانیث فاطمہ (@FatimaTanees) February 8, 2022
While many lauded Muskan for behaving brave in front of hecklers who harassed her, few criticized her saying that she shouldn't have responded with a slogan and added that it will add fuel to the calamity. "I came in and they started shouting "jai Shree Ram". I was just passing. There were a lot of boys standing. Some of them were outsiders and some from the college. But our principal and every lecturer supported me" Muskan said to the media.
"They were shouting slogans, Jai Shri Ram, Jai Shri Ram. So, I screamed "All hu Akbar". That's it" Muskan said. Lots of boys were standing. They were just screaming, They were showing fingers. I was a little bit scared. Then I saw principal and teacher and I felt okay" she added. "They were saying If I don't remove the burqa, they will not remove their scarf" she further said, as per the report of India today.
Watch the video below :
#NDTVExclusive | "Some men were outsiders, but 10 per cent were from college, but most were outsiders," says Muskan, student in #Hijab who was heckled by students in saffron shawls in #Karnataka today.#KarnatakaHijabRow pic.twitter.com/DWff3u1MJh

— NDTV (@ndtv) February 8, 2022
In an interview with NDTV. Muskan confirmed that only 10 % of the students were from the same college and others were from outside. She also said that all the staffs and lecturers supported her when the saffron boys approached her by chanting slogans.
Basavaraj Bommai, chief minister of Karnataka announced leave for all schools and colleges in the state for three days after the controversy over students wearing hijab on campus intensified with violence being reported from several districts. "I appeal to all the students, teachers and management of schools and colleges as well as people of karnataka to maintain peace and harmony. I have ordered closure of all high schools and colleges for next three days. All concerned are requested to cooperate" he said through his tweet.