"I Entered Cinema To Earn Money" – Nelson's Open Statement Went Wrong
beast
Nelson Dilipkumar
rajinikanth
Vijay
CM / Updated: 2022-04-19
21:05 IST
By Dhiwaharan
A statement made by Nelson Dilipkumar before the release of "Beast" about entering cinema only to earn money, didn't go well with a number of online users who are flooding the timeline of social media platforms with posts criticizing the filmmaker. An online user went one step ahead and compared the speech of Nelson with Director-Actor Kamal Haasan's.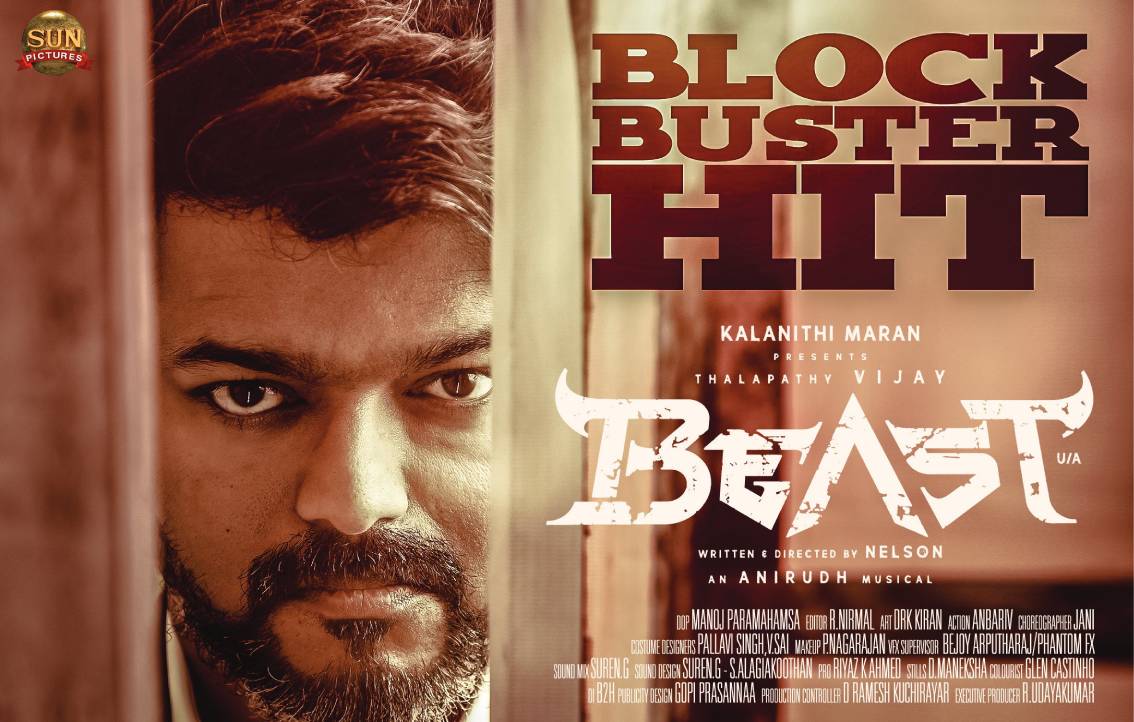 On Tuesday, a strong buzz did rounds in social media platforms saying that Superstar Rajinikanth replaced Nelson Dilipkumar from his upcoming film after watching the special screening of "Beast" in Sun TV office. However, after Nelson brushed off the baseless rumour by adding "Thalaivar 169" in his bio along with "Kolamaavu Kokila", "Doctor" and "Beast".
The main reason behind the buzz is the reviews "Beast" is receiving from the audience and critics. The film which didn't exceed the anticipation level of fans, failed to engage them with a tight screenplay, being a hostage thriller. However, the film's collection surpassed 200 crores, says reports and the filmmaker is all set to direct Rajinikanth in his next.
In the meantime, a clip from the filmmaker'a interview is doing rounds in social media platforms with fans expressing their displeasure over it. In the interview which was shot prior the release of "Beast", Nelson said that he entered cinema only to earn money and no film has vast lifetime irrespective of it's good content.
"The reason behind my entry into cinema industry is to earn some money. What would be a lifetime of a good cinema ??" Nelson questioned the anchor of the show and went on to state "It would fade after a point"
Watch the video below :
The video is being widely circulated by the users of online platforms and a user compared Nelson speech with Kamal Haasan who said that there are many other business to earn money. "Come to cinema only if you have dream. There are many other business that you know to earn money" Kamal said in the function. A number of fans stood with Nelson and supported his statement as well.
Check out the video and other reactions that surfaced for Nelson's speech :
நல்ல சினிமா எடுத்து என்ன ஆக போகுதாம் 😂😂 https://t.co/MREIdFI5N0

— K A V I N (@Hitmankavin) April 19, 2022
I stand with Nelson. Leave aside their work, guys like Kamal and vetri won't even give back the advance salary they received even if the project is dropped. If money ain't an issue and respecting craft matters a lot why do you retain such money https://t.co/e313tDjkXb

— Tommy shelby (@RamNiteesh) April 19, 2022
Nelson Wrost Speech 🥺🥺

#Beast#BeastDisaster pic.twitter.com/iRLQLCYtQI

— Thirunelveli Ajith Fans Club (@TTFC_official_) April 17, 2022
Le all filmmakers who made timeless classics: pic.twitter.com/k5PXic5f0N

— 闇 Dark (@Darktoevsky) April 19, 2022
Nelson spitting the facts and being practical and others scoring brownie points 👍 https://t.co/IwUaLpwUzh

— z N e D (@MadMart05) April 19, 2022
Content eh mariduchu .. indha money topic ah .. neel um Atlee um Koda sonnaga but rendu nala padam kodukkanum nu motive iruku but nelson nala padam koduthu enna aga podhu nu Soldran 🤡 https://t.co/O0OMh0uBso

— 𝑴𝒖𝒌𝒆𝒔𝒉♡︎𝑷𝒓𝒊𝒚𝒂𝒏𝒌𝒂 (@mukeshpriyankaa) April 19, 2022
Nelson sonnadhula thappey illaye….. Ellarum adhuku dhan ah padam edukranga…. https://t.co/imtPhcIEn3

— CRISTIANO (@vetri_ronaldo) April 19, 2022