A letter written by Kanmani Gunasekaran, a writer who helped "Jai bhim" makers in changing dialogues into regional slang, is trending in social media platforms. The writer who returned the payment he received for working in the film, expressed his dejection over the makers showing "Vanniyars" in bad light. He also questioned why the film which was titled "Eli Vettai" at first, was changed into "Jai bhim"
In his letter Kanmani Gunasekaran wrote "I am a person who lives by the village environment doing farming, writing and other works" and said that one his readers Senthil came to his house in Manakollai during July, 2019 with director Gnanavel.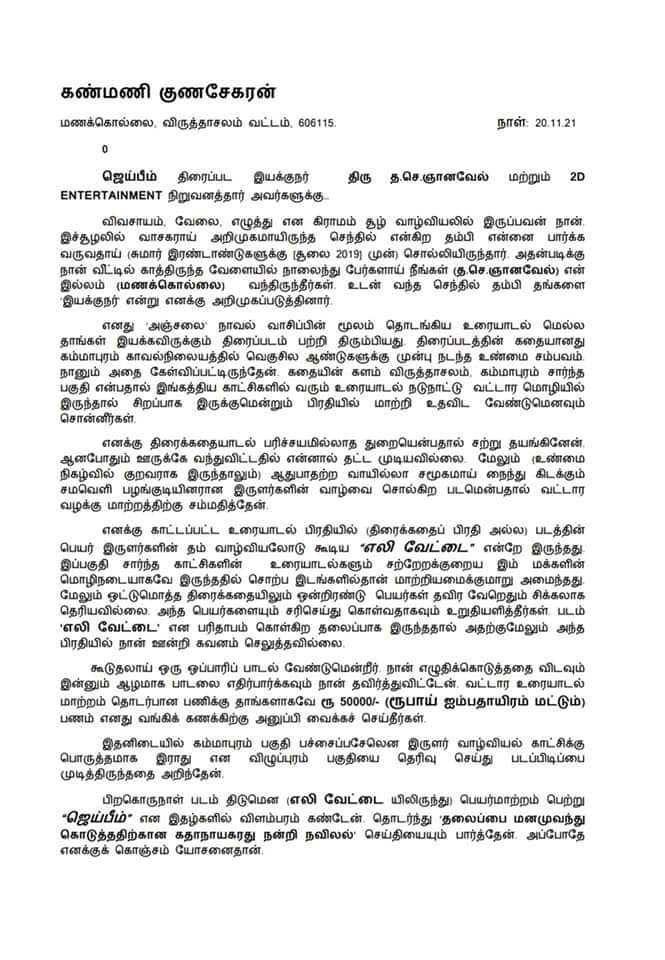 "Our conversation deviated from my "Anjalai" novel reading to the film you are going to direct. I know about the Kammapuram police station incident and you asked me to rewrite the dialogues in regional slang as the story of the film is set in Viruthachalam and Kammapuram" Gunasekaran said in his note.
"I hesitated at first as film industry is new to me. But couldn't resist as you people came to my house and it is a film that speaks about the struggles about Iruals. (Though the real incident involves Kuravaras)" he said and went on to question about the title change.
"In the dialogue copy I was given, title of the film was " Eli Vettai". Very few changes were required in changing the slang and few character names of the film seemed problematic and you people promised me to rectify it. You also asked me a death song and I avoided as you expected a deeper song that what I gave. You people voluntarily sent Rs. 50,000 to me for the work I did regarding the slang change. I also came to know that the shooting of the film took place at Vizhupuram as Kammapuram is filled with greenery. I also started seeing advertisement for "Eli Vettai" with a changed title of "Jai bhim". I had a thought when I saw a news on Suriya thanking a filmmaker for providing the title" Gunasekaran said in his post.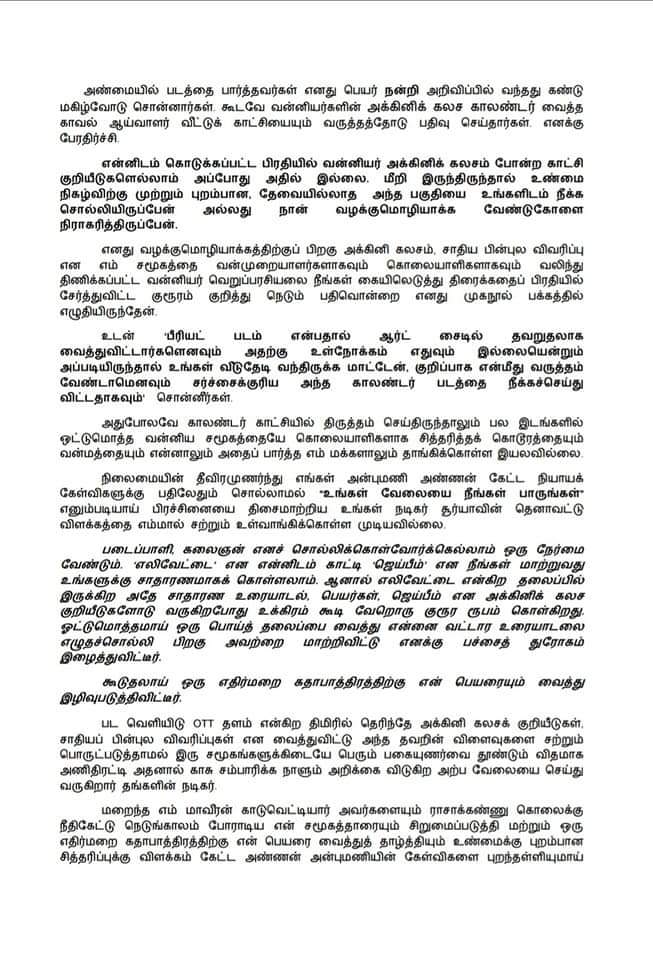 Gunasekaran, further expressed his shock about the Vanniyar reference in the film. "In the copy, I didn't get to see any reference about "Vanniyar Kalasam". I would have stopped the unnecessary reference if I ever become aware of it" Gunasekar said and vented his emotions against "Jai bhim" for the alleged "Vanniyar" references.
"Though you have changed the calendar reference, the entire film talks against Vanniyar community" Kanmani Gunasekaran said and went on to express his disappointment over Suriya's response to the note of Anbumani Ramdoss. "You have betrayed me by releasing the film with a different title. And also degraded me by keeping my name for a negative character.
"It is depressing to see yourself and actor Suriya keeping mum about everything that are happening. You should be a human to accept your mistake and there is no point in boasting about Art, Artist and other things" his note read. After venting his emotions out, Kanmani Gunasekaran also said that he is returning the payment he received for working in "Jai bhim".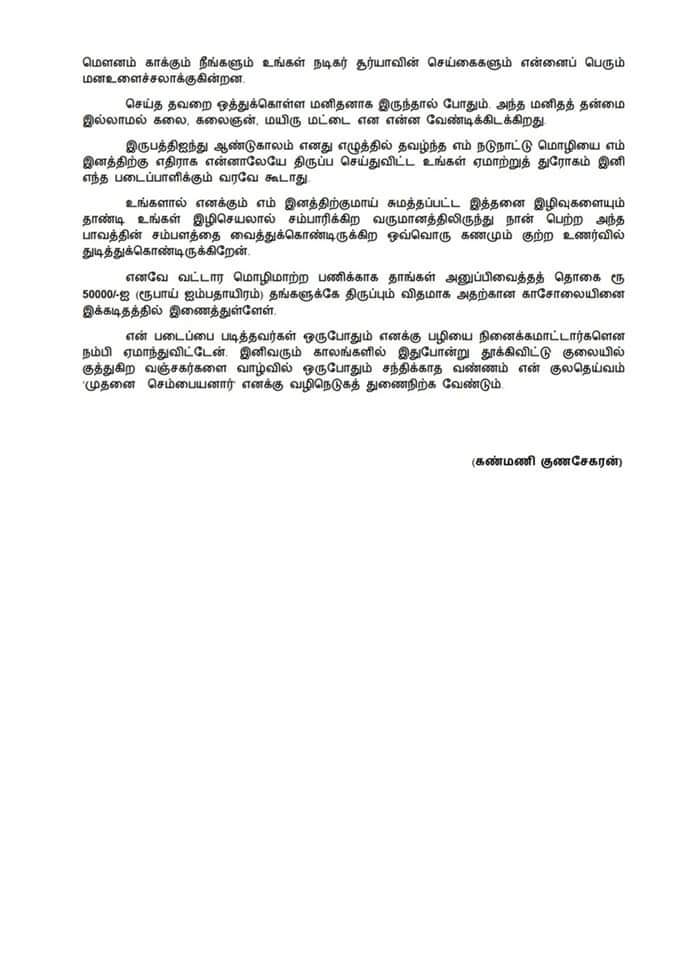 Ever since getting released, Suriya's "Jai bhim" is facing both accolades and controversies from public and political party leaders. CM MK Stalin, MNM leader Kamal Haasan, VCK leader Thirumavalavan watched the movie and lauded Suriya for choosing such a subject and successfully delivering it to the people. However, PMK leader Anbumani Ramdoss watched the film and asked Suriya 9 questions through a note. Reacting to his note, Suriya replied back requesting not to restrict "Jai bim" into "name" politics.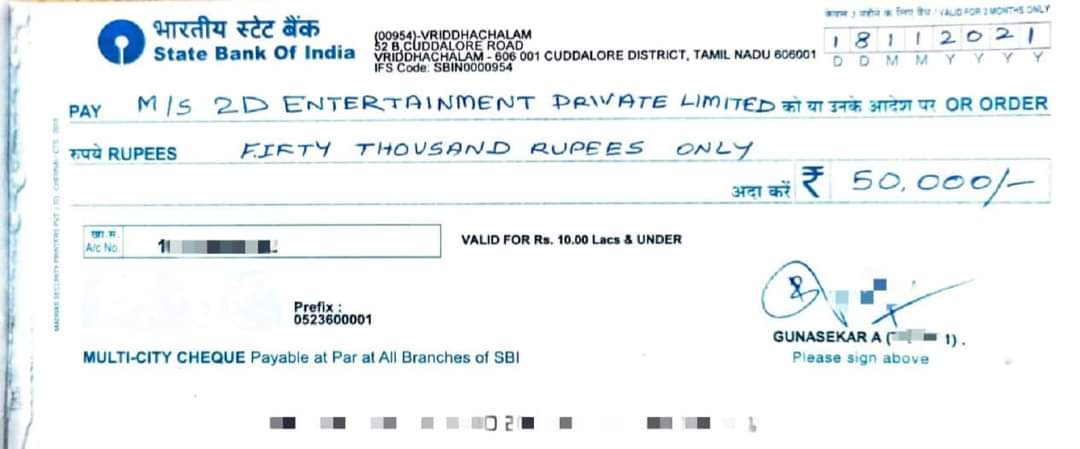 "Pattali Makkal Katchi" led by S. Ramadoss has been giving trouble to actor Suriya over his recently released "Jai Bhim". After Anbumani Ramadoss shot 9 questions at Suriya, Vanniyar Sangam issued a legal notice to the actor and other personalities who are associated with the project, seeking an unconditional apology and removal of certain scenes that allegedly defame the Vanniyar community.