"I Disliked "Ghajini" Story & Rejected It" – Said This Hero In Front Of Suriya !!
By Dhiwaharan
Actor Madhavan who made his directorial debut through "Rocketry : The Nambi Effect", in a live session with actor Suriya had revealed that he disliked the story of "Ghajini" and rejected it before it went to actor Suriya. The "Alaipayuthe" actor said that he felt guilty after watching the hard work invested by Suriya to do the role and started taking his career seriously only because of the latter. Throughout the interview, both the actors lauded each other and spread love throughout.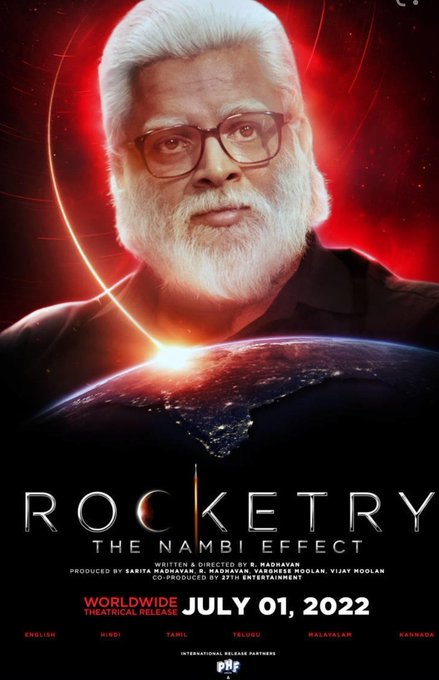 "Rocketry : the nambi Effect" is an upcoming film based on the biography of scientist Nambi Narayanan. He was falsely accused of espionage. The film is believed to be about Narayanan's days as a graduate student at Princeton University, before exploring his work as a scientist and the false espionage charges placed upon him. Madhavan, apart from reprising the role of Nambi Narayanan, is turning director for the first time through this project.
It is very well known that actor Suriya is playing guest role in the film after "Vikram". Bllywood Superstar Shah Rukh Khan is doing the same role for the Hindi version. In a live interaction that saw the participation of Suriya and Madhavan, both the actors heaped praise on each other.
"We know each other since 1997 I guess, your growth is amazing, beautiful, pride and not making me jealous" Suriya said in the interview. "I was blown away after seeing you for the first time in the sets of "Rocketry". I remember a dialogue from "Jai bhim" which goes like "Our talent is useful only when it is used in the right time and for right people". What you done with your craft to bring the life story of Nambi Narayanan sir was truly amazing" said Suriya in the interaction to which Maddy replied requesting him to not make him cry.
"I don't know how many people know what you done for this film. what it takes to make a movie like Nambi Narayanan" said Suriya in the interaction. Replying to him, Madhavan said that he wants to open about what made him to work harder. "I was approaching life in a jolly way. I even remember myself advising you during the days of "Nerukku Ner". After all that, I ot debuted through Mani Ratnam's "Alaipayuthe". At one point, all my films were running well and I became happy" Madhavan said.
"Films like "Run", "Anbe Sivam" were gaining me pride and recognition. At that time, I was offered a film titled "Ghajini". I disliked the story and sent A.R Murugadoss sir back saying that I am not doing it. The project reached you and I was very happy as I have seen the performances of you in films like "Kaakha Kaakha". I thought that the film went to the correct person and you proved it" Maddy said.
"Ghajini's victory is a huge achievement. But the effort you invested to portray the role amused me. The "six back" and the hard work you did to gain it. I remember you saying that you didn't take salt for one long week to get the appearance. I got disgusted about the work I was doing. I asked myself "What are you doing Maddy ?? See what he is doing for a role". That was the first time I was frozen. I really felt that I was not doing justice to my career. Only after that I started choosing my scripts wisely" Madhavan said and added that he see Suriya as one of best friends from the industry.
Watch the vide below :