"I Created 100 Gmail Accounts For Vijay"- Video Of Vijay Heroine's Son Goes Viral
Arabic kuthu
beast
Thalapathy
Vijay
1 year ago
By Dhiwaharan
With Vijay's recently released "Arabic Kuhu" nearing 80 million views in youtube platform with 3.4 million likes, fans of other actors has been claiming that the song is doing such big numbers in the video streaming platform due to the strategies used by Vijay fans such as making bots to increase the count. They claimed that Vijay fans are artificially increasing the counts by creating multiple fake accounts. Now, an old video of veteran actress Roja's son who identifies himself as an ardent fan of actor Vijay, admitting that he watches Vijay's trailers and other videos that are releasing in youtube by creating 100 Gmail accounts to increase the count.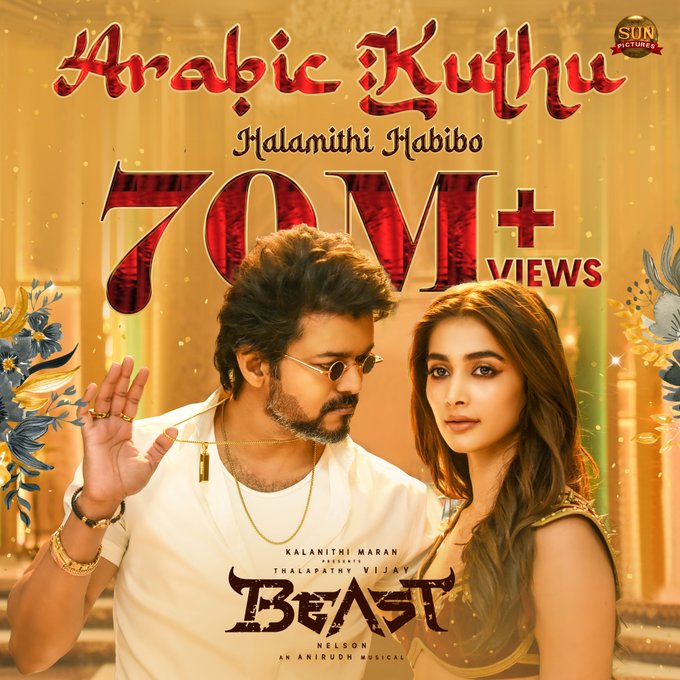 Thalapathy Vijay enjoys a huge fan base across the globe and is known as one of the influential personality from the cinema industry. The way he performs in the screen inspires millions of youngsters and many of them, including kids could be seen imitating his style, looks etc.
Known for predominantly appearing in Tamil films, Vijay was last seen in "Master" directed by Lokesh Kanagaraj. The actor who debuted 27 years ago in the Tamil film industry, influenced enormous number of youths and kids through his onscreen presence. Several fan clubs are being operated across the state only to celebrate him. He is also planning to venture into the politics and the unofficial name of his party is "Vijay Makkal Iyakkam".
First single of the actor's upcoming film "Beast" got released on 14th of February and went viral across the Tamil fans over the globe. The song is still trending in youtube with 75 million views. However, fans of Vijay's rival actors has been claiming that the numbers "Arabic Kuthu" doing in youtube are not organic.
An online user released an one year old video of Koushik, actress Roja's son who identifies himself as an ardent Vijay fan. "I like his style. I watched his trailer (Master) 10,000 times. I created 100 Gmail accounts and every time his trailer comes out, I would like, subscribe and comment through all of them" Koushik says in the interview which was shot during the Pongal festival last year.
"Even today I watched it 10 times" Koushik added. Watch the video below :
Check out some of the reactions that surfaced in Twitter for the statement made by Koushik :
This is not craziness bit simple that how young kids spoiling their precious time..!! Parents to beware of this kind of mindset from kids @RojaSelvamaniRK

— GK_Nandan (@krupanandan_d) February 21, 2022
I have so many questions like how do you even come up with usernames for so many accounts and set password for it also don't Google block you for spam or suspicious activity? https://t.co/TeqQYj6ONY

— Social Experiment (@GoneWorse) February 22, 2022
After going home Roja to Botson https://t.co/TAutvZPtcC pic.twitter.com/LUK8lHC5rl

— Telugu రజిని fans (@andhrarajnifans) February 21, 2022
Anchor's reaction https://t.co/YB9mLHsN0h pic.twitter.com/0ylIzRJ20R

— 👩‍⚕️ (@Free11_09) February 21, 2022
Anchor Roja Reaction: Evadiki upayogam 😃 https://t.co/qRbBjOTB0d pic.twitter.com/nJs96HhIkJ

— GK 🕸 (@JusttKriSH) February 21, 2022
இளம் க்ரிஞ்சு😂😂 https://t.co/1vWg7dqwPD

— Thameem (@ThameemTweets) February 21, 2022
எப்படி வியூஸ் லைக்ஸ் வருதுனு இந்த ஒருவனே சாட்சி

— வசீகரன் (@Vinod200380) February 21, 2022
It is notable that actress Roja and Vijay shared screen together for a song in the film "Nenjinile". Watch the song below :
On the work front, post "Beast" Vijay is busy working on a Tamil-Telugu bilingual film which is touted to be a feel good family drama with Vijay playing dual roles. Comment your views on the confession of Koushik and the reaction he is receiving from Internet !!