Hrithik Roshan Flaunted His "Vedha" Look!! Got Trolled By Fans Of Original Version
Written by Dhiwaharan Published on Apr 04, 2022 | 08:57 AM IST | 54
Follow Us
Comments: 0
Bollywood Superstar Hrithik Roshan, on Saturday, came up with a post flaunting his look of "Vedha", the role he is currently playing in his upcoming film. Despite the overwhelming response, the seasoned actor received from his followers, fans who already watched the original version of "Vikram Vedha" didn't get impressed.
Production of Tamil blockbuster Vikram Vedha's Hindi remake started in full swing recently with a huge reception from the fans of Bollywood cinema. Hrithik Roshan who is going to replace Vijay Sethupathi in the Hindi remake, came up with a video in his official Twitter handle, saying that he is walking in to a film set after 2 long years.
The original starred Ranganathan Madhavan as righteous police officer and Vijay Gurunatha Sethupathi as a seasoned gangster. The remake is going be directed by the husband and wife duo Pushkar-Gayathri who wielded the megaphone for the Tamil original.
The cat and mouse crime thriller revolves around a good cop and a gangster who manages to escape every time the determined cop nabs him by narrating a story derived from his own life. The makers of the Tamil blockbuster said that they got the inspiration to write the story of "Vikram Vedha" while reading the ancient lore "Vikramathithyam-Vedhalam".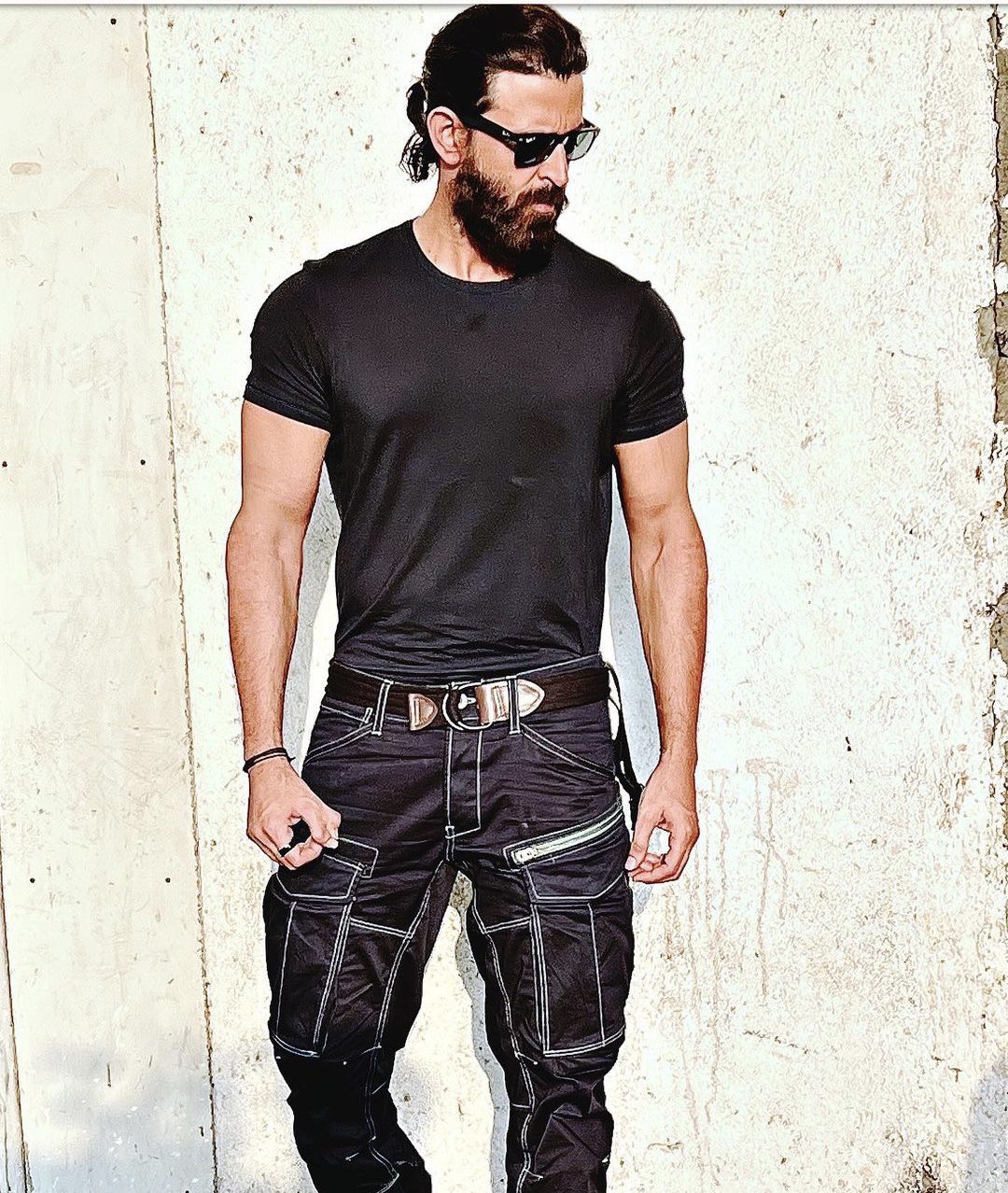 As far as the lead characters are concerned, it has been confirmed that Bollywood Superstars Hrithik Roshan and Saif Ali Khan are going to reprise the roles of Vijay and Maddy respectively. As the film's production is going on in full swing, Hrithik Roshan, on Saturday, came up with a series of pictures of himself donning  the get up of Vedha in his social media handles.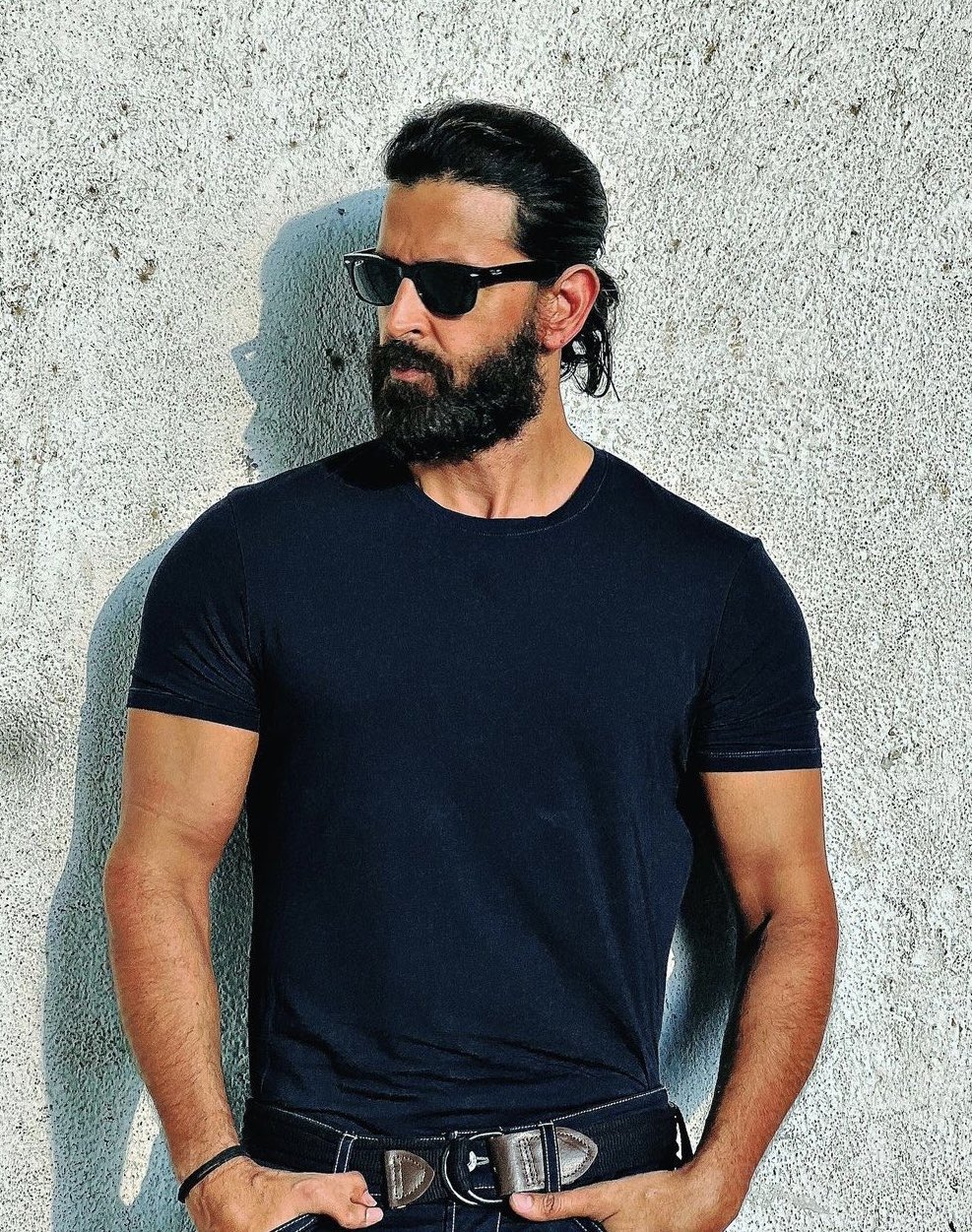 In the pictures, the actor was seen wearing a round neck black T-shirt and jeans with cooler. "Channeling the inner Vedha 🤔" Hrithik added as his caption.
Check out his post below :
Channeling the inner Vedha 🤔 pic.twitter.com/8ZFtddmG2L

— Hrithik Roshan (@iHrithik) April 2, 2022
Many fans, especially those who witnessed Vijay Sethupathi in the original version, didn't get pleased much on seeing Hrithik's "macho" look. Vijay, with his tummy pulled out, played the role with perfection as a gangster who belongs to the northern part of Chennai city. The fact about the looks and get up changing according to different regions, didn't stop fans from expressing their opinions.
Check out some of their reactions below :
he did not understand the assignment https://t.co/rWhJUjuefS pic.twitter.com/pcBVXR0Gjx

— subiii (@_subiiii_) April 2, 2022
Dhoom Part 273 maybe but this is definitely not Vedha https://t.co/V2VCCO6dJn

— Shreedhee Sajeev (@shreedheesajeev) April 3, 2022
Bro thats not Vedha at all 🥲 https://t.co/684FXnaIPS

— ⚔Captain Canary⚔ (@nightmonkey90) April 3, 2022
Vedha in Bollywood 😪.
Bollywood vedha might prefer Pizza & Burger to recreate the parotta eating scene 😅. #VikramVedha https://t.co/GN8vgJmILd

— Agaraadhi (@agaraadhiboy) April 3, 2022
Omg what are they doing to #vikramveda remake 😬
Ila evaru veyleda inka 😂 https://t.co/XkC79xz6qV

— 🔥T A L L U R I🔥 (@aniltalluri58) April 3, 2022
How to tell without telling that you didn't watch Vikram Vedha. https://t.co/ab4DTOhiyh

— Ignatious Elandas (@igelandasss) April 3, 2022
nooo you're not channeling the right vedha pls, this ain't even near 😩 https://t.co/YcpDgR9Ucv

— stephie (@kamheongchicken) April 3, 2022
Dude no matter what you channel ..we will channelize boycott Bollywood .nothing personal ..thank you https://t.co/rBBD4mYv06

— shivaay (@tamanna_shetty) April 3, 2022
Lot of #Bollywood c*nt vadaks bodyshaming #VijaySethupathi. Lol VJS looks more "Indian" than "Eurocentric" #HrithikRoshan (Based on white people's beauty standards). Still their colonial mentality… oh btw… #AmirKhan or Nawasuddin should have been Vedha https://t.co/J7HtWTl1Md

— Mr.Incredible (@kumar123ASD) April 3, 2022
Bruhhhh. Did you all even watch Vikram Vedha? This Vedha looks like someone from Malabar hill or Juhu thats about do go on ride in Harley Davidson along Marine Drive. https://t.co/wPfrTrWR1U

— கிருஷ்ணா (@kkrish_kumar22) April 3, 2022
Dei joker… Vedha doesn't look like a italian model https://t.co/tDvU30d4tN

— நில்லுங்கள் ராஜாவே!!! (@DisisChandru) April 2, 2022
When vedha became a model instead of a gangster https://t.co/69SclyTapj

— സച്ചുുു (@malayaliguy) April 2, 2022
Bro vedha is a deeply rooted pakka local rowdy,not an nri return or a panakkara rowdy vaarisu. https://t.co/LP9IA9YF6G

— Jun Is Hyped For Beast (@arjx006) April 2, 2022
Not even close to the original vedha lol 😭 https://t.co/HbiWdUhz9c

— Vinayak 🥶 (@PorottaBoy) April 3, 2022
For real??? https://t.co/2HyJKClvR3 pic.twitter.com/iXqjjhfytR

— Darkshady (@thidzzz) April 2, 2022
Ruined the Vedha role already . Vedha is supposed to be simple , raw & realistic .

This one looking like a model guy 🤧😹😷 https://t.co/zlkmhQbp70

— Goutham (@thisis_Goutham_) April 3, 2022
A huge disaster is in the cards. @iHrithik cannot match 👇🏻👇🏻👇🏻 https://t.co/i6u1Ezz339 pic.twitter.com/19rDPJiLjo

— Loki Doki (@LokeTweets) April 3, 2022
ban remakes for the sake of humanity please https://t.co/jaOPT97LbI

— ‎ ً ‎ (@sauceeburnerr) April 2, 2022