After watching "Ponniyin Selvan" movie, Kamal Haasan met the press reporters and answered to their questions. The actor cum politicians lauded the makers of the historical film for pulling off such a project with a star studded cast. He also answered to controversial questions of press reporters which included about the religion of King Raja Raja Chozhan.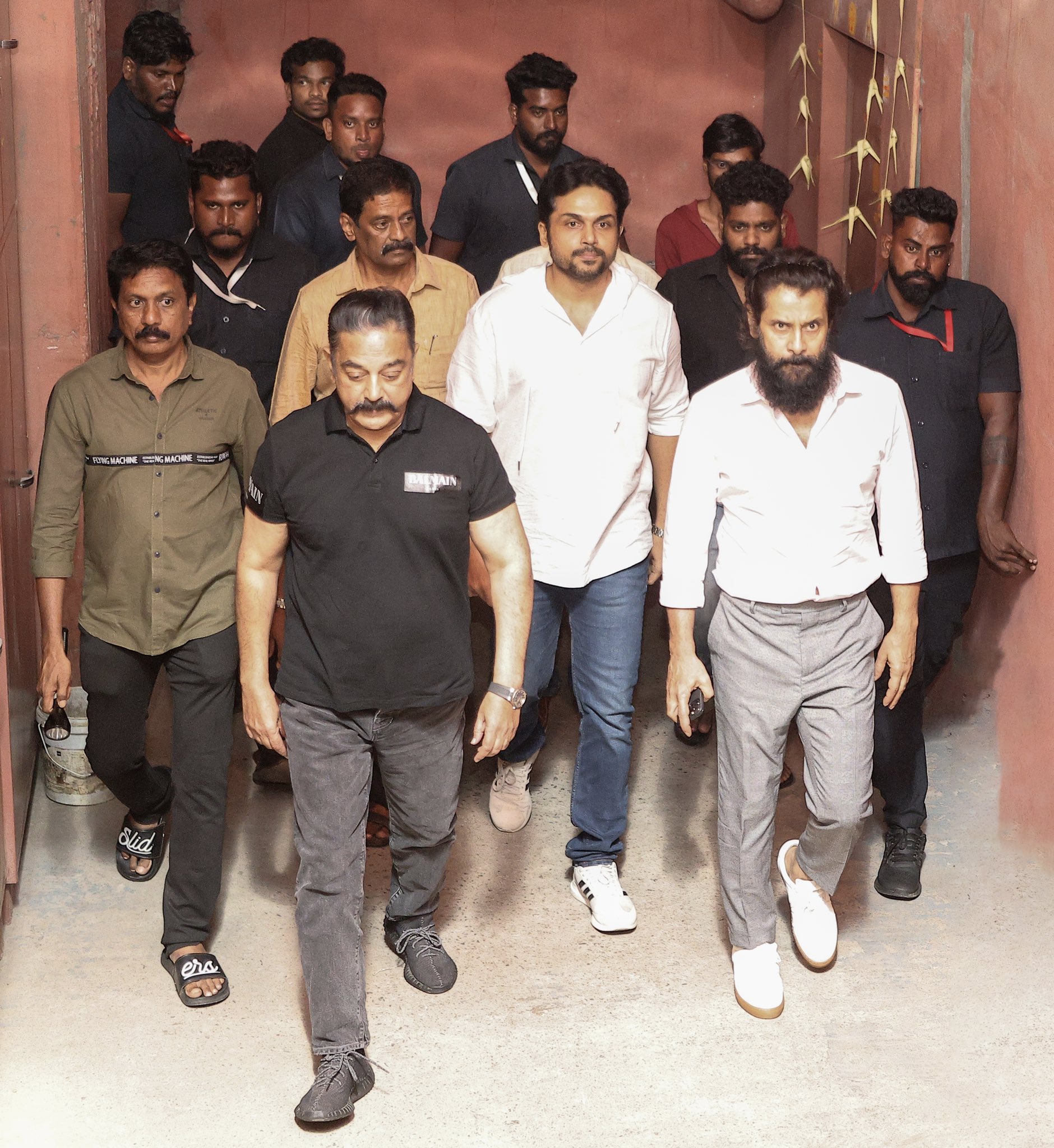 Post the interview, actor Vikram who was seen sitting aside Kamal Haasan throughout the press meet, expressed his admiration towards him for the way he answered to all the questions. Vikram said to Kamal Haasan asking how he knows everything before saying "a heritable book of knowledge" to describe Kamal's intelligence.
"Ponniyin Selvan" is receiving highly positive reviews from fans post release. The dream project of converting "Ponniyin Selvan" book into a film was planned by many leading stars including MGR and Kamal Haasan. The dream is coming true only through the seasoned filmmaker who is known for giving master pieces in the history of Indian cinema. The most awaited trailer and songs of the multi starrer got released in the presence of Ulaganaayagan Kamal Haasan and Superstar Rajinikanth.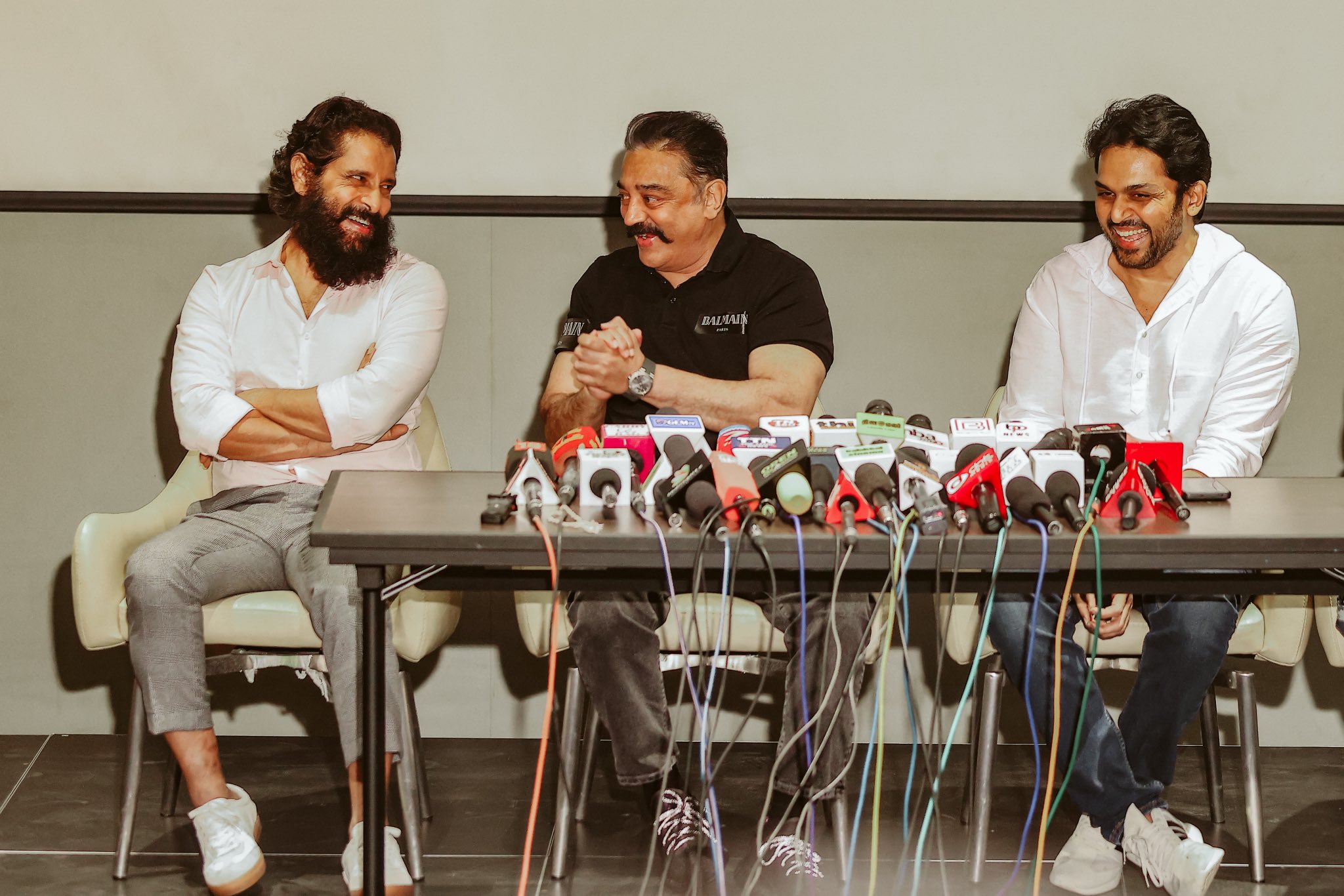 Almost all the prominent celebrities supported the film during its release time and now, days after the release, Kamal Haasan watched the film in a private screening with Vikram and Karthi and met the press reporters. The actor saying that there was no "Hindu" religion during the times of Raja Raja Chozhan to a question based on the King's religion grabbed headlines across the media portals.
Watch the video below :
இந்து மதம் இராஜ இராஐ சோழர் காலத்துல கிடையாதுங்க Period @ikamalhaasan pic.twitter.com/KURjagzpbq

— pavithran (@pup116) October 5, 2022
Regarding a question based on director Vetrimaaran's speech, Kamal said that the filmmaker didn't tell anything to him personally to comment on it. The "Vikram" actor answered to many other controversial questions with ease and also didn't miss to appreciate the makers for their effort in making such a magnum opus.
Post the interview, while leaving, actor Vikram was seen saying to Kamal "How well you speak sir..!!! You know Everything just like that, Oh my God.. A heritable book of knowledge..!!!" to which the latter gave a smile a his answer.
Watch the video below :
#ChiyaanVikram to Ulaganayagan #KamalHaasan after the interview :

How well you speak sir..!!!U know Everything just like that oh my god.. A heritable book of knowledge..!!!
🖤😎🛐🥳🔥🔥#Ulaganayagan #Aandavar@chiyaan @Karthi_Offl pic.twitter.com/Ep7Oqry7TB

— Prashanth Haasan (@Prashu94Haasan) October 5, 2022
Vikram also came up with a post in his official twitter handle, saying "His magnificent voice introduced #PonniyinSelvan.Whn d same voice speaks with such love 4 d film,it's a total fanboy moment 4 me.💛 It takes a special kind of person to come forward all heart and stand by a film as his own. நன்றி @ikamalhaasan Sir. 🙏🏼@Karthi_Offl What a night!🤩" to thank the "Indian" actor.
Here's his post :
His magnificent voice introduced #PonniyinSelvan.Whn d same voice speaks with such love 4 d film,it's a total fanboy moment 4 me.💛 It takes a special kind of person to come forward all heart and stand by a film as his own. நன்றி @ikamalhaasan Sir. 🙏🏼 @Karthi_Offl What a night!🤩 pic.twitter.com/fRgcVVeI7s

— Aditha Karikalan (@chiyaan) October 6, 2022