"How Proud Are You As A Tamilan ??" Asked Journalist !! Watch How K Sivan Replied !!
India
ISRO
Sivan
Tamil
tamilnadu
4 years ago
By Dhiwaharan
Sivan, the 62 year old rocket scientist from Tamilnadu, studied in a Government school in Mela Sarakkalvilai Village and later in Vallankumaranvilai in Kanyakumari district. He won millions of hearts for the way he answered to a journalist who asked about how much he is proud as a Tamilian.
[wp_ad_camp_1]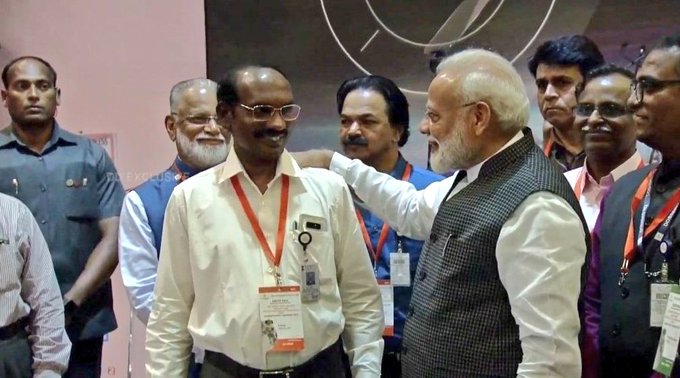 Sivan, in this interview with Sun Tv was seen answering to the questions of a journalist. Prime Minister Narendra Modi on Saturday consoled K Sivan after his address to the scientists from the space agency's control room in Bengaluru. This came hours after the Vikram lander of Chandrayaan-2 lost communications with ISRO around 2 km above the moon's surface. Later ISRO found that Vikram lander has surfaced on the lunar surface and they are trying to get communication of it.
The video which is now going viral was shot in 2018 but it grabbed the attention of Netizens because of the answer given by Sivan. "The entire Tamilnadu is celebrating you because of your post. what do you want to say to them at this meoment?" asked the interviewer.
[wp_ad_camp_1]
"Firstly I wish to tell you something. I don't separate myself by saying that I belong to one particular region. I joined ISRO as an Indian. People from several region are contributing in ISRO. I am Indian coming from Tamilnadu, that's all. I don't want to color myself with anything like region or language. Meanwhile, I owe to my brothers and sisters from Tamilnadu for the love they are pouring on me. Both are completely different" he said in the interview.
Watch the video here :
SunTV: As a Tamil, having attained a big position, what do u want to say to ppl of TN?

Sivan: First of all, I am an Indian, I joined #ISRO as an Indian & ISRO is a place where people from all regions & languages work, contribute, but I am grateful to my brothers who celebrate me pic.twitter.com/tES7uzNCJO

— Ethirajan Srinivasan (@Ethirajans) September 10, 2019
A humble son of a farmer who studied in local government schools in Tamil medium at Kanyakumari district of Tamil Nadu is now heading India's premier Space agency ISRO. K Sivan, now Director of Vikram Sarabhai Space Centre,who is the Secretary of Space Department and Chairman of Space Commission and the Indian Space Research Organisation (ISRO), is a native of Tarakkanvilai in Kanyakumari district.
[wp_ad_camp_1]
Check out some of the reactions for his statement :
First of all, I am an Indian." With this reply, the chairman of the ISRO Dr K Sivan won Billions of hearts.The question from Sun TV was "as a Tamilian, having attained a big position, what he had to say to people from TNadu".Lesson @narendramodi @anandmahindra@RNTata2000

— Navneet Tiwari (@Navneet469) September 11, 2019
Sun TV – "As a Tamilian, having attained such a big position, what he had to say to people from Tamil Nadu."

K Sivan, ISRO Chief – "First of all, I am an Indian."

Loved this reply 😍

— Vikram Joshi (@vikrammr) September 10, 2019
First of all, I am an Indian: ISRO chief Dr. K. Sivan
Next Tamilian
Proud of you
#SivanPrideOfIndia pic.twitter.com/LwAZilnrJ0

— Ashok Kumar Khanna (@AshokKu55696605) September 10, 2019