How Is "Master" ?? Check Out The Review & Reactions
CM / Updated: 2021-01-13
11:56 IST
By Dhiwaharan
The most awaited Vijay's "Master" released on theatres in Tamil nadu today and the fans of Tamil cinema are celebrating the biggest event with extreme happiness as they are witnessing a proper mainstream feature film of a top tier Tamil actor after nearly one long year. Reviews and reactions for the Vijay and Vijay Sethupathi starrer are pouring in Internet from all the directions from fans and celebrities.
[wp_ad_camp_1]
"Master" was supposed to release during April month of 2020 and got postponed due to COVID 19 outbreak. Now, after the makers decided to release the film on 13th of January ahead of the Pongal festival, the film got released in theatres with highest expectations. The star studded high budget action thriller was directed by Lokesh Kanagaraj of "Maanagaram" and "Kaithi" fame.
The film which shows Vijay as an alcoholic professor, contains Vijay Sethupathi, Arjun Das and Malavika Mohanan as a gangster, henchman and a college professor respectively. Locking horns with John Durairaj played by actor Vijay, Vijay Sethupathi who represented Bhavani, comes as a ruthless killer who uses juveniles as his pawns to establish his criminal enterprise.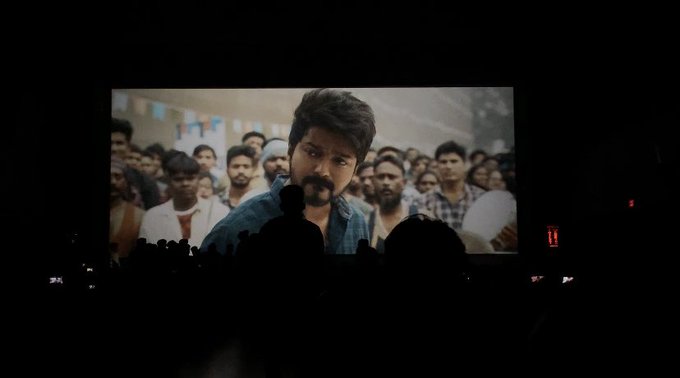 When the protagonist is being loved by his students for his good heart and swag, naturally the college management wants to get rid of him. Circumstances lead him to become a teacher in an observation home where Bhavani is using the kids for his business. The entire second half lies on whether JD managed to save the children from Bhavani and his men or not.
The typical Tamil cinema cat and mouse action thriller sees a new age filmmaker trying his hand at mainstream commercial cinema for the first time in his career by having a mass hero in the lead. Though the film would satisfy a fan of actor Vijay, it fails to create the thrill which is being attempted in the 179 minute long feature throughout.
The very usual intermission and the familiar trope of the villain gang going after the hero's loved ones are indeed boring. The scene where Vijay and Andrea wielding bow and arrows doesn't offers any thrill as we very well know that the hero is going to win the battle at the end. Many supporting characters which doesn't have proper arcs in the film makes us wonder whether the film was made by Lokesh or Atlee.
[wp_ad_camp_1]
However, the presentation is appealing and the message conveyed in the film doesn't sounded preachy which is one of the biggest positives of the film. As usual Vijay Sethupathi wins the audience with his "devil may care" attitude. The aura created by Vijay whenever he appears on screen and his performance in the climax fight were top notch which will be a treat to the fans of him.
Check out some of the reactions for the film from fans and celebrities :
#Master is Vijay & Lokesh Kanagaraj's #Petta. Engaging commercial cinema that is a celebration of its lead star. Nothing more nothing less. Whether that is glass half-full or glass half-empty depends on how much of a fanboy you are of the actor and/or the director.

— Suganth (@msuganth) January 13, 2021
டேய் சஞ்சீவ் ,தீனா ,சாந்தனு நீங்க படத்துல வந்த சீன்ஸ விட நீங்க படத்துக்காக கொடுத்த பேட்டி அதிகம் டா

— ஈஸ்வர சேட்டு (@SettuOfficial) January 13, 2021
#MasterFilm is full of style but no substance , a pure wasted opportunity for Lokesh. A routine & predictable cat & mouse tale with Charming lead roles. One time watchable stuff, can be enjoyed if you don't have any expectations on it. pic.twitter.com/489aNoRIAZ

— J. (@Highonfilmss) January 13, 2021
They call me MASTER, second half la lighta plaster. Mathabadi padam super. pic.twitter.com/FIYNT8Ygys

— Halo! OFF The TV (@beercomerad) January 13, 2021
[wp_ad_camp_1]
#Master

The never seen before @actorvijay sir amazes us with the Cute mannerisms all over the movie 😊
congratulations to @Dir_Lokesh bro and @Jagadishbliss @Lalit_SevenScr @sathyaDP team 😊 #MasterFilm #Thalapathy pic.twitter.com/KGCIbkgukc

— Kumaran (@DirKumaran) January 13, 2021
#Master Public Review: The first half of Vijay starrer is said to terrific while the second half keeps the audience hooked to the screen throughout. #MasterFilm #MasterFDFS #MasterPongal @actorvijay @VijaySethuOffl @Dir_Lokesh @Jagadishbliss pic.twitter.com/vvZNU6bJVY

— Actor Vijay Team (@ActorVijayTeam) January 13, 2021
பவானி கேரக்டர் மட்டும் வச்சி தனியா ஒரு படம் பண்ணா..😍👌#Master #MasterFilm

— VᴇʀɪTʜᴀɴᴀᴍッ™🚬🔥 (@Itz_Verithanam) January 13, 2021
#Master. Hmm.

Many inventively designed mass moments. A clever central thread of two characters hurtling towards one another. Many laugh-out-loud moments. An almost mythical villain. An in-form Anirudh.

And yet.
It all does not come together to form a consistently good film.

— Sudhir Srinivasan (@sudhirsrinivasn) January 13, 2021
ஹீரோயின்க்கு கேரக்டர் நல்லா எழுத முடிஞ்சா எழுதுங்க இல்லனா கைதி மாதிரியே விட்ருங்க.. சும்மா பேருக்கு உள்ள வெச்சு ஏதோ ஒரு வேல குடுக்கணும்னு படத்த டேமேஜ் பண்ணாதீங்க

— Pebbles™ (@uniquestunner) January 13, 2021
எவனாச்சு சாந்தனு கேரக்டர் பத்தி பேசுறான பாரு pic.twitter.com/nmPtCJt2y6

— ராஸ்கல் (@_ItsRascal) January 13, 2021
Andrea in climax :ஏம்மா நீ மட்டும் ஏன் படத்துல சும்மா இருக்க இந்தா உனக்கு ஒரு சீனு pic.twitter.com/s7PmxazUYK

— ஈஸ்வர சேட்டு (@SettuOfficial) January 13, 2021
Ayayyoyoyoyoyoyoyoyoyo first half 🔥🔥🔥🔥🔥🔥🔥!! Thalapathy and Makkal selvan !!!! @Dir_Lokesh bro hats offff !! Romba nal Kazhichi oru semmmma mass padam patha feel !! Waiting for second half !!! The clash !!

— Ashwath Marimuthu (@Dir_Ashwath) January 13, 2021
Second half – Andhar masss ! !!! Alluthu Theatre climax la !! And sethupathy yabba manusane illa ! Thalapathy mass lam illa ! Athukum mela !! 🔥🔥🔥🔥🔥🔥🔥nandri @Dir_Lokesh !! @anirudhofficial pirichitaru!!

— Ashwath Marimuthu (@Dir_Ashwath) January 13, 2021