"How Difficult Making CCV ?" Telugu Anchor !! You Just Can't Miss GVM's Answer
CCV
Gautham Menon
Manirathnam
VTK
6 months ago
By Dhiwaharan
Gautham Vasudev Menon who is busy giving interviews to promote his recently released "Vendhu Thaninthathu Kaadu", involved in an interaction with an anchor of a Telugu based youtube channel "Newsbugz" which has million plus subscribers. At a point, the anchor asked Gautham how was his experience of making "Chekka Chivanthathu Vaanam" which released in Telugu under the title "Nawab".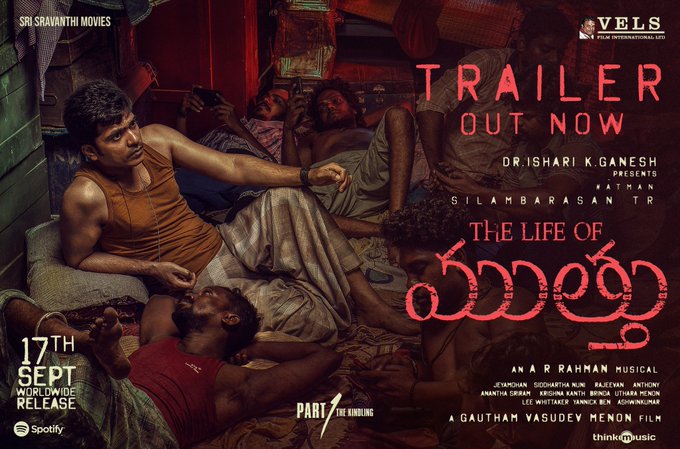 Without correcting him saying that the film was made by Manirathnam, Gautham Menon provided a sarcastic answer pretending to be the maker of "CCV". The answer left the users of online platforms in splits and surprisingly, the anchor didn't realize what blunder he comitted till the end.
Telugu dubbed version of "Vendhu Thaninthathu Kaadu" released under the title "The Life of Muthu" and Gautham Menon attended the interviews of Telugu based channels to promote the movie. In one of the interviews, an anchor who thought that "Nawab" (Telugu dubbed version of "Chekka Chivantha Vaanam") was directed by him, asked how difficult it was for him to make a film with such star studded cast.
Instead of correcting him that CCV was made by Manirathnam, Gautham Vasudev Menon decided to answer the question with a subtle smile on his face. "It was very difficult to work with Vijay Sethupathi, Simbu, Arun Vijay and Arvind Swamy. They are such busy actors, it was difficult to get their dates. I am Maniratham, So they will come when I call them" GVM sarcastically said.
Watch the video below :
He really handled it well. What was the anchor thinking here pic.twitter.com/OKtXjB1YHF

— Madras Film Screening Club 🎬 (@MadrasFSC) September 20, 2022
"I start shoot at 4 : 30, 5 in the morning. They were all there at time. If you heard Simbu wasn't there for 7 AM shoot for Gautham Menon's film, he was there for me because I am Manirathnam. It was a great experience" he concluded answering. Unfortunately, the anchor didn't get the joke till the end.
Watch the full interview here :
Source : Newsbugz 
Check how internet reacted to the answer of Gautham menon :
That Sarcastic laugh 🤣 https://t.co/LDbWXZtusn

— EREN #14 (@BeingSaiii45) September 20, 2022
Most funniest thing on the internet 🤣🤣🤣🤣 https://t.co/bIcbI22WYG

— Yaakai thiri (@Pepper_sprayyy) September 20, 2022
Ayoyooo 😂😂😂 @menongautham ithulaam alien lvl . Silent & such classy sambavam from the man himself .Not to forget how on earth the anchor ask such A THING .DUH https://t.co/MgbDRXyj7a

— 🐼HER SHE Nee 🕊 TEAM PONNIYIN SELVAN 🔥❤ (@HARSHI_TWITZ) September 20, 2022
Really, not even knowing whom he was interviewing is not good.

And GVM was like "Enda sketchaa"

But the anchor needs to look at a clear picture of GVM. https://t.co/acE57xq7zL

— Sreedhar (@sreedhar_M_C) September 20, 2022
How incredibly dumb are these Telugu anchors?

They can't ask good or film-related questions, but they should at least know who directed which film.

Even so, #GauthamVasudevMenon Chad Reply https://t.co/0g31Jte3Lb

— Ungamma (@ShittyWriters) September 20, 2022
How incredibly dumb are these Telugu anchors?

They can't ask good or film-related questions, but they should at least know who directed which film.

Even so, #GauthamVasudevMenon Chad Reply https://t.co/0g31Jte3Lb

— Ungamma (@ShittyWriters) September 20, 2022
This is the funniest. #GVM is roasting the anchor without him knowing, and he can't control his laughter. https://t.co/lRhAFxMbdU

— George (@VijayIsMyLife) September 20, 2022
Ha..ha @menongautham handled it well 😅😅😅 https://t.co/AeFxI3FGgS

— Rajasekar (@sekartweets) September 20, 2022
https://t.co/mOuvxuHbY0 pic.twitter.com/NSrc6E0vUe

— Nikki (@Thalanikki) September 20, 2022
Gautam Ratnam 🔥🔥🔥 https://t.co/DyMg30gX5V pic.twitter.com/M5W7tQhRZ8

— arunprasad (@Cinephile05) September 20, 2022
Adakka mudiyatha sirippu when he's like but then yknow, I'm Mani ratnam 😂😂😂😂 https://t.co/nofu3Qz9dh

— Savi (@savithrika) September 20, 2022
Hahahahhahaah. This is epic!! https://t.co/cYWDnrkoHK

— Vishal Menon (@Vishal1Menon) September 20, 2022