"How Can You Conclude It As A Conversation Death ?" Follower Questioned !! Actress Replied
Written by Dhiwaharan Published on Jan 26, 2022 | 09:48 AM IST | 88
Follow Us
Comments: 0
Along with a number of celebrities, aspiring actress and former Bigg Boss contestant Sanam Shetty came up with a tweet demanding justice for the demise of Tamil nadu student Lavanya who killed herself consuming pesticide after facing harassment from her school authorities. Sharing a video of the student's confession, Sanam said that we can't celebrate "National Girl Child Day" after losing a girl child to religion mafia. Reacting to her tweet, a follower asked how the actress concluded that it was a death caused by conversion and she replied to him citing the confession video which went viral across all social media platforms.
View this post on Instagram
Hashtag "Justice for Lavanya" is trending in the micro blogging social media site after a 17 year old 12th standard studying student ended her life due to the harassment she faced from her school. Authorities of the school management forced the teen girl to convert her religion from Hindu to Christian to continue her studies in the school, according to reports. A confession video of the victim is doing rounds in the social media platforms with outrage emerging from all quarters of the online platforms.
Lavanya was studying 12th standard in the Sacred Heart Higher secondary school which is located in Thirukkatupalli in Thanjavur, Tamil nadu. She faced mental and physical torture from the authorities of her school after refusing to convert into a Christian. The school said that she could continue her studies only if she changes her religion, according to reports.
The victim was living in a St. Michael's Girls hostel near her school for the pas five years and the government aided Christian missionary school had been pressuring her to convert to Christianity. However, Lavanya refused to convert as a result of which the school management cancelled her leave application for Pongal celebrations.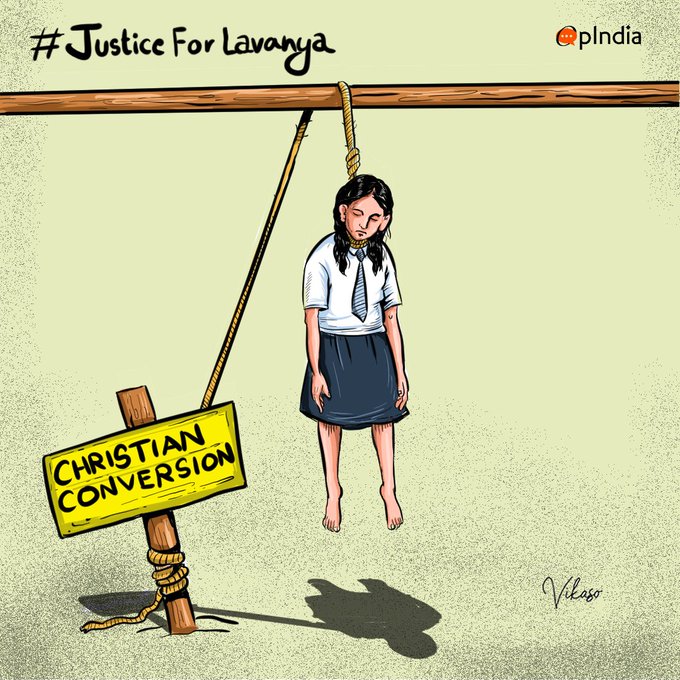 The minor girl who was supposed to visit her home during the Pongal festivel was forced to do chores such as cleaning toilets, washing dishes and cooking. Dejected Lavanya decided to end her life by consuming pesticide which was used for the school garden. On 9th of January, Lavanya showed some discomfiture and was taken to a local clinic after continuously vomiting.
Warden of the hostel, called the parents of Lavanya and asked them to take her home. Lavanya was then admitted to Thanjavur government medical hospital were she was being treated in the ICU with almost 85 % of her lungs intoxicated. Reports suggests that Lavanya breathed her last on 19th of January while battling her condition in the hospital.
Hindu girl student who is the topper was harassed by the Christian Missionary School in Tamilnadu who was forcing her get convert into Christianity.

This is a murder by the School.#JusticeforLavanya pic.twitter.com/Jrb4QfrCv3

— Gaurav Goel (@goelgauravbjp) January 22, 2022
A video of Lavanya revealing about the torture she faced in the school is doing rounds in social media platforms. In the video she could be heard saying that the school management asked her parents if they could make Lavanya convert into Christianity and offered to help her further studies. "Since I didn't accept, they kept scolding me" Lavanya said and named a teacher Rachael Mary as the main harasser.
From Tamil nadu BJP leader Annamalai to many other people has been raising voice against the school with hashtag "Justice for Lavanya" trending in the micro blogging social media site. Sharing the video Sanam shetty said "How can we celebrate #GirlChildDay when we lost an innocent girl to religion mafia? Why is #JusticeForLavanya not trending on twitter? Hope actual culprits are punished rather than attacking a whole religion unfairly. #SpeakForLavanya #conversionscams" in her tweet.
How can we celebrate #GirlChildDay when we lost an innocent girl to religion mafia?

Why is #JusticeForLavanya not trending on twitter?
Hope actual culprits are punished rather than attacking a whole religion unfairly.#SpeakForLavanya #conversionscams https://t.co/xTI7sAMMS5

— Sanam Shetty (@ungalsanam) January 24, 2022
Among the many reactions that surfaced for her tweet, a follower asked how could she concluded the death as conversion death. "How come you come to a conclusion that it was a conversion death? You have lot more to quote for National Girl Child Day but you have fallen for this agenda. So sad."
Replying to him Sanam Shetty said "I respect all religions equally. My post is based on the victim's words in this video. Its about exploitation using religion as an excuse by few, resulting in her unfortunate death. Let's wait for complete truth to be out & hope for justice" 
I respect all religions equally. My post is based on the victim's words in this video. Its about exploitation using religion as an excuse by few, resulting in her unfortunate death.

Let's wait for complete truth to be out & hope for justice.#dontspreadhatred #oneindia https://t.co/haEbqhxoi2

— Sanam Shetty (@ungalsanam) January 24, 2022