In yet another case that points towards 'honour killing', a Dalit boy and a caste-Hindu girl were allegedly murdered by the bride's family members in Dharmapuri.
Though the incident happened last week, it came to light only when three of the family members surrendered before the Hosur police on Friday.
[wp_ad_camp_1]
They were apparently murdered and their bodies were abandoned in Karnataka. Karnataka police recovered the body three days ago.
The girl's family surrendered before Hosur police on Friday.
While the highly decomposed body of N. Nandish, 25, was recovered on November 14, wife S. Swathi's body was recovered from the river the next day.
இதோ நிகழ்ந்தேறி விட்டது இன்னுமொரு கொடுந்துயர சாதி ஆணவ படுகொலை…வாய் பேச முடியாத காளைகள் எங்கள் குடும்பத்தில் ஒன்று என போராடிய தமிழ் போராளி தோழமைகளே!!! வாய் பேச முடிந்த #நந்தீஸ்_சுவாதி இவர்களை கொன்ற சாதி திமிருக்கு எதிராக திரள்வோம்!! வாருங்கள் நீதி கேட்போம்!! pic.twitter.com/JmVJgFlIeA

— pa.ranjith (@beemji) November 16, 2018
Nandish, an Adi Dravida boy, and Swathi, a Vanniyar girl — both hailing from Shoolakondapalli village in Bagalur here — eloped and married in a temple in Shoolagiri on August 15. They registered their marriage in September. Nandish and Swathi had moved out of Shoolakondapalli village and began their married life in Hosur town, where Nandish was employed in a timber mart.
tamil nadu next honour killing shame tamilians😔✌ @SrBachchan @iamsrk_sharukh @gvprakash @prakashraaj pic.twitter.com/y9hu2D5nDQ

— JP (@JPtamilnadu) November 16, 2018

In a complaint lodged with Hosur town police by Nandish's brother, N. Shankar, on November 11, it was revealed that the couple went to buy clothes and visit a relative in a village in Hosur on November 10. But they never returned home. Mr. Shankar had lodged a complaint with Hosur town police after his search yielded no results. A 'missing person's' case was registered on November 14 by the Hosur town police.
திரையுலக மற்றும் முற்போக்கு எண்ணம் கொண்ட தோழமைகளே!!விழித்துகொள்வோம்!இன்னும் இன்னும் நம் குடும்பங்கள், நம் தெருக்கள், நம் ஊர்கள், நகரங்கள், நம் நாடு என, எல்லா இடங்களிலும் நீக்கமற இருக்கும் இந்த நூற்றாண்டின் கொடூம் இழிவு, இந்த சாதி திமிருக்கு எதிராக திரள்வோம்!!!

— pa.ranjith (@beemji) November 16, 2018

Meanwhile, the Mandya police found the body of Nandish in the Shivanasamudra river on November 13. Two days later, Swathi's body surfaced. The Belakavadi police have registered cases under Sections 329 and 201 of the IPC. According to the police, the couple were kidnapped from Hosur and murdered in Mandya.
இந்த கருமாந்தரம் புடிச்ச சாதி வெறிய பாத்த கடைசி தலைமுறை நாமளா இருக்கனும்,எல்லா சாதிலயும் இருக்குற ஆணும் சரி பொண்ணும் சரி வாய் வழியா மட்டும் தான் சாப்டமுடியும்னு நம்ம வீட்டு புள்ளைங்களுக்கு சொல்லிகொடுத்து வளப்போம்யா…சாதி கூ.. னு. pic.twitter.com/bBH8ZgWNKn

— Ramesh Thilak (@thilak_ramesh) November 17, 2018
According to a preliminary investigation, the couple was assured that their marriage had been accepted by the girl's family, and was told that a ceremony would be held as per the custom. This happened after they had traced the couple in Hosur. The police said they were abducted in a multi-utility vehicle and taken to Shimsha, strangled to death, and their bodies dumped in the river.
Cruelty to the core… Rajalakshmi and now Nadhis-Swathy…..From so many decades till now there's no end to this Inhuman casteist barbarians… But it needs to END and we all together need to find HOW .. #Casteism should end…

— karthik subbaraj (@karthiksubbaraj) November 17, 2018
[wp_ad_camp_1]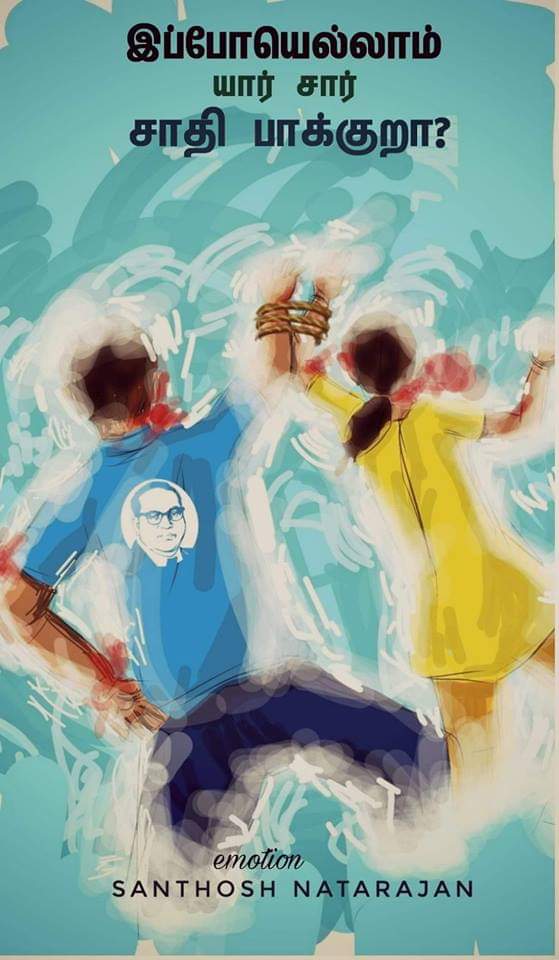 The photographs shared by the police narrate a tale of extreme violence against the couple during their final hours.
தமிழக அரசே உடனடியாக, ஆணவ படுகொலைக்கு எதிராக தனிசட்டத்தை ஆவணப்படுத்து!!

— pa.ranjith (@beemji) November 17, 2018
Nandish was an ardent follower of B.R. Ambedkar and would wear clothes with Ambedkar's picture on them. This helped the police identity the victim.
[wp_ad_camp_1]
Swathi herself had filed a complaint stating that if anything happened to her, her relatives should be held responsible, claimed Munraj, a cousin of Nandish. Munraj also shared with The Hindu a message that was last sent by Nandish as an SOS to his employer at 2.15 a.m on November 11. It read: "Anna kidnap Kanakapura."
#தமிழகரசே_ஆணவ_படுகொலைக்கு_எதிராக_தனிச்சட்டம்_இயற்று

— pa.ranjith (@beemji) November 17, 2018
Swathi's father Srinivasan, her uncles Venkatesh, Ashwathappa, a relative Krishnan, cousin Venkatraj and Samyanathan, a driver, have been named accused in the murder. Incidentally, Swathi's father is a Vanniyar and mother belongs to the Valmiki Naidu caste. In the wake of the murders, a police force has been deployed in Shoolakondapalli village where the majority of the population are Vanniyars.