Earlier Independent filmmaker Leena Manimekalai has shared a shocking incident happened to her when she used to work as a TV presenter. Last year, when a popular Malayalam actress was abducted, Leena actually shared this story of how filmmaker Susi Ganesan harassed her in 2005.
[wp_ad_camp_1]
Leena says that in 2005 after an interview with Susi Ganesan, she waited outside the studio for auto and the filmmaker invited her to get into his car so that he can drop her on the way. However, Susi is said to have snatched her mobile and threw it somewhere in the car.
"He pressed the center lock button of the car, snatched and threw my mobile. Susi Ganesan threatened me to come to his house and I was petrified," said Leena who politely asked, begged and shouted at the filmmaker to leave her. "Later, the small knife which I had in my handbag helped me and finally, Susi Ganesan allowed to step out of the car. I didn't tell this story to my family members because they wouldn't have allowed me to go to work. Further, I also felt that Susi Ganesan might put a full stop to my career with his influence," recalled Leena. Though Leena shared this post in 2017, no one from the film industry has taken this allegation seriously.
[wp_ad_camp_1]
Now Amala Paul, the actress who worked with Susi Ganesan in the film Thiruttu Payale-2 posted a shocking statement.  In a statement published through her Twitter handle, the actress narrated her own experience of working on a project with Ganesan. Calling the director a man with "a twisted set of moral values and utterly low respect for women", Amala said she could understand how an aspiring director like Leena could make for an easy target.
Talking about filming Thiruttu Payale 2 with Susi Ganesan, the actress wrote: "Despite being the lead actress for Thiruttu Payale 2, I was subjected to double meaning talks, misrepresented offers and unchivalrous bodily contacts. This pretty much made my experience of shooting TP2 a mentally fatiguing one. I can totally understand what she could have been subjected to" she stated.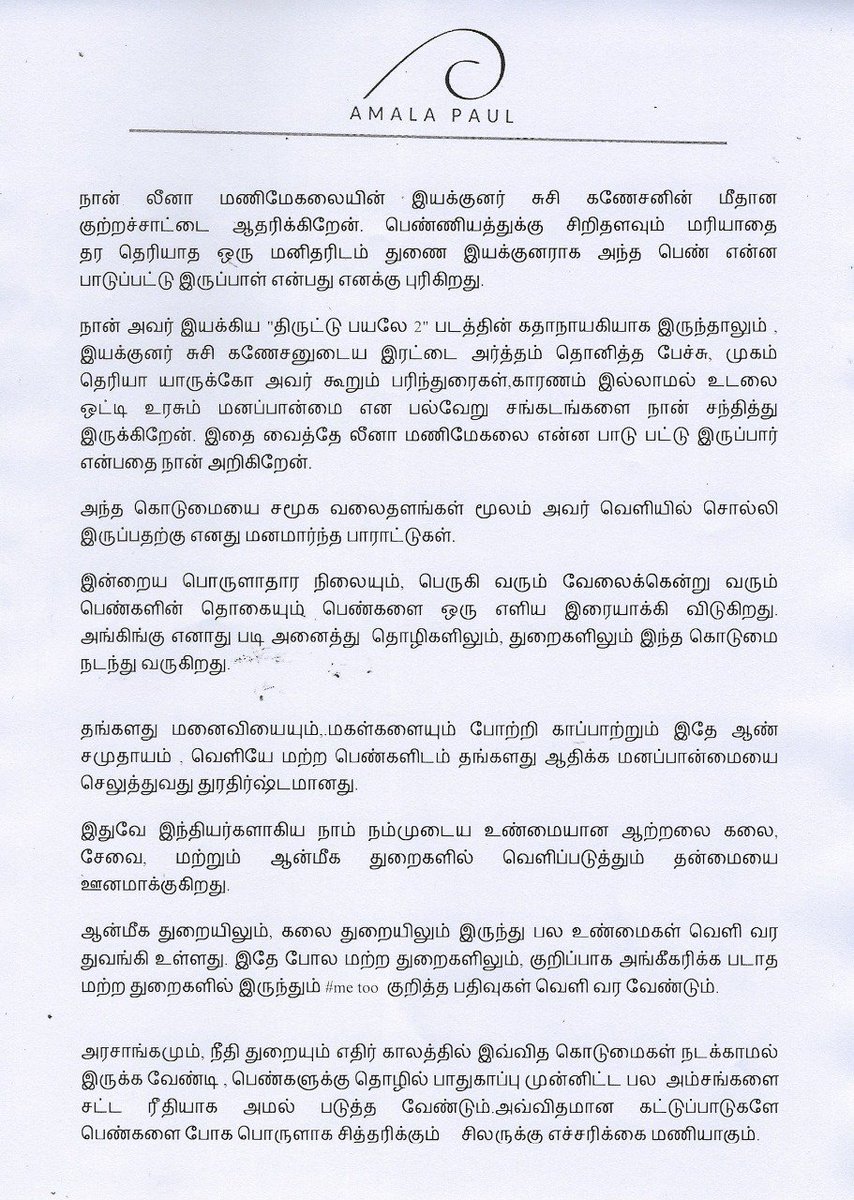 Check out her post here :
#MeToo #MeTooIndia #LeenaManimekalai #susiganesan pic.twitter.com/Jt2sS685H5

— Amala Paul ⭐️ (@Amala_ams) October 24, 2018
[wp_ad_camp_1]
Leena Manimekalai who was subjected in Amala Paul's statement commented on this post as well. She pointed out the errors in the release of Amala Paul.
Tamil Translation has few errors. I have never worked with Susi Ganesan as his assistant. I was a television anchor when I met him in 2005. I am sorry for what happened to you. Thanks for strengthening my voice and supporting #metoo. We are together in this fight. 🙏🏽

— Leena Manimekalai (@LeenaManimekali) October 24, 2018
Aspiring director means "வளரும் இயக்குனர்" (Valarum Iyakkunar) in Tamil. Otherwise there are quite a few translation errors in Tamil. Hope you will revise and rerelease the Tamil Statement. Thank you.

— Leena Manimekalai (@LeenaManimekali) October 24, 2018
Check out some of the public reactions here :
Waiting for ur next statement about Dhanush behaviour😤 As u broke ur silence. As u said U don't want the industry to tolerate anything else, speak frankly about him also. 💪

— Samsathyaseelan (@samsathyaseelan) October 24, 2018
#MeTooIndia you are not fair.
Raise complaint against dhanush. Why you soft corner to him.susi ganeshan did you much more better then dhanush..

— Sreeoffl (@Sreeoffl1) October 24, 2018
அப்படியே அந்த தனுஷ் மேட்டரையும் சொல்லிட்டிங்கனா

— பழுவேட்டையர் (@pazhuvetteiyar) October 24, 2018
இப்ப இவ மேல 2ரூ நஷ்டஈடு கேட்டு கேஸ் போட போறார் 😂

— கெட்டவன் (@kettavan_7) October 24, 2018
Bravo for speaking out. Much more strength and power to you!

— M (@chelliahmadura) October 24, 2018
திருட்டு பயலே படத்துல நீங்க சங்கடப்படீங்க சரி அப்போ அந்த படத்துல நடிக்காம அப்பவே சொல்லிருக்கலாம்ல படமும் நடிச்சு முடிச்சுட்டு இப்போ சொன்னா எப்படி? அப்பவே செருப்பால அடிச்சுருக்கணும் அப்போ நமக்கு படம் பணம் முக்கியம் அப்படித்தான

— தமிழன் (வெளிநாட்டு கைக்கூலி ) (@thanasingh) October 24, 2018
Update : Amala Paul received call from Susi ganesan and she was tweeted about their phone call conversation as well. Check out her most recent tweet here :
Just got the shock of my life! @DirectorSusi & @sgmanjari called &I picked up to explain the stand.While I was trying to pacify his wife; Susi strted abusing me&to my surprise his wife strted laughing&they both joined to slut shame me. De feel de can scare me with dese tactics 👊🏿

— Amala Paul ⭐️ (@Amala_ams) October 24, 2018
What do you think on this issue ?? Comment below !!