Hip Hop Aadhi's Youtube Channel That Had 2 Million Plus Subscribers Got Hacked !! Internet Reacts
By Dhiwaharan
Tamil music director cum actor/film director Hip Hop Aadhi's you tube channel that had 2 million plus subscribers, reportedly got hacked and users of Internet are reacting to the shocker in various ways through their tweets, posts and memes. The music videos he had uploaded for all these years were disappeared and the channel displays a name "Algorand Social mews" instead "Hip Hop Tamizha". Youtube is one of the main reasons for Aadhi's growth in his music career and the report on his channel being hacked grabbed headlines.
[wp_ad_camp_1]
Hip Hop Tamizha who gave blockbuster albums such as Thani Oruvan, Imaikka Nodigal etc. He is all set to make his furth film as protagonist through "Sivakumar Sabatham". His first two films "Meesaya Murukku", "Natpe Thunai", received positive reviews from the audience and "Naan Sirithaal" receivedaverage reviews. He entered film industry through "Aambala" of Sundar C who bankrolled his first two films as an actor.
Known for his music works, Hip Hop Aadhi enjoys a separate fan base among the Internet audience. He has wide social media following and his youtube channel was functioning with 2.08 million subscribers. Now, unknown people have hacked the musician cum actor's you tube channel and changed the channel name into "Algorand social news".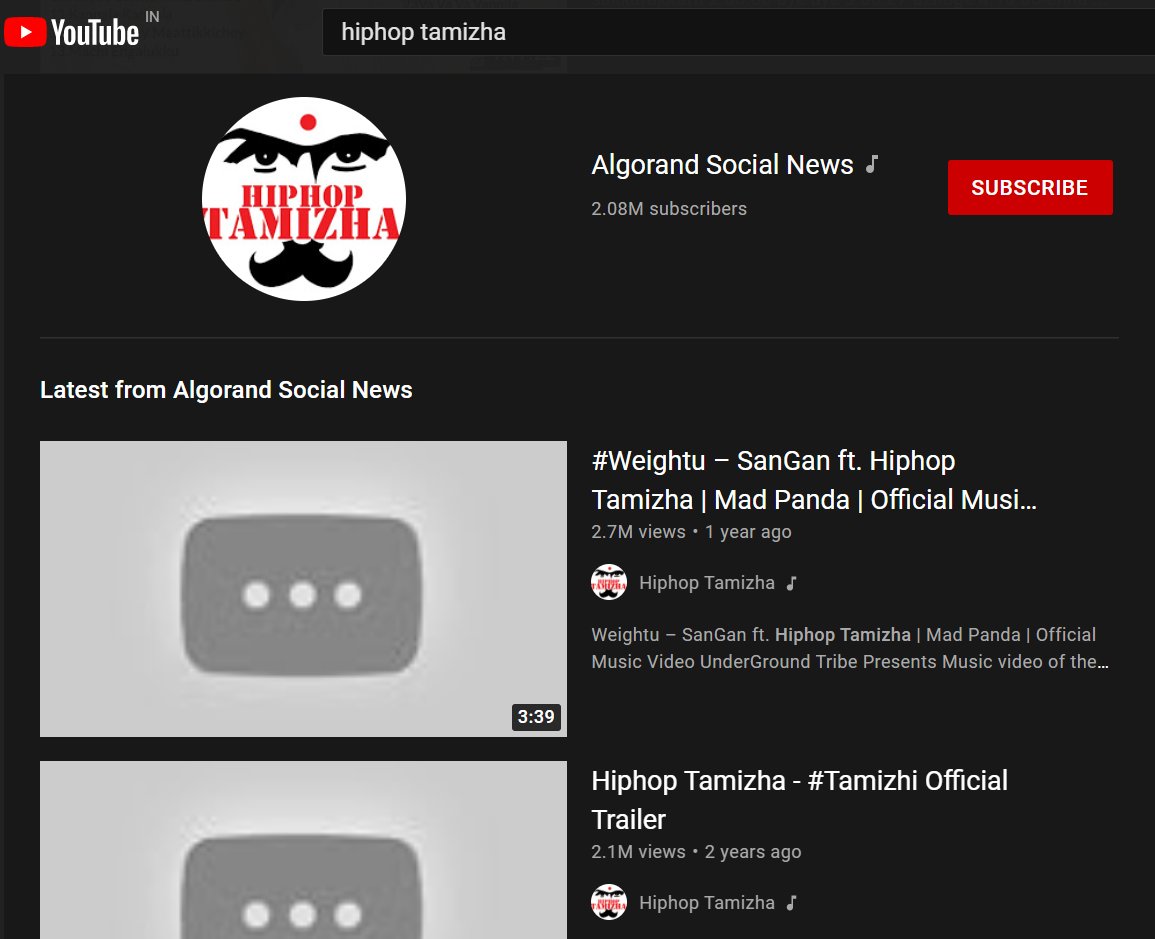 [wp_ad_camp_1]
Fans and users of online platforms has been reacting in various ways as the channel contained a number of quality Independent music videos including "Jallikattu" and "Tamizhi". Many made fun of the incident and posted memes as well. Check out some of the reactions below :
Eva kaupula pantan pola….sivakumar pondati oda ah ex ah irkumo😂😂

— Hot South Actresses (@TChannel26) July 26, 2021
Hip Hop Aadhi💔😥 Oruthan Onumae Illama Mela vantha porukathae@hiphoptamizha Stay Strong Na🤧

— dнιveѕн ᴸᶦᶠᵗ (@Kavinblood_) July 26, 2021
Sivakumar in Sabatham பாட்ட பார்த்து காண்டானவன் தான் கண்டிப்பா பண்ணிருப்பான் 🤔

— Subramanian (@MeSubramanian) July 26, 2021
[wp_ad_camp_1]
Me to that hacker https://t.co/DWfHbfNORN pic.twitter.com/qKnCCdbm5W

— Battle Rooster (@gudman_tweets) July 26, 2021
90s kids இல்லனா ராஜா பேன்ஸ் வேலையாத்தான் இருக்கும் https://t.co/OmjyutzzmR

— கப்பல் வியாபாரி (@sathyathetruth) July 26, 2021
The channel is yet to be recovered and Aadhi is expected to register a legal complaint against the miscreants. On the work front, the actor is all set to appear in films such as "Sivakumar Sabatham", "Anbarivu" and more. He is composing music for A1, Telugu remake of his "Natpe Thunai" and a film named "Aalambana".