Hilarious Memes On This Recent Trending Template !!
Written by Dhiwaharan Published on Aug 07, 2022 | 20:54 PM IST | 421
Follow Us
Comments: 0
Meme templates from films of Kollywood trending for no reason is not something new for the Tamil internet. A couple of days ago, memes on "Value Investor" Anand Srinivasan were trending among the users of Tamil nadu based social media users. Templates such "Vaathyare" from "Sarpatta Parambarai", "Amaanga ayya" from Soorarai Pottru were sustained the longest time period as trending templates.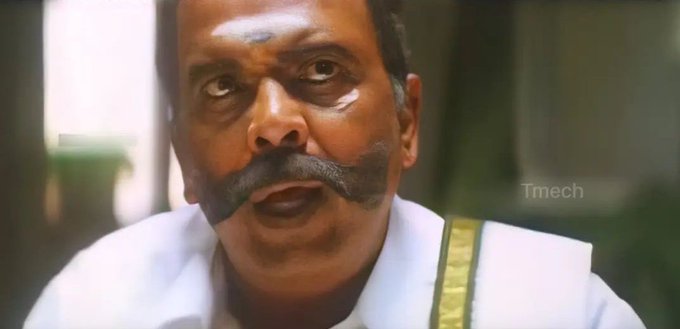 For the past few days, an unexpected template from an old movie came as a surprise in the Tamil meme nation. Enormous number of memes were flooding the internet under the template which features Annadurai Kannadhasan, son of legendary poet Kaviarasu Kannadhasan who is known for writing more than 5000 lyrics, 6000 poems and 232 books. Annadurai is known for his collaboration with comedy actor Vivekh.
The template is from the movie "Jambavan" which was released in the year 2006. Late actor Vivekh who appeared in the film as a Doctor, would face Annadurai, a Panchayath leader as his patient who is suffering from visual impairment. Though he is not an eye specialist, Vivekh would try to check his eye power by writing letters in a board.
He would write the first letter of Tamil "அ" in the board and ask whether he could read it. After receiving a reply from Annadurai who would say that he couldn't read, Vivekh would write it even bigger. Followed by the several attempts to make him read, Vivekh would lift the board and ask him whether he could read it now only to get the same answer.
However, Annadurai would say that he can see other things such as Vivekh's watch, pen, coat and other things. When asked, the Panchayath leader would say that he couldn't read the letter as he don't know how to read. On response, Vivekh would slap him for not getting education and for not letting his kids and grand kids getting educated. The comedy will end with people of the town making him to empty his clinic.
Watch the comedy below :
The particular screenshot of Annadurai Kannadasan asking "Ohh, so this is அ" s trending with hilarious memes for the past few days. Though there is no appropriate reason for the template to o viral, the memes that are being made with the template are hilarious to the core.
Check out some of them below :
ஆ! இது பாக்கற வரை பொன்னாங்கன்னி மலர்ந்த நாளு ன்னுதான் நினைச்சிருந்தேன். இன்னும் எத்தனை பாட்டை தப்பா பாடிட்டு திரியறோமோ 😐 pic.twitter.com/SeYjfHtiso

— சௌம்யா (@arattaigirl) August 6, 2022
Apo cum naa vaa nu koopdradhu ilaya? pic.twitter.com/ozmCYKIgAG

— Karthik Swaminathan (@worldofkarthic) August 3, 2022
oh apo incest na poochi illaiya? pic.twitter.com/fW8W9iMiNg

— NV (@nvtwxxts) August 3, 2022
Appo matter na something that has mass and occupies space Illaya? pic.twitter.com/oobowJSX0U

— Enna simran idhellam | LAX stan (@simrantelex) August 3, 2022
Apo சுகர் டாடி na Father suffering from diabetes illaya pic.twitter.com/SJzO6FRRd1

— Shar ✭ (@memethirudi) August 3, 2022
When adult phase starts

Oh apo STD na phone call illaiya pic.twitter.com/UClbOaLcDZ

— Thani Maram 🌴 (@blahblahvision) August 3, 2022
Ohh appo coochie na cookies illaiya? pic.twitter.com/TzAyFSaIBp

— Praka (@FilterCoffeez) August 3, 2022
Appo Johnny Sins Hollywood star illaiya..? 👀 pic.twitter.com/8wwDs7N7vs

— ✪_Д R ♪ H Δ ℜ Δ ₦_✪ (@kissyyguyy) August 5, 2022
Me In Childhood ~

Kingfisher Bat company illaiya… pic.twitter.com/DPzjuoqRMN

— Cringe_mc (@Cringemc17) August 5, 2022
Ohh appo moaning na kalaila illaiya? pic.twitter.com/jQo6VPT44b

— Laughtubes (@laughtubespage) August 3, 2022
Appo doggy style na naayee fashion illaiya? pic.twitter.com/eA9JglMoTs

— Matches Malone (@ParreppuUrundeh) August 3, 2022
Apo item na porul illaiya? pic.twitter.com/8KbKJPQSAp

— Polambifiyer (@polambifiyer) August 4, 2022
Appo Vijay TV owner Vijay illaiya🤔🤔 #90skiddoubt pic.twitter.com/26AnFKLLTv

— Nanum_Mems_Creator (@Nannum_MC) August 4, 2022
Every kid after school life:
Apo college pona life settled illaiya pic.twitter.com/cC96efXGaj

— 𝕸𝕵✵꠸ꪜꪖꪀ (@naj_o_man) August 3, 2022
oh apo boomer na bubblegum illaiya.!? pic.twitter.com/gIdp7Ig2QN

— aspecificarea_bat | NV stan account. (@thatvavvalu) August 2, 2022
ohh apo bitch na kadarkarai illaiya pic.twitter.com/ZbC7dYQjhr

— S A T H Y A  (@vavvaaley) August 3, 2022
Appo Date na Thaethi Illaiya? pic.twitter.com/uQlWODQIg3

— 🐐🇵🇸 (@NawfalxSalih) August 3, 2022
Apo going down na keela poradhu illaiya pic.twitter.com/POu5bWatXb

— Rhythm (@irhythmm) August 3, 2022
I see 😐 pic.twitter.com/WqSQaKl3pG

— Mathan Ravi (@MathanChandran) August 5, 2022
Hand job na கைவினை பொருட்கள் seiyura velai illaiya pic.twitter.com/tccRpRcIUI

— Inna Thala (@jillu_offl) August 3, 2022
Appo Racist-na Race Vandi Otravan Illaiya 😐 pic.twitter.com/rrcCbDuFq6

— VISHHHHHHHWAAAAAAAA (@ThiriMunPadakko) August 4, 2022
appo 'let me eat you out' na veliya poi saapudradhu illaiya??? pic.twitter.com/BjoedjLswb

— user124Q (@_xzeuss) August 4, 2022
Appo pussy na poonei illaiya? pic.twitter.com/cTnBWWdfxm

— Matches Malone (@ParreppuUrundeh) August 4, 2022
Appo foreplayna naalu per velayadrathu illaiya? pic.twitter.com/p7WXHcmITW

— Real Bigg Boss (@BiggBoss6Tamil) August 3, 2022
Appo 69 na Number illaiya pic.twitter.com/S4nYf9GJ0n

— Mohammed Abraham Jithu Jacob Singh (@jithu_jilladii) August 3, 2022
"Singam singam he is Durai Singam"

Oh.. Apo adhu " Eswara singam " illaiya? pic.twitter.com/8IZ7HzfZ9Q

— ssn_talents (@SsnTalents) August 5, 2022