Hilarious "Biriyani" Memes Are Flooding The Internet On Ramzan Day !!
Written by Dhiwaharan Published on May 03, 2022 | 12:32 PM IST | 189
Follow Us
Comments: 0
On the day which marks the special occasion of Ramzan festival, memes on people from other religion requesting their muslim friends for Biriyani, are trending in the internet platforms with hilarious captions and reactions.
On 3rd of May, people from Muslim community celebrate the festival of Eid-Mubarak. It is a three day festival that takes place in the holy month of Ramadan at the start Shawwal, which is the 10th month of the Islamic Calendar. Eid ul Fitr is also known as the festival of breaking fast as it marks the end of the holy month of Ramadan.
While people were busy celebrating the festival, hilarious memes and reactions regarding the same are surfacing in Internet platforms. Check out some of them below :
me continuously wishing happy ramzan to my bhai frnd for biriyani

bhai frnd; pic.twitter.com/1xffjrJGsW

— Brocasm (@Goiyalamemes) May 3, 2022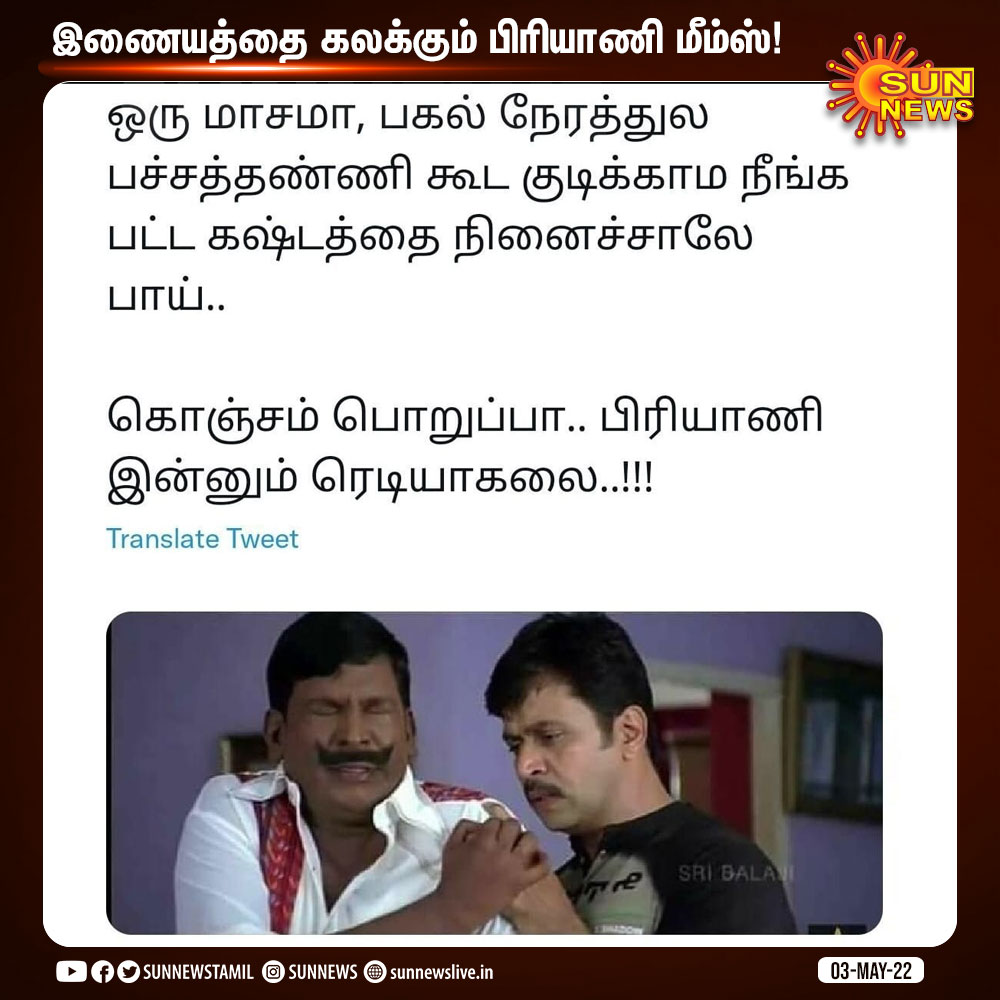 Yaarellaam unga Bhai friend kitta ketrukinga?😂🍗
#Ramzan #RamzanMubarak #BhaiFriend #Biriyani #BehindwoodsMemes pic.twitter.com/sqradqahFn

— Behindwoods (@behindwoods) May 2, 2022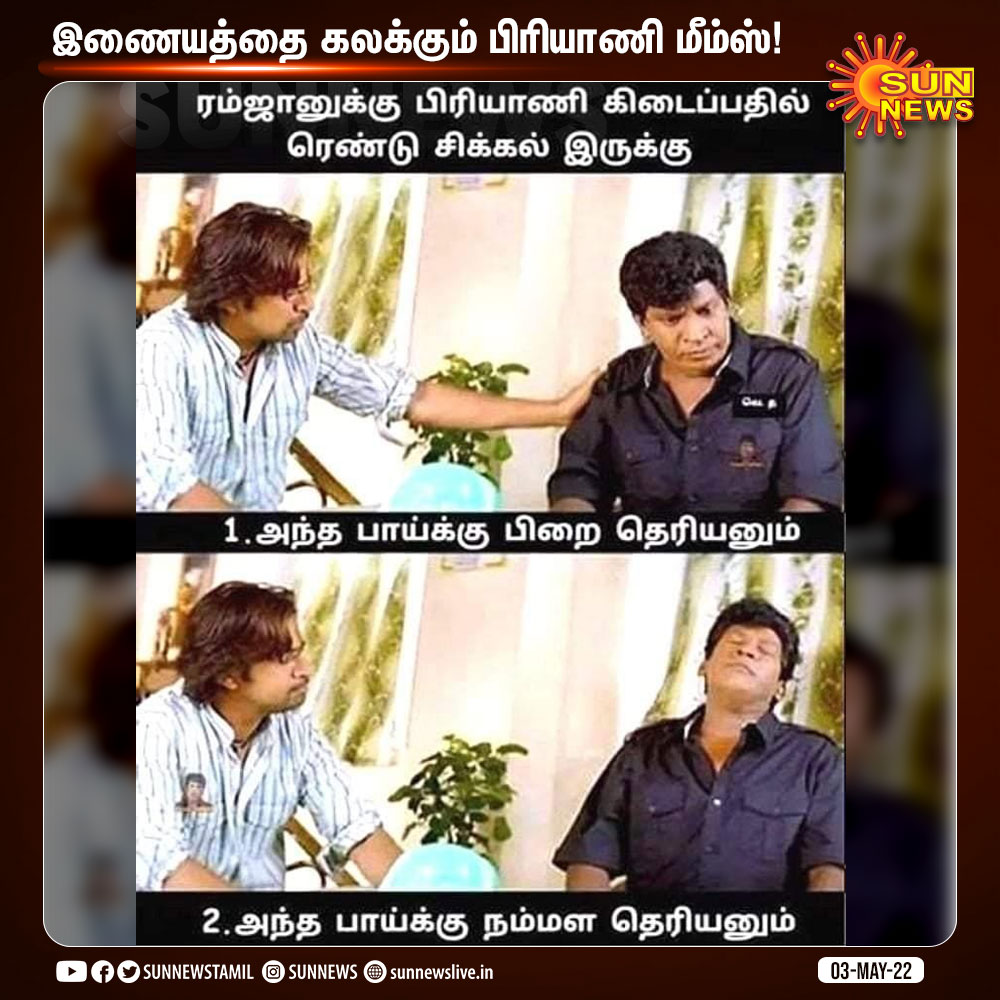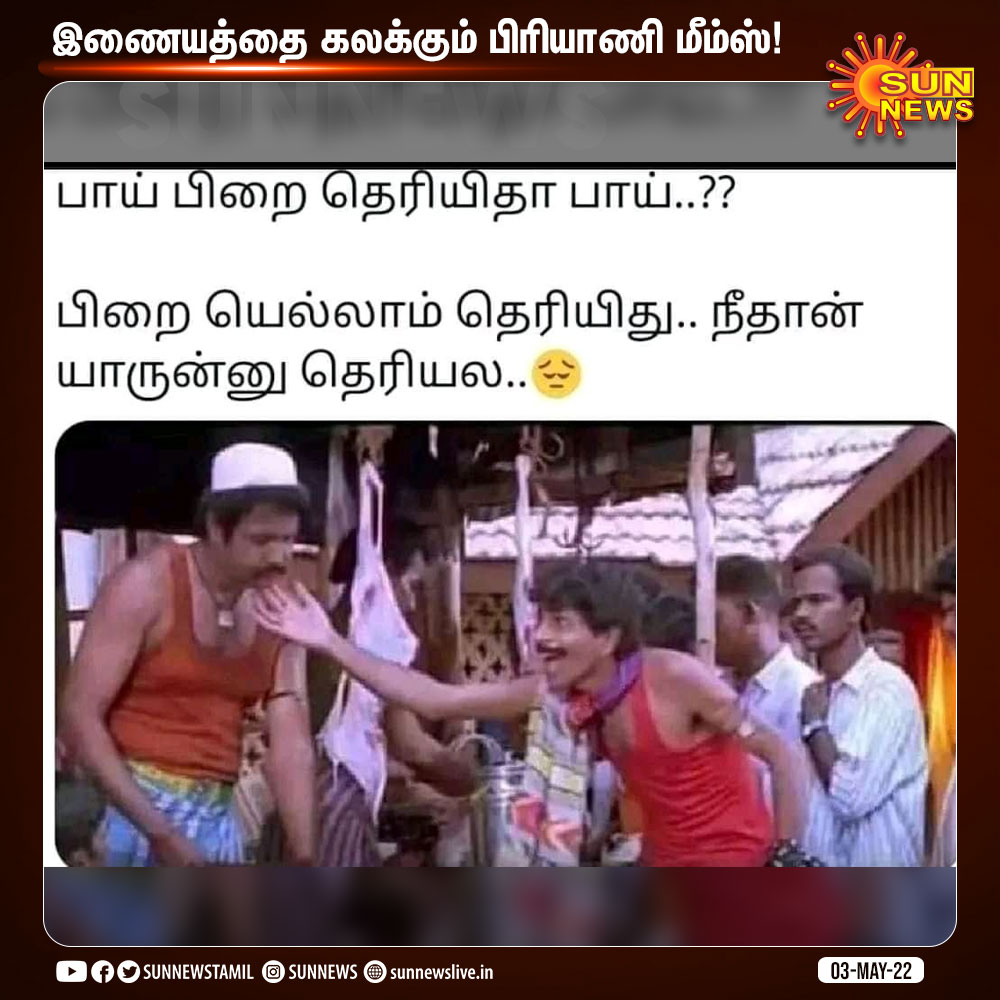 என்னது ரம்ஜானுக்கு பிரியாணி தரலைனா பாஜக உள்ள வந்துடுமா… pic.twitter.com/7vR1dsaHgi

— ஆர்த்தி.. (@Orange_Mittaai) May 2, 2022
Me To Myself ~
Unaku Boyfriend Dhan Ilanu Patha Ramzan Anniku Biryani Tharakuda Bhai Friend Ilaye Parama🥲 pic.twitter.com/DE1Rr865t7

— Aarthi Suresh (@Aarthi_official) May 3, 2022
பாய்.. கடைசியா கேக்குறேன்.. பிரியாணி கிடைக்குமா.. இல்ல மிஸ்டுகால் குடுத்து ஜீ கட்சியில சேரவா.. pic.twitter.com/G9hW4OygSX

— James Stanly (@JamesStanly) May 3, 2022
ஒரு பொய்யாவது சொல் பாயி…
பிரியாணி தரேன் என்று,
அந்த சொல்லில் உயிர் வாழ்வேன்!🍗🥺#HappyEid 🌙#RamadanMubarak #Ramadan2022 #EidMubarak2022 pic.twitter.com/OdBVQ6XWWl

— Subhashkumar.S (@SSubhash_Kumar) May 3, 2022
~ பிறை தேடும்
இரவிலே உயிரே எதை
தேடி அலைகிறாய்!

~ ஹ்ம்.. பிரியாணி தான்.. வாங்கி தர்றியா? pic.twitter.com/0R3FImPloM

— சரவணன். 𝓜 (@saravankavi) May 3, 2022
கிறிஸ்துமஸ் முடிஞ்சது ஒரு துண்டு கேக் கிடைக்கல..

பொங்கல் முடிஞ்சது இத்துநூண்டு சுண்டல் கிடைக்கல..

ரம்ஜான்க்கு மட்டும் பிரியாணி னு வந்துடறானுங்க…. pic.twitter.com/CwLmbGvJEw

— M O V I E – T I M E (@moviie_time) May 2, 2022
பிரியாணி காசு குடுத்து வாங்க தெரியாம இல்ல

நமக்குள்ள ஒரு நல்ல உறவு மனப்பான்மை வேணும்ங்ற அடிப்படைனால கேக்குரேன்

தர முடியுமா முடியாதா pic.twitter.com/iSl6ZM2CET

— வன்ம 😎 கிச்சா (@itzcrazykichu) May 3, 2022
தீபாவளி பலகாரம் கொடுத்தவனுக்கு தான் *ரம்ஜான் * பிரியாணி…

யாருடா சொன்ன..?

பள்ளி வாசல் ல பேசிகிட்டாங்கடா …😎 pic.twitter.com/AD3d9g3iXf

— பாக்டீரியா (@Bacteria_Offl) May 2, 2022
என்னடா வாழ்க்கை இது..இந்த உலகம் எத நோக்கி போகுதுன்னே தெரியல..ரம்ஜான் வாழ்த்து சொன்னா ஒரு பாய் கூட திருப்பி வாழ்த்து சொல்லல..பிரியாணி கேட்டிருவேன்னு..😔😔 pic.twitter.com/jwCT5wDxpu

— 𝑩𝒉𝒂𝒗𝒂𝒏𝒊 𝒃𝒂𝒍𝒂 🖤♥️ (@slmdhanapal) May 3, 2022
இத்தனை வருஷமா நல்ல பழகுன நீங்களே ரம்ஜான்க்கு பிரியாணி தரல வேற யார்டா தருவாங்க எனக்கு போங்கடா#பிரியாணிகிடைக்கல pic.twitter.com/YwqkMWJvjb

— Joe Selva (@joe_selva1) May 3, 2022
ஒன்ற மணிக்கே பிரியாணி காலியாம்
நெய் சோறாவது இருக்கான்னா அது பிரியாணிக்கு முன்னாடியே காலியாம்

யா அல்லாஹ் 😞 pic.twitter.com/w2wdLIIW9p

— உள்ளூராட்டக்காரன் (@shivaas_twitz) May 3, 2022
தேடி வந்து பிரியாணி குடுக்குற அளவுக்கு இன்னும் ஒரு பாய் பிரண்ட் சாம்பாதிக்கல 🥺😪#EidMubarak pic.twitter.com/e0yybsQAbN

— தளபதி பரணி 𝐕𝐟𝐜 😇 (@Bharanee_officl) May 3, 2022
பிரியாணி குடுக்கலனா ஜீக்கு ஓட்டு போட்டருவேன் பார்த்துக்க🚶🚶🚶 pic.twitter.com/jvAWSfFekL

— சினிமாபுரம்💜 (@cinemapuram) May 3, 2022
மட்டன் பிரியாணி சொல்லிட்டு
சிக்கன் பிரியாணி குடுத்துட்டங்க.#Banramzan pic.twitter.com/racew1V1Pe

— srinujack (@srinujack3) May 3, 2022
பிரியாணி வரும்னு சோறு வேற பொங்கல.. 😌 pic.twitter.com/uT5imVAOc9

— Rest எடுக்குற சோனு 🥳 (@NameisSoni) May 3, 2022
நம்மலே சுவிக்கில பிரியாணி ஆர்டர் பண்ணி நண்பன் குடுத்ததா ஃபோட்டோ போடுவோம்….. pic.twitter.com/tYxdFOY29V

— DESPOTER (@Despoters_12345) May 3, 2022
ஏன்டா பிரியாணி மட்டும் கேக்குறிங்க

இஞ்சி பூண்டு உரிக்க கூப்டா எவனும் வர மாட்ரிங்க??#EidMubarak 🤣 pic.twitter.com/aWcmxwKmyu

— ♔ ℳsd 𝑀𝑎𝒉𝑖 𓃵 🦁 (@Star_Vijay1) May 2, 2022
:~இந்த தூக்குல கொஞ்சம் பிரியாணி போட்டுவிடு பாய் pic.twitter.com/uBRxcxDeVQ

— மதுர பாய்  (@maduraiboy0007) May 3, 2022