Highlights Of Vikram Success Meet !! WATCH VIDEO
Kamal Haasan
Lokesh Knagaraj
Success meet
Vijay Sethupathi
VIkram
9 months ago
By Dhiwaharan
On Friday, Success meet of Kamal Haasan's "Vikram" took place at Madras Race Club, Guindy with the presence of distributors, theatre owners and media members. A feast was served by the film crew for the attendees in a way of expressing their gratitude for making the film success. Many interesting events including Tamil nadu distributor of "Vikram" Udhayanithi Stalin declaring the film as the most successful one and Lokesh Kanagaraj revealing about the first advise he received from Kamal haasan post the film's success, took place in the events.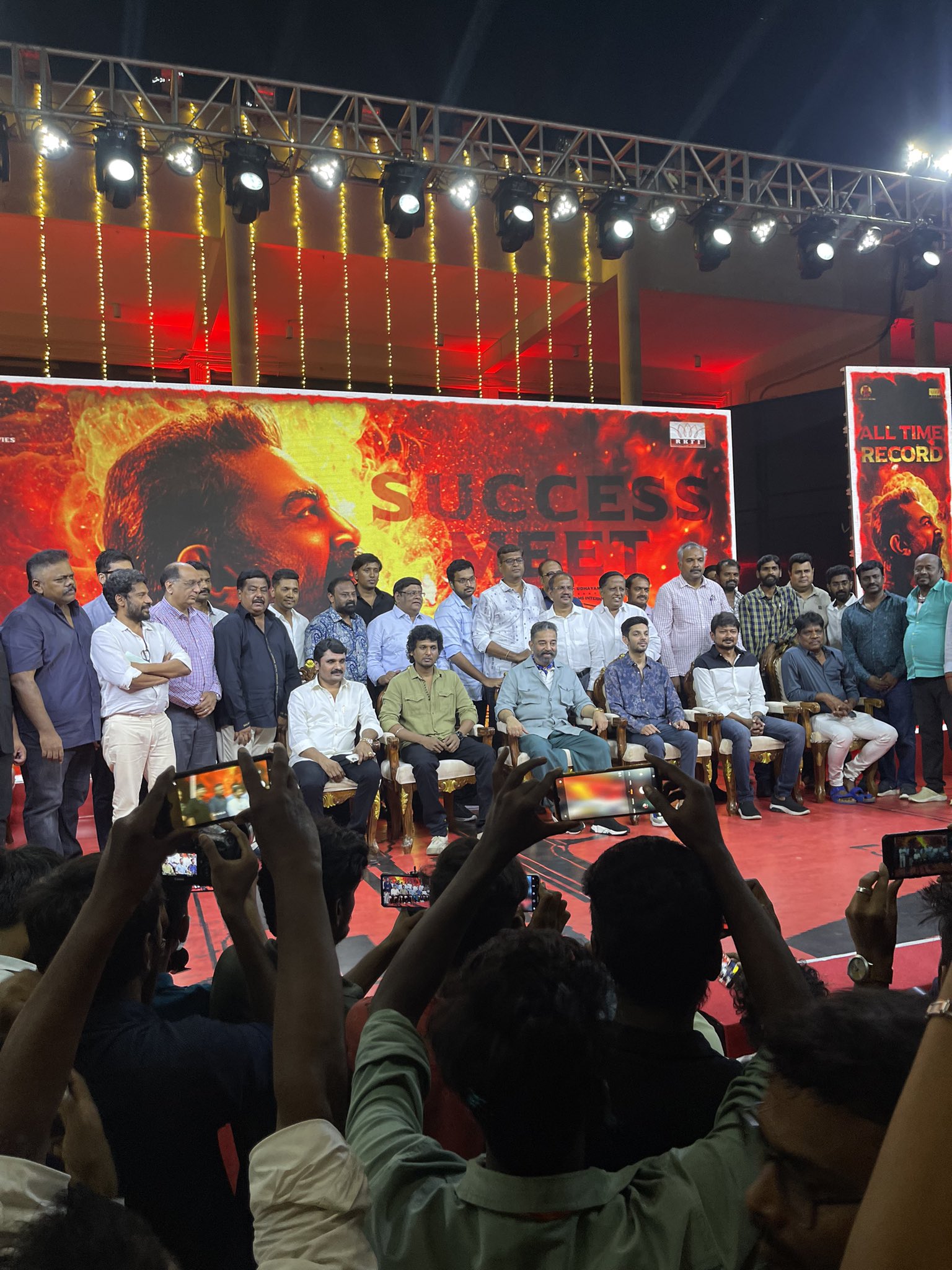 "The victory is not possible without the space given by Kamal sir to me. He who never failed to experiment in cinema, gave me the space to bring one of my films as cross overs and explore things on my own and that is one of the main reasons for the film's success" Lokesh Kanagaraj, director of the film said. He said that Kamal phone called and talked to him for 30 minutes post the film's success and advised him to not take rest and to start working on his next film. "I will receive it as a take away from this project and would work hard to give better projects" Lokesh Kanagaraj said in the event.
"'படம் வந்துருச்சி, ஹிட் ஆகிருச்சி. பிரேக் எடுக்க வேண்டாம். அடுத்த படத்துக்கான வேலையை தொடங்கு..' விக்ரம் படம் ரிலீஸ் ஆகி ஹிட் ஆன அப்புறம் கமல் சார் போன் பண்ணி சொன்னது இதுதான்"

– விக்ரம் வெற்றி விழாவில் இயக்குநர் லோகேஷ் கனகராஜ் பேச்சு #Sunnews | #Vikram pic.twitter.com/R36SxJKVig

— Sun News (@sunnewstamil) June 17, 2022
Music director Anirudh said that right from the start of the announcement video which was release on Kamal Haasan's birthday, a couple of years ago, the vibe and positivity never changed. Anirudh said that he enjoyed the process of scoring music for the film sue to the acting skills of Kamal Haasan and also lauded Lokesh Kanagaraj for the clarity in what he wants.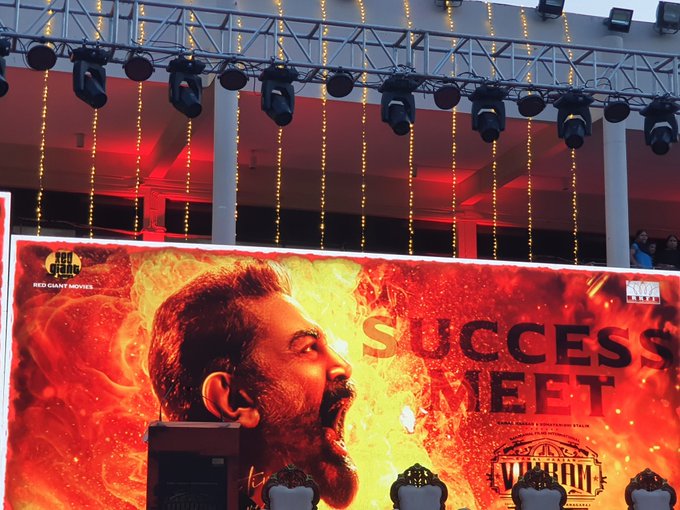 Anirudh ensured that the OST got ready, as everyone asked and he will be releasing it in few days.
ஓவரா புகழ்ந்த Anchor-ஐ ஓரமா தள்ளிவிட்ட அனிருத்… – விக்ரம் வெற்றி விழாவில் கலகல…#Sunnews | #Vikram pic.twitter.com/vbWJYlVPiZ

— Sun News (@sunnewstamil) June 17, 2022
Udhayanithi Stalin, during his speech, said that he didn't expect "Vikram" to become a humangous success like this and revealed that it collected Rs. 75 crores of gross collection in Tamil nadu itself which no film has earned so far. Udhay said that people are still struggling to get tickets for the film as it is running houseful and special shows are being arranged in weekends. "In my guess, the film will run for 5 or 6 weeks successfully" he added.
"படம் ஹிட் ஆகும்னு தெரியும், ஆனால், இப்படி ஒரு ஹிட் ஆகும்னு சத்தியமா நினைக்கல" – விக்ரம் வெற்றி விழாவில் உதயநிதி ஸ்டாலின் பேச்சு#Sunnews | #Vikram pic.twitter.com/m0pxT2WGIo

— Sun News (@sunnewstamil) June 17, 2022
Kamal Haasan, during his speech, said that the success of the film is not possible without the crew members. The actor cum politiician said that this is the first film he released without any issues in the past 10 years and thanked Udhayanithi Stalin for that. Talking about Loksh kanagaraj, Kamal haasan said that the next film of Lokesh is also belongs to him and said to Loki that he is ready to do any kind of help for the film. "Do it well and come back to make the sequel of Vikram" Kamal said.
Watch Video :