Mersal released on Diwali 2017 and became a blockbuster even though it was embroiled in several controversies. In Tamil Nadu itself, the film had earned over Rs 125 crore. No surprise then that Vijay's 2018 Diwali release, Sarkar, has huge expectations attached to it. Besides buzz around Sarkar in Tamil Nadu, Kerala is excited about the film as well.
[wp_ad_camp_1]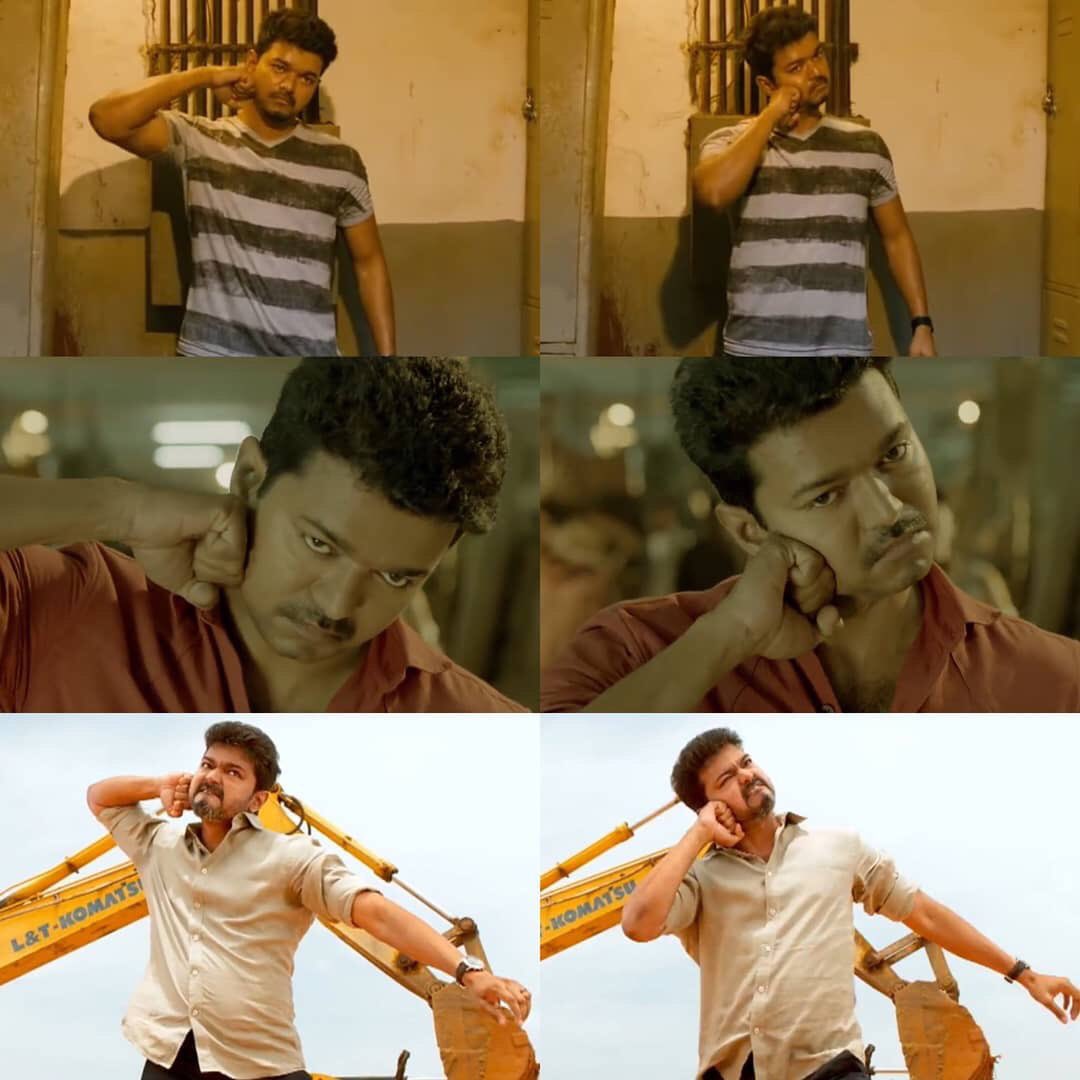 In Kollam, a fan club called Kollam Nanbans, has erected a 175 feet cutout of Vijay. This is one of those rare times when an actor from another state is getting so much attention in Kerala. In fact, in Kerala, Sarkar will release in 402 screens with 1,200+ shows. In fact, some theatres have also announced 24 hour non-stop marathon show from 4am on Tuesday.
Here are some of the reasons that makes Sarkar a much-awaited film.
*Thalapathy Vijay is the biggest reason. Vijay fans believe that in the time to come, the actor will join politics, and the film being a political drama makes it relatable for them.
*After Thuppakki and Kaththi, Sarkar is AR Murugadoss and Vijay's third film together.
[wp_ad_camp_1]
* Music is by Oscar winner AR Rahman. Songs have already become hits and people are eager to watch Vijay dancing to these songs.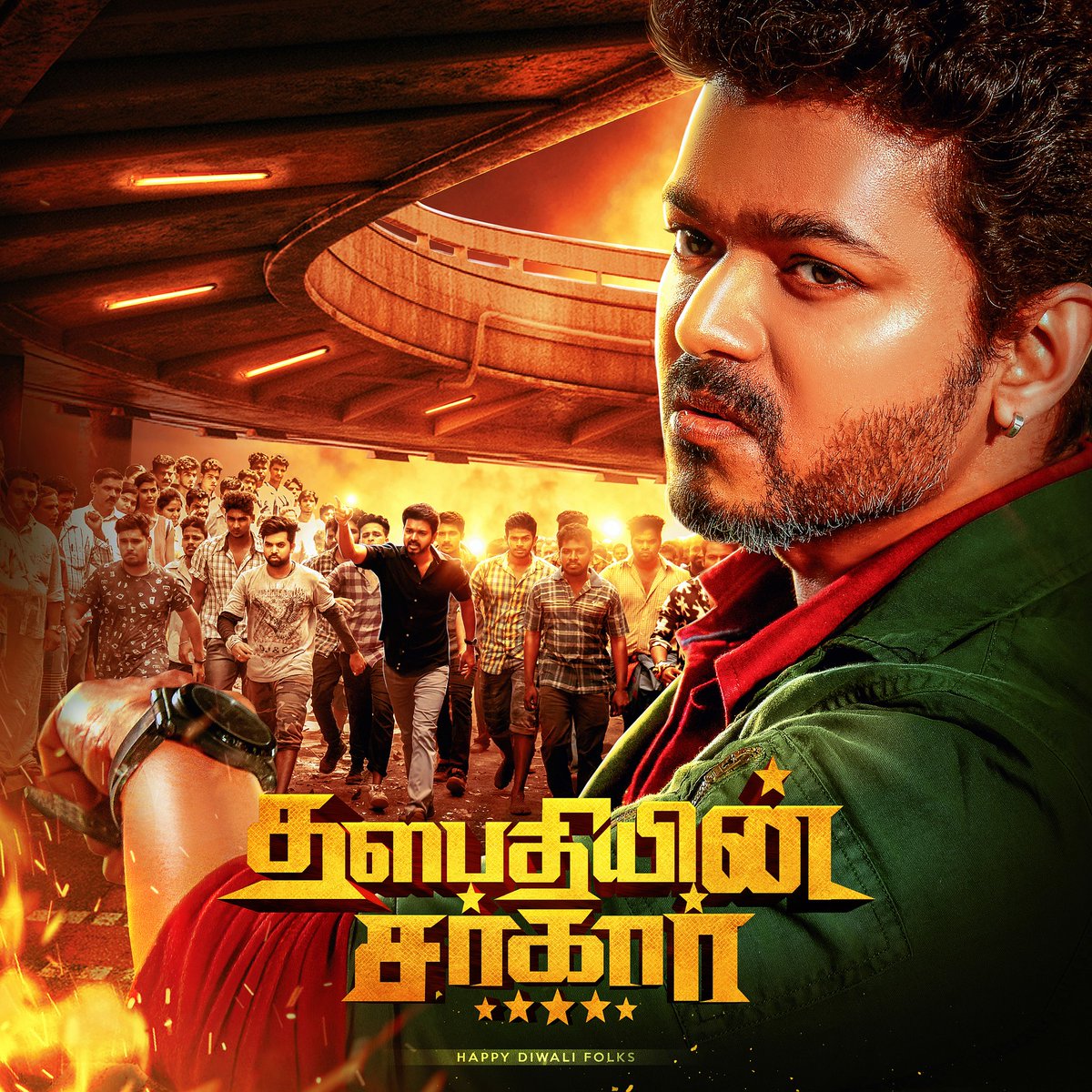 *Sarkar's teaser and songs have garnered record-breaking views on YouTube. The teaser had hit 20 million+ views in 48 hours.
Keerthy Suresh and Varalakshmi Sarathkumar are female leads in Sarkar. Produced by Sun Pictures, the film has dialogues by Jeyamohan.
Now the film has been screened in many theaters as special show and the feedbacks are pouring in Social media. Check out some of the selective ones here :
Excellent political drama with brilliance sparkled throughout. After people doubting the director's calibre and credibility, he has given a tight slap to them by giving the most perfect comeback ever.
#sarkarreview

— shriram hemaraj (@shriramtweet) November 6, 2018
#Vijay is the lifeline, the real treasure of #Sarkar . He sinks his teeth into the character and, in several sequences, peels off the mask of "superstardom" and brings the actor to the fore.
Congratulations @actorvijay #sarkarreview#HappySarkarDiwali 2/2 pic.twitter.com/M73ekbxTEH

— Taran Adarsh (@Taran_aadaarsh) November 5, 2018
#SarkarReview There could be positives here and there but this isn't a first timers' movie to be appreciated and encouraged. When kings of industry come together they have to deliver the best. If not this is how brutal the verdict has to be.

— Rethakanneer MRRadha (@Rethakanneer) November 6, 2018
[1/4]#Sarkar final verdict: As a Die hard Rajini fan I really enjoyed the movie more than Theri and Mersal. To say that #Sarkar will make 200+CR wonders at the BO would be an understatement.

Met my expectation: YES, much much better than expected#SarkarFDFS #SarkarReview

— Jav (@imONLY_FACTS) November 6, 2018
#SarkarDiwali #sarkarreview #Sarkar #vijay is holding whole movie with punch dialogues which has predictable and weak screenplay…felt like #sivaji 2.0

— Ragha G vendran (@Raghaven_Offl) November 5, 2018
#sarkarreview #SarkarFDFS Worth watching guys, 1half superb, 2nd half oru viral puratchi.. overall awesome 😍😍 #SarkarFDFS pic.twitter.com/uwhOJJ79fZ

— Gowtham (@Gowtham54500657) November 6, 2018
[wp_ad_camp_1]
Disappointed A Lot😪😪 #Sarkar #SarkarDiwali #SarkarReview

Inspired From @jj_offl 😂😂 pic.twitter.com/GFxSCvx6YP

— aռaռɖ sʊʀɨʏa 🐦 (@SAnandSharma) November 6, 2018
Watched #Sarkar

Edappalli Vanitha 6:30am

Status : 95%

Decent Watchable One 👍

Dialogues , Fights , #Thalapathy Swag 👌

Loved First Half More

My Rating : 3/5#SarkarFDFS #SarkarReview pic.twitter.com/LVCR67vk2S

— Movie Planet (@MoviePlanet8) November 6, 2018
Totally illogical 2.75/5

Unrealistic and funny to see a RICH, TOP CORPORATE, GLOBALLY KNOWN dancing in slums, doing immature comedy, talking punch dialogues and simply fall in love with unknown

Very poor execution. Audience are not stupid 😠😠

— Sankar_Tweets (@Sankar__Tweets) November 6, 2018
Spoiler alert: #SarkarReview
A Badass Movie to all f***ing politicians! If you voted a wrong candidate, pls don't watch this movie it will hurt you in
#Sarkar A Pure Content movie @ARMurugadoss awareness @actorvijay Mass-Top Tucker and his charisma wow🔥😍 pic.twitter.com/Ts06tiH0E8

— Sridhar (@sridhar_rajini) November 6, 2018
SARKAR – A story which could have been conveyed in a much more convincing & believable way.

A bit disappointed. #Sarkar #SarkarFDFS

— Maathevan (@Maathevan) November 6, 2018
#sarkar saw the movie ! wishing the movie a success .. @SunTV @ARMurugadoss @actorvijay pic.twitter.com/ueCQqb5rK1

— Udhay (@Udhaystalin) November 5, 2018
#Sarkar mass &emotionally connected @actorvijay Anna Vera level mass👍👍👍@ARMurugadoss sir ur always an inspiration sir🙏 @arrahman awesome sir👏@KeerthyOfficial 👌super nanba @varusarath 👌Nanba @Lyricist_Vivek 👌Na @sunpictures thanks for the gr8 film 🙏 #IdhuDaanNammaSarkar

— atlee (@Atlee_dir) November 6, 2018
சிம்பிளா சொல்றா அப்டினு சொல்றவங்களுக்காக..

துப்பாக்கி,கத்தி அளவுக்கு நல்லா இருக்கானு கேட்டா நிச்சயமா இல்ல.. ஆனா துப்பாக்கி கத்தி அளவுக்கு ஓடுமானு கேட்டிங்கனா நிச்சயமா அதவிட அதிகமே ஓடும்..

சுமாரான படம் தான் ஆனா ப்ளாக்பஸ்டர் மெட்டீரியல்..

இமைக்கா நொடிகள் – சமீபத்திய உதாரணம்..

— புரட்சியாளர் AK™ 😎🔥 (@RJAadhi) November 6, 2018
#Sarkar A Poltical Movie with all the commercial elements & ever stylish #Thalapathy at his best. #ThalapathyFans will celebrate this movie & watch it multiple times.
Best Ever Diwali treat from #Thalapathy to his fans. #ThalapathyDiwali #SarkarFDFS response

— Sathish Kumar M (@sathishmsk) November 6, 2018
Talk about your experience. Talk about the performances and if the story was effective. Not every story block and which scene/sequence comes where in the film. People want to know your view, not the entire script. Please🙏#Sarkar #SarkarFDFS

— Raunaq Mangottil (@CinemaInMyJeans) November 6, 2018
This is how it feels after coming out of the cinema theatre and giving #SarkarFDFS review to YouTube channels : 👇😂 pic.twitter.com/hU5Qqv4RED

— Chennai Memes (@MemesChennai) November 6, 2018
#Sarkar VerrrrrriiiiiiMaaaaaxxxxxxx!!! @ARMurugadoss sir 👌🏻👌🏻 Loved Thalapathy @actorvijay sir from start to end..Prime Form👑👑#SarkarInRamcinemas

— Ajay Gnanamuthu (@AjayGnanamuthu) November 6, 2018
#Sarkar wat more can v ask for Diwali Vera level 🙏🏻 congrats,hats off & salute to @actorvijay anna @ARMurugadoss sir @KeerthyOfficial darling @varusarath dear @sunpictures @arrahman sir @Lyricist_Vivek anna & the entire team 👏🏻👍🙏🏻 #IdhuDaanNammaSarkar #IdhuNammaSarkarDiwali

— Priya Mohan (@priyaatlee) November 6, 2018
Unmatchable charisma 🔥

Somebody in the 40's can look so jaw dropping, it has to be @actorvijay 😇#Sarkar is pure information. With very little breathers, the story is given top priority. Major showdown is yet to begin but propaganda has begun already.

— S Abishek (@cinemapayyan) November 6, 2018
Director @ARMurugadoss delivers an eminently watchable film, no two opinions about it… Final word? #Sarkar delivers what it promises: King-sized entertainment… Get ready for the Tsunami at the BOX OFFICE .

Rating – 🌟🌟🌟🌟

Congratulations @actorvijay#HappySarkarDiwali pic.twitter.com/pdEWhMjnc4

— Taran Adarsh (@Taran_aadaarsh) November 5, 2018
#Sarkar : 4.5/5

Probably the Best Movie in #Thalapathy's career..!

OUTSTANDING SCREENPLAY & Story by genius @ARMurugadoss !#Vijay's Charisma , Style , Attitude are out of this world 😍 !#ARM = King of Content !

Fights & Dialogues 😱😍

Public Verdict : Blockbuster 👍

— Tamil Censor (@TamilCensor) November 6, 2018
Have you watched the movie ?? If yes comment your views below !!