Here's The Interview That Made Vijay Not To Participate In Interviews For 10 Long Years!!
Written by Dhiwaharan Published on Apr 11, 2022 | 12:06 PM IST | 140
Follow Us
Comments: 0
For the first time in last 10 years, actor Vijay appeared in a television channel for the promotion of his upcoming movie. The actor who was opting for audio launch to interact with his fans for the past few years, answered the questions of "Beast" director Nelson Dilipkumar in the interview which took place in the office of Sun Pictures owned by Kalanithi Maaran who bankrolled "Beast".
Starting from working with Pooja Hegde, Anirudh to Vijay Makkal Iyakkam members taking part in Tamil nadu local body elections and winning, the actor shared about many things including his personal and professional life. Talking about "Beast", the actor wanted the audience to watch it and tell whether it is good or not and said that no one would make a film to become a "flop".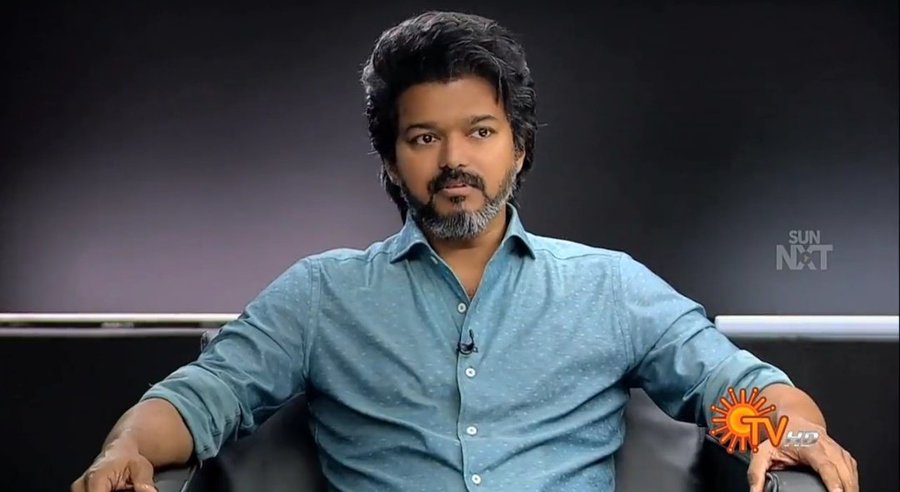 "I only know to judge whether the scenes that impressed me during the narration worked out or not after the making but the final verdict belongs to the audience" Vijay said in the interview. When Nelson Dilipkumar asked Vijay why he stayed away from interviews for the past 10 years, Vijay cited a print interview as one of the reasons.
The "Master" actor said that he gave an interview to a magazine 10 years ago and when they published ut, he came to know that the answers printed were completely different from what he answered to the questions of the magazine's reporter. "Even my friends and closed ones questioned me asking why my answers were arrogant and said that they couldn't see me in that interview" Vijay said to Nelson.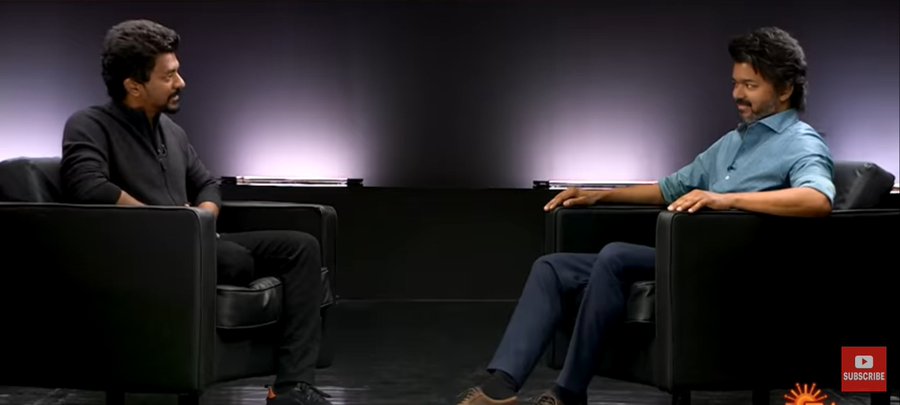 "I explained to them that what was written were completely different from what I said and they understood me. But I couldn't give the same explanation  to each and every one. So I decided to remain silent and 10 years went past. Now, I thought why shouldn't I appear in an interview and decided to do this" Vijay said.
Now, the print interview Vijay mentioned in the interview got resurfaced in the internet after the actor pointed it out as a reason for his absence in media portals for the past 10 years. On 5th of July 2013, Vijay shared a tweet in his official Twitter handle and called out a magazine for not publishing what he said.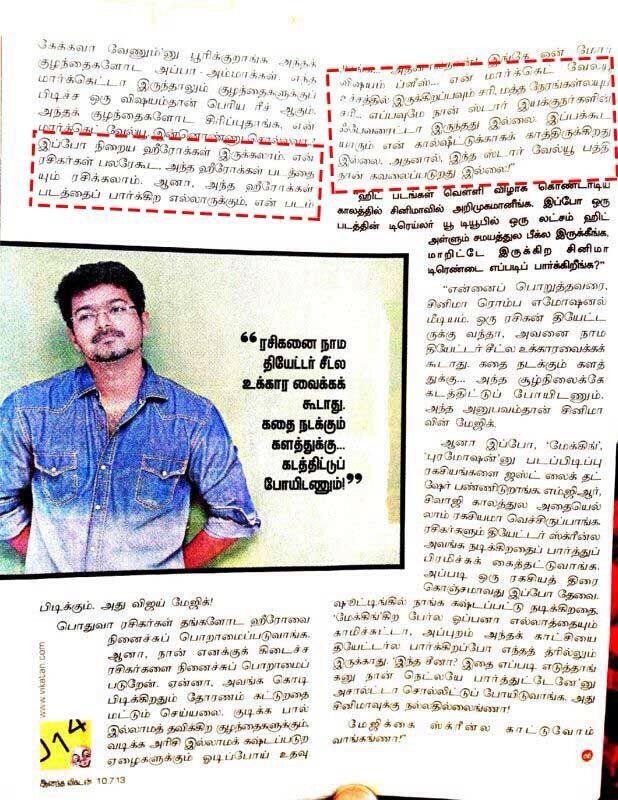 "What is the point in giving an interview when they make up their own answers ..!!" Vijay said sharing a picture from the printed magazine. The picture showed the magazine quoting Vijay's statement about his "star value", "market value" and "no directors waiting for his call sheet"
Here's the tweet of the actor :
What is the point in giving an interview when they make up their own answers ..!! pic.twitter.com/CrH8Cg9AeO

— Vijay (@actorvijay) July 5, 2013
 Many fans came up with reactions saying that they came to know about the original context of the tweet only after the "Nerukku Ner" interview of Vijay.
Check out some of their reactions below :
தலைவரோட இன்டெர்வியூ பாத்துட்டு இந்த ட்வீட் ஓபன் பண்ணவங்க RT பண்ணுங்க..

— #Beast (@Itz_PrasathSiva) April 10, 2022
This is the Reason For 10 Years Silence😌 Tq @Nelsondilpkumar For Asking Some Interesting Questions❤️@actorvijay#VijayyudanNerukkuNer #BeastModeON https://t.co/sZOqotXOAW

— GHILLI GOKUL (@Grkpromos) April 11, 2022
Woahh 🔥
The man himself have tweeted this before 😂😂 https://t.co/Ju1lh29sBf

— Jeya Suriya (@MSPMovieManiac) April 10, 2022