Here's How Top Tamil Celebrities Reacted After Watching "RRR"!!
Written by Dhiwaharan Published on Mar 26, 2022 | 23:16 PM IST | 207
Follow Us
Comments: 0
The most anticipated "RRR" released across the world on 25th of March and has collected a whopping amount of Rs. 223 crore on the first day of it's theatrical run, according to reports. Along with fans, celebrities from across the country are celebrating the film and the people of Tamil film industry are no exception.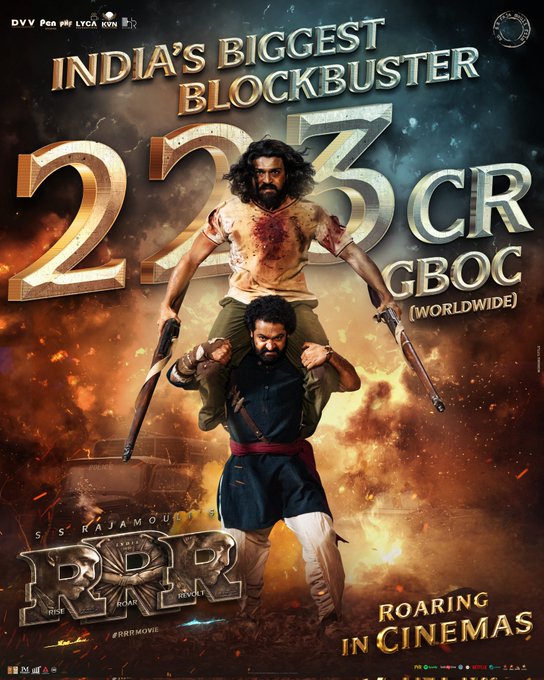 Starting from top tier filmmaker Shankar to his assistant Atlee who is known for directing actor Vijay in three films, many influential personalities from Tamil cinema expressed their awe after watching the Rajamouli directorial.
Telugu Superstars Mahesh Babu, Allu Arjun, Chiranjeevi also uploaded tweets wishing the film to do well in the box office and expressing their admiration after watching the film.
Check out their tweets below :
Ravishing,Riveting,Robust.A Roar that'll echo throughout times.Thanks to the whole team for an unparalleled experience.@AlwaysRamCharan-Raging Performance & Screen presence.@tarak9999 's Radiant Bheem captivates your heart.Ur imagination stays undefeated,hats off "MahaRaja"mouli.

— Shankar Shanmugham (@shankarshanmugh) March 25, 2022
Best wishes to @ssrajamouli sir, @tarak9999 sir @AlwaysRamCharan sir and the entire #RRR team for a humongous success 👍💪 The entire team's hard work wil be celebrated throughout the world ❤️ can't wait to witness the magic on screen 💥💥#RRRMovie

— Sivakarthikeyan (@Siva_Kartikeyan) March 24, 2022
#RRR @ssrajamouli sir wat a emotional mass entertainer loved film , everyone's efforts were on top@tarak9999 sir mass,wild&emotional Bheem is close to heart sir❤️ @AlwaysRamCharan sir mass,stylish grantees goosebumps sir @DVVMovies awesome production , hats off to the team RRR

— atlee (@Atlee_dir) March 25, 2022
Wishing the Magnanimous #RRRMovie all the very best and congratulations to @ssrajamouli sir @tarak9999 sir and @AlwaysRamCharan sir… very excited to witness it in the big screens 💫

— Lokesh Kanagaraj (@Dir_Lokesh) March 25, 2022
#RRR Extraordinary Movie again from @ssrajamouli sir. Superb performance @AlwaysRamCharan bro and @tarak9999 bro.
Hats off to this triple "R"s 💪💪💪 #Rajamouli sir and #RRR is the pride of Indian cinema 😍💪👍
Watch in theatres. Don't miss it 😍

— Sathish (@actorsathish) March 26, 2022
#RRR This spectacle is a heart-throbbing, heartwarming, and heart-melting experience all at once🙏🏾 Every emotion hits the peak perfectly @ssrajamouli gaaru has done it yet again🔥 @tarak9999 gaaru @AlwaysRamCharan gaaru are a treat to watch. Performance, dance, style EVERYTHING♥️ pic.twitter.com/LNukmqiKxt

— Keerthi Pandian (@iKeerthiPandian) March 25, 2022
There are sequences in the film where you forget yourself and get immersed in the cinematic experience. Only a master storyteller can do that!! Sensational filmmaking by the master @ssrajamouli!! So proud, sir!!

— Mahesh Babu (@urstrulyMahesh) March 26, 2022
There are sequences in the film where you forget yourself and get immersed in the cinematic experience. Only a master storyteller can do that!! Sensational filmmaking by the master @ssrajamouli!! So proud, sir!!

— Mahesh Babu (@urstrulyMahesh) March 26, 2022
Big screen entertainment at its best ♥️#RRR
Exactly what an @ssrajamouli film promises
Back to back adrenaline with his trademark emotions.
Ramudu bheemudu iragakottaru 🔥

— Nani (@NameisNani) March 25, 2022
#RRR is the Master Storyteller's Master Piece !!

A Glowing & Mind blowing testimony to @ssrajamouli 's Unparalleled Cinematic vision!

Hats off to the Entire Team!! 👏👏@RRRmovie@tarak9999 @AlwaysRamCharan @ajaydevgn @aliaa08 @OliviaMorris891 @DVVMovies

— Chiranjeevi Konidela (@KChiruTweets) March 25, 2022
@tarak9999 for a spectacular show. Brilliant Presence by respected @ajaydevgn Garu & our sweetest @aliaa08 . And my spl wishes to @mmkeeravaani garu, @DOPSenthilKumar garu, Dvv Danayya garu & many others. Thank you all for making INDIAN CINEMA proud. This is a Kille R R R !

— Allu Arjun (@alluarjun) March 26, 2022
RRRocking! Visual Spectacle 👏 @RRRMovie #RRRMovie

— S.Badrinath (@s_badrinath) March 26, 2022
I saw the film twice already 🙂 & I'm going to watch it again 🙂
People pls go watch it twice just for RAM & BHEEM introduction scenes & another attempt for INTERVAL & one more attempt for rest of the extravaganza 🙂 #RRR@ssrajamouli sir 🙏

— Sandeep Reddy Vanga (@imvangasandeep) March 26, 2022
Congratulations for the BLOCKBUSTER success to team #RRR@ssrajamouli You are one of the greatest filmmakers of india, a master storyteller like Manmohan Desai ji.
Big bro @ajaydevgn you are perfection personified 🤗

— Vivek Anand Oberoi (@vivekoberoi) March 26, 2022
Maverick filmmaker @ssrajamouli is undoubtedly the best in engaging the audience with riveting visual concepts ,screenplay and emotions 🔥Incredible performance from @tarak9999 and @AlwaysRamCharan 🔥Great team work #RRR @srinivas_mohan @DOPSenthilKumar @mmkeeravani @sabucyril pic.twitter.com/KMZW3vkAyv

— Rathnavelu ISC (@RathnaveluDop) March 25, 2022
With Junior NTR and Ram Charan playing the lead roles, Alia Bhatt, Samuthrakani and others led the supporting cast. The film released in different languages including Tamil and Hindi. Promotional speeches of the makers and teaser, trailer and songs raised the anticipation for the film of the "Bahubali" maker.
Plot of the film revolves around two lead actors who have different goals in their life. Set in 1920, the period film showed how India was doing prior Independence.While Ram   (played by Ram Charan) was aiming to take control over the weapon department of British Empire, Bheem will be planning to rescue a child who got kidnapped by the rulers of British government. The film relies on the friendship of the duo and on whether they achieved their respective goals or not.