Here's How The Girl Reacted After Getting Simbu's Coat At Yuvan's Concert!!
Follow Us
Comments: 0
Here's How The Girl Reacted After Getting Simbu's Jacket At Yuvan's Concert,  The atmosphere was electric as Simbu took to the stage and delivered a performance that set the crowd on fire.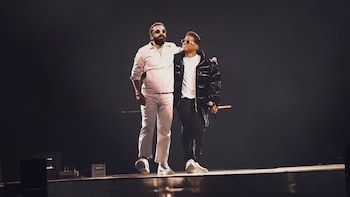 SIMBU & YUVAN SHANKAR RAJA AT MALAYSIAN CONCERT
As the concert reached its climax, Silambarasan TR made a memorable gesture that would forever touch the heart of one lucky fan. He decided to throw his jacket into the audience, a symbolic act of gratitude and love for his supporters. In a moment of sheer luck, a girl caught his jacket, and her reaction was nothing short of overwhelming. Emotions ran high as she realized the significance of this precious souvenir from her idol.
SIMBU AT MALAYSIAN CONCERT
Also read: Nagpur College Lecturer Ended His Own Life Leaving 14 Page Letter!
Antha Oru Step Ke All Audience Flat With Thalaivan Entire Performance 🥵🫶🏻😘❤️‍🔥

Energy+Fire Only Tonight 🥵🔥💥#Atman #SilambarasanTR @SilambarasanTR_#STR48#Simbu#BLOODandBATTLE #Yuvan#YuvanLiveInMalaysia #YuvanShankarRaja #HighOnU1 @_Manmadhan_ @str_perk pic.twitter.com/pdWKGtCIx5

— 🇲🇾THALAPATHY⚔️THALAIVAN NIN OREY RASIGAN🗡️🇲🇾 (@KaarthiVjStr) July 15, 2023
Simbu and the girl shared an extraordinary connection in that instance, radiating pure happiness from their entire beings. The joy and surprise on the girl's face were palpable, a testament to the impact Silambarasan TR has on his fans. This heartfelt exchange between the artist and his admirer encapsulated the power of music and the profound bond that can be formed between an artist and their audience.
Also read: Thalapathy Vijay Faced Penalty For Breaching Law!
The concert was a resounding success, thanks to the collaboration between Silambarasan TR and Yuvan Shankar Raja, along with other talented co-singers. Their collective talent and passion created an unforgettable experience for everyone present. Silambarasan TR's ability to rock the show with his exceptional skills and stage presence further solidified his status as a beloved performer.
Lucky fan Girl who got #SilambarasanTR's Jacket at Yuvan concert❤️✨ pic.twitter.com/SX2WSMHPbW

— AmuthaBharathi (@CinemaWithAB) July 16, 2023
The evening will forever remain etched in the memories of all those who witnessed it. Silambarasan TR's powerful performance, combined with his genuine connection with the audience, left an indelible mark on the hearts of his fans and followers. The lucky fan who caught his jacket will cherish this remarkable encounter, a symbol of her devotion to Silambarasan TR and the magic of music that brought them together.
She bite people to get the jacket

Girl pull of suarez during the concert 🤣 https://t.co/rsrafgRxtS

— Malaysia Box Office (@MYRBoxOffice) July 16, 2023
Silambarasan TR, popularly known as Simbu, continues to be a sensation in the world of Tamil cinema. Regardless of the box office performance of his films or the occasional negative reports surrounding him, the 40-year-old actor manages to maintain a massive fan following. Once again, he showcased his charismatic appeal by delivering an outstanding performance at Yuvan Shankar Raja's live concert in Malaysia.
40+ But he Still can keep the same energy with dance 🕺😁

— 🇲🇾THALAPATHY⚔️THALAIVAN NIN OREY RASIGAN🗡️🇲🇾 (@KaarthiVjStr) July 15, 2023
In the days leading up to the concert, stunning pictures of Simbu sporting trendy attire and displaying a sculpted physique went viral on the internet. Anticipation and excitement grew among his fans as they eagerly awaited his appearance on stage. When the moment finally arrived, Simbu made a grand entrance, dressed in designer clothing that perfectly complemented his style. The audience erupted with applause and cheers as he began his energetic song and dance performance for the popular track "Thathai Thathai."
Also read: Samyuktha Hegde's Post About "Body Beauty" Wins Internet!!
The Yuvan concert became an unforgettable night for the Malaysian fans in attendance, as well as for the talented composer himself. Simbu's presence and electrifying performance elevated the event to new heights, leaving a lasting impression on all those who witnessed it. His ability to captivate the audience with his energy, charm, and incredible stage presence reaffirmed his status as a beloved star.
Plzzzzzz come to chennnai concert also😭😭😭😭😭😭😭🥰❤️ https://t.co/ghAlN1nmIu

— bro phile (@PhileBro) July 15, 2023
Looking ahead, Simbu is preparing to commence shooting for his upcoming movie, 'STR 48,' which is produced by the legendary Kamal Haasan and directed by Desingh Periyasamy. The project has already generated significant buzz among his fans, who are eager to see him in action once again. Additionally, it has been reported that his next venture, 'STR 49,' will be produced by Vels Films International, while his milestone 50th film, 'STR 50,' will reunite him with the renowned director Mani Ratnam under the banner of Raaj Kamal Films International.
Thalaivana thaniya oru concert poda solunga!! https://t.co/1xg7SSgSCE

— Baymax 2.0 (@ennanusolluven) July 15, 2023
Simbu's career trajectory continues to excite and intrigue his followers, as he consistently pushes boundaries and delivers noteworthy performances. His ability to command the stage, coupled with his versatile acting skills, has firmly established him as one of the leading stars in Tamil cinema. With each project, he strives to entertain and connect with his audience, further solidifying his position as a true icon in the industry.