Here's How Tamil Cinema Heroes Reacted After Watching KGF 2 !!
celebrities
Karthi
KGF2
Sivakarhikeyan
Tamil
CM / Updated: 2022-04-19
19:52 IST
By Dhiwaharan
KGR chapter 2 which is a sequel of 2018 released KGF, got released on 14th of April with much expectations from the fans and successfully exceeded it. With Yash playing the lead role as Rocky Bhai, KGF chapter 2 had Sanjay Dutt as main antagonist and Raveena Tandon as a honest politician.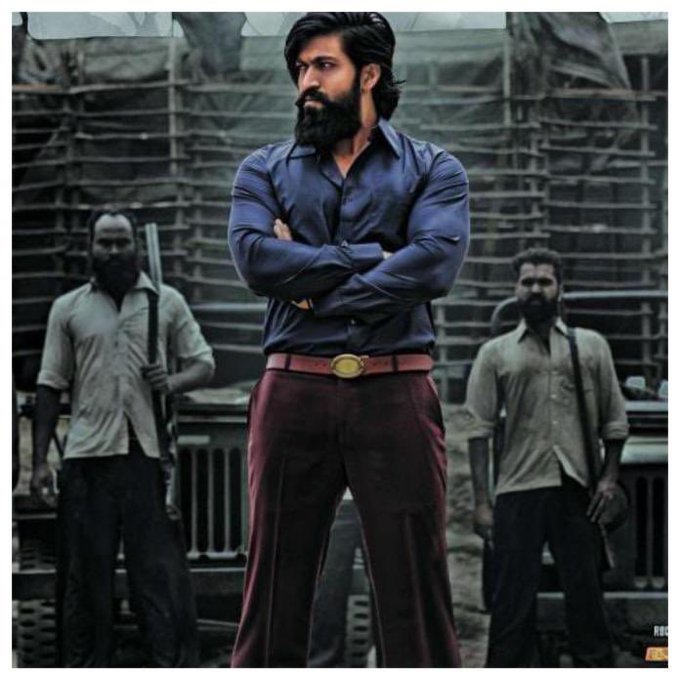 The film is doing wonders not only in the box office of Kannada and Hindi industries but also in Tamil industry. KGF 2 revolves around Rocky bhai achieving the promise he made to his mother in his childhood confronting deadly gangsters and cunning politicians, contains high octane action, romance, sentiment and all the aspects that a commercial film should contain. The film has collected Rs. 546 crore world wide so far and is expected to shatter all the other box office records of previously released Indian films including Bahubali.
Along with fans, a number of celebrities from prominent film industries including Tamil are uploading tweets praising the film. Starting from actor Karthi to renowned director Karthik Subbaraj, many influential personalities from Tamil film industry are uploading tweets in their respective social media handles.
Check out their posts below :
Kudos to @prashanth_neel @TheNameIsYash @Karthik1423 @hombalefilms and the entire #KGF team for giving this masterpiece👏👏👏👍 The Vision,passion,hardwork and conviction of the entire team makes this film very inspiring 👍❤️

— Sivakarthikeyan (@Siva_Kartikeyan) April 16, 2022
#KGF2 The daringness to imagine something so BIG and presenting it with absolute style calls for a huge applause. The visuals, dialogues and action elevates the enormity of the film and underscores the power of a mother's dream. CONGRATULATIONS team!! pic.twitter.com/mNuLyzoOWG

— Actor Karthi (@Karthi_Offl) April 16, 2022
#KGFChapter2 is Fabulous as a cinematic experience. Loved the way the film has been presented in a Grand manner. Every shot is grand & mind-blowing.

Congrats & Kudos to Team @TheNameIsYash Dir. @prashanth_neel @hombalefilms @VKiragandur @Karthik1423 @yogigraj @KRG_Connects 😇🏆 pic.twitter.com/zokWZ7WYSH

— Dr. Dhananjayan BOFTA (@Dhananjayang) April 14, 2022
#KGF2 is so bloody awesome 🔥🔥 …. Technically top notch in every aspect and stunts by @anbariv is mind blowing 👌👌 …

@TheNameIsYash as #RockyBhai is a CULT!! 🙏🏼🙏🏼

Hat's off @prashanth_neel @hombalefilms & every one involved for creating this magical world on screen👏👏👏 pic.twitter.com/DNBSyw2U5M

— karthik subbaraj (@karthiksubbaraj) April 19, 2022
Hearty wishes to @prashanth_neel @TheNameIsYash @hombalefilms for giving a massive hit and blockbuster movie… Congratulations Yash brother and entire KGF Crew 🎉🎉🎉 pic.twitter.com/sA8zEyzQse

— Actor Soori (@sooriofficial) April 17, 2022
Congrats to my dearest friend @TheNameIsYash, the entire team, the cast & the crew especially the director @prashanth_neel fr his magnum opus blockbuster #KGFChapter2.
I'm so proud that my friend #Yash has taken the #KannadaCinema to worldwide reach.
Keep rocking #RockyBhai. GB. pic.twitter.com/ujCFemnq9k

— Vishal (@VishalKOfficial) April 16, 2022
Wild wild men you'll have done it again!! @TheNameIsYash @prashanth_neel well done 👏 huge Congratulations team #KGF 🔥🔥

— Rana Daggubati (@RanaDaggubati) April 17, 2022
Bigger than super hits,
block busters,Records and wonders is the Will power to conquer the world.#KGFChapter2
THE INSPIRATION TO CONQUER ..@TheNameIsYash sir
AAP BAS RUKHNA MATH💥@prashanth_neel sir
The world needs ur madness🔥
Team #KGF
SALUTE 🙏
P.S. DONT MISS END TITLES pic.twitter.com/dESP0ZARUT

— Kartikeya (@ActorKartikeya) April 14, 2022
@prashanth_neel Many congratulations to you and the entire TEAM on the stupendous massive record breaking success of #KGF2
And @TheNameIsYash has gone beyond every success story, something that he deserves for his hardwork, dedication n professionalism. Great going. 👏👏🎉🎉👍👍

— KhushbuSundar (@khushsundar) April 14, 2022
@TheNameIsYash Congratulations brother .. so happy and proud for you… hearing awesomeeeeee reviews of #KGFChapter2 .. Rock it and a super big hug to the entire team. Rockkkkk it bro.

— Ranganathan Madhavan (@ActorMadhavan) April 14, 2022
During the post credits, Prashanth Neel, director of KGF franchise, confirmed that there will be a third part of the film and fans are eagerly waiting to witness it as it is considered as India's one of best commercial that has ever released till date.