Here's How Fans Reacted After Jadeja Parted Ways With CSK !!
CM / Updated: 2022-08-18
11:45 IST
By Dhiwaharan
As soon as the report about Ravindra Jadeja walking out off CSK surfaced, various kind of reactions kept surfacing in the internet from CSK fans and from the fans of other teams. While a number of fans could be seen expressing their dejection over the talented all rounder's separation from the team, many fans of CSK believed that no player is bigger than the franchise and welcomed the cricketer's decision.
According to reports, Ravindra Jadeja is expected to list himself in the trading window and will look for offers from other teams in the upcoming season of IPL. Times of India reported that Jadeja and CSK are completely out of touch since the last season of IPL and the Break up between the two is inevitable.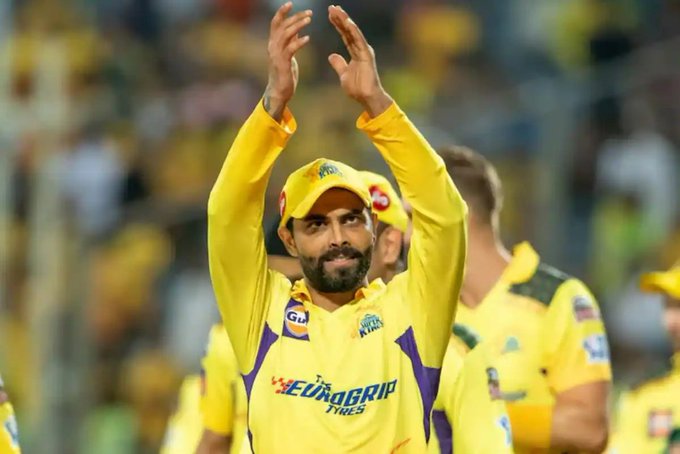 The all rounder who underwent a rehab at NCA, before coming back to the Indian team, has reportedly kept the Chennai based franchise completely in the dark and has not been part of any activity of CSK. It is notable that the cricketer was stripped of captaincy midway through IPL when the management thought that the burden of captaincy is affecting his game.
Repors suggests that Jadeja who is ambitious about captaining tea India one day, took the decision of CSK management as an insult and the moment he was ruled out of the event with a rib injury, has decided to sever all the connections with the franchise. Ever since the cricketer left the hotel in Mumbai in mid-May, the franchise couldn't connect with him to sort out the differences, says reports.
Which Team should buy Ravindra Jadeja in IPL 2023 Auction? 🤔#IPL2023 #CSK pic.twitter.com/Jq9IGAcBC2

— SportsGully (@thesportsgully) August 15, 2022
In the meantime, Jadeja has deleted all the CSK related posts from his Instagram handle and didn't take part in wishing Dhoni on his birthday while all the other players took part in the video released by CSK on the special day of the current CSK captain. Jaddu didn't wish Dhoni through his personal account as well.
However, insiders of CSK team had said that Dhoni believed Jadeja's place in team India for Word cup T 20 could come under scanner based on his IPL performance and that's why he was relieved from his captaincy. Speculations about the cricketer joining Mumbai for the upcoming season is also doing rounds in the internet. Fans who are aware about all these, started making their opinions about the exit of the cricketer from the yellow team.
Check out some of the reactions below :
If Jadeja wants to leave CSK , then he is most welcome. Deleting posts related to CSK and ignoring them on social media is just immature and toxic. CSK and Dhoni gave him everything , supported him through the highs and lows of his career and this is what they get in return ?

— ` (@FourOverthrows) August 15, 2022
Don't know what happened b/w CSK and Jadeja during last season. This franchise has given him everything over the years.. maybe more than he deserves. Only thing I ask for is little respect. CSK is trying to keep it under the carpet but RJ is doing unnecessary drama. Unacceptable.

— Brainfaded (@iRon_Rv) August 15, 2022
CSK won't get one bit affected by Jadeja's social media antics. He balances their side for Chepauk, so they would try to keep him in.

They operate on logic and logic says you try to keep him in. If the guy still says no, that's fair enough.

— IPL 2022 (@iplthebest) August 16, 2022
Csk gave this avg white ball player everything and this is what they get in return? Dhoni's literally changed his white ball career and this is what he gets in return, Wow
We don't need you, Jadeja @imjadeja pic.twitter.com/roBxOFiXE2

— The Boy From Mars (@TheBoyFromMars2) August 15, 2022
Jadeja is probably under some kind of wrong perception after CSK giving him 1st retention spot. He isn't the T20 cricketer he thinks he is. actually, he isn't even what Dhoni thinks of him.

Good thing for CSK if he goes himself because Dhoni will keep carrying him otherwise.

— ∆nkit🏏 (@CaughtAtGully) August 15, 2022
Consider this as a Jadeja hate account if he leaves CSK.

— ' (@Ashwin_tweetz) August 17, 2022
Imo its good for the team, no individual is bigger than the club.

There is always replacement for the player.

— Sthotiram Aandavare (@iamsaranjc) August 17, 2022
இனி இவன் காணம போயிடுவான் பாருங்க !!! சீனு மாமா கிட்டேயே சீனாடா போடுறே 🤦‍♂️😂

— Buhari Barakathulla (@bbaraka1) August 17, 2022
Imo its good for the team, no individual is bigger than the club.

There is always replacement for the player.

— Sthotiram Aandavare (@iamsaranjc) August 17, 2022