Here's How Celebrities Reacting For Ajith Kumar's Press Release !! You Just Can't Miss !!
Ajith Kumar
BJP
Press Release
Thala
4 years ago
By Dhiwaharan
Popular Tamil actor Ajith Kumar on Monday categorically emphasised that he has no intentions of joining politics "directly or indirectly".
[wp_ad_camp_1]
In his statement released, the actor said that, "The only and best association I have with politics, is to queue up to cast my vote as citizen of India. I have at no point of time compelled my fans to cast their vote for any political party nor will I compel them to do so in the times to come." The statement comes amid news reports linking him and his fans with political parties, which with the general elections around the corner will give people the impression that he "harbours political ambitions"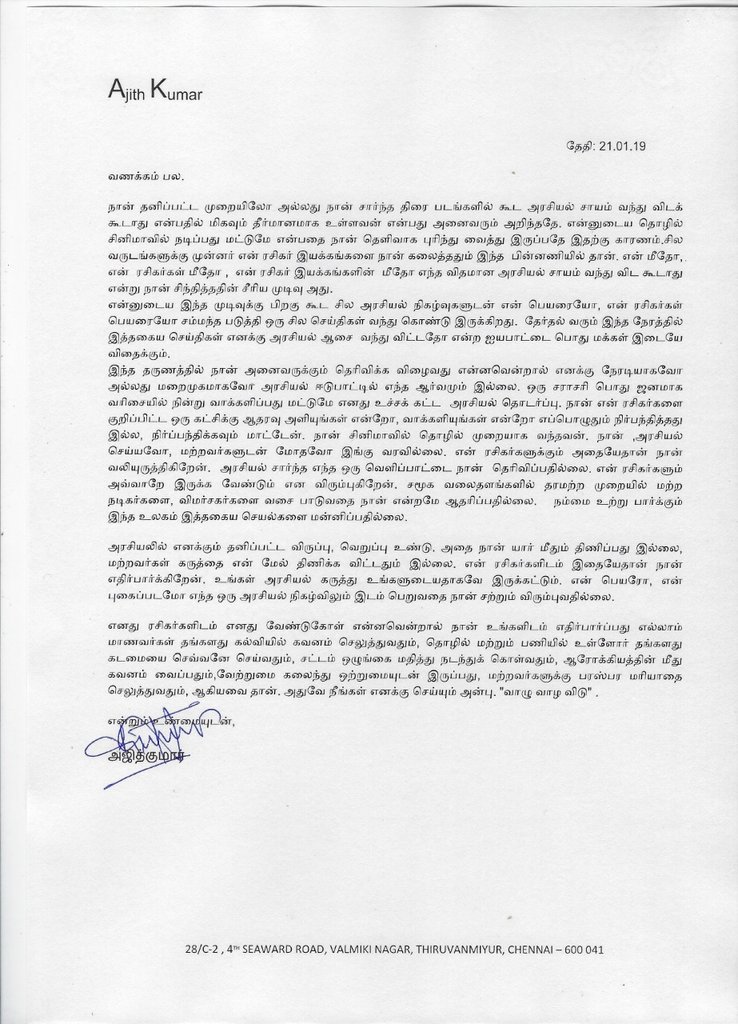 The actor, whose films are known to command good openings pointed out that he disbanded his fan clubs and avoids making political statements through movies to ensure that they were not politically associated with anybody. He asked his fans to exercise their political affiliations in their individual capacity. "I have my own likes and dislikes in politics. I have never imposed my political views and I expect this from my fans as well," he said.
[wp_ad_camp_1]
As soon as the press release released from Ajith's manager Suresh Chandra, it received many positive reactions from the Internet. Welcoming his stand many people and celebrities supported Ajith Kumar's message to his fans. Check out some of them here :
Nice to see #Ajith gracefully say that he would stick to the movie world and will not try his hand at politics. At a time when many stars are keeping people guessing about their possible political entry in order to retain the buzz around them,Ajith is a refreshing change.Kudos.

— Sumanth Raman (@sumanthraman) January 21, 2019
Actor Rajkiran:
Ishwarya Actress :
None other Than Thala #Ajith Sir !
❤ https://t.co/bjynGOVlln

— Iswarya Menon (@Iswarya_offl) January 21, 2019
#Ajith statement in short ..🤣 pic.twitter.com/7QqRZNNyEO

— Troll Cinema ( TC ) (@Troll_Cinema) January 21, 2019
[wp_ad_camp_1]
"Ratchasan" director :
👏👏💐 pic.twitter.com/nSC61DWAPB

— Ramkumar (@dir_ramkumar) January 21, 2019
Editor Suresh :
One more reason why I love him so much! pic.twitter.com/7ZVssfo9pH

— T.S.Suresh (@editorsuresh) January 22, 2019
Vivegam Villain :
Man of true class #AjithKumar .. his open letter is indeed a true reflection of his free spirited personality ..
Like it says, "live and let live".#THALAsPressRelease pic.twitter.com/MnLYtAmAmQ

— Rahul Dev Official (@RahulDevRising) January 21, 2019
Fully Filmy Raunaq :
I may not be a fan but with great power comes great responsibility..and in that aspect Thala is unparalleled 🙏🙏🙏 hope his fans listen, understand and apply✌️ pic.twitter.com/pMPCHxhD3z

— Raunaq Mangottil (@CinemaInMyJeans) January 21, 2019
BIGG BOSS Ganesh :
This is exactly why #Thala is an amazing Role Model – An example to follow !!

Proud to be a thala fan 💪💪 pic.twitter.com/PH3hUJMkTV

— Ganesh Venkatram (@talk2ganesh) January 21, 2019
Ajith Kumar has denied having any interest in entering politics. https://t.co/pZIjLWRsFZ

— Twitter Moments India (@MomentsIndia) January 21, 2019
Video Of the day 🙂

The reason Why he has millions of unconditional love! Purely Thala for the reason 😇#THALAsPressRelease pic.twitter.com/7sVg5lYeNW

— Ajith Fans Madurai (@AjithFC_Mdu) January 21, 2019
BIGG BOSS Gayathri :
True hero and gentleman 👍👍👍Thala awesome https://t.co/w5lhdg6jJ4

— Gayathri Raguramm (@gayathriraguram) January 21, 2019
Viswasam Cinematographer Vetri :
இதனால் தான் இவர் #தல pic.twitter.com/Tou8bNrsS1

— vetri (@vetrivisuals) January 21, 2019
Actress Pia :
Massive respect #AjithKumar 😊🙏👏 #thala pic.twitter.com/EXlW3GWp80

— Pia Bajpiee (@PiaBajpai) January 21, 2019
Harathi :
#ThalaAjith Annaaaa gethu as always 😊🙏
"vazhu vazhavidu"🤗 #Thala pic.twitter.com/csDapex634

— Actress Harathi (@harathi_hahaha) January 21, 2019
Producer C V Kumar :
👏👏👏👏👍💐💐 pic.twitter.com/nE2nokClDG

— C V Kumar (@icvkumar) January 21, 2019
A brilliant letter of clarification from #ThalaAjith making his stand clear on politics, cinema & life. Hats off sir. Fans must follow his advise 'Live & Let Live'. Political parties must stop trying to gain by stating their fans have joined them etc. Great step Ajith sir✍️👌👍👍 pic.twitter.com/bZDTBhgo4C

— Dhananjayan BOFTA (@Dhananjayang) January 21, 2019
Karthick Naren :
Respect 👏🏻 https://t.co/6NoucTc1mY

— Karthick Naren (@karthicknaren_M) January 22, 2019
RJ Balaji :
Amazing 👏👏👏 This path breaking statement from Ajith sir is so good in so many ways ! Pure class 👍 #Respect pic.twitter.com/2t1gfxhj2Z
— LKG (@RJ_Balaji) January 22, 2019
Comment your views on Ajith Kumar's Stand !!