Heart Wrenching Letter Of Anitha's Father To The Committe Of Retd. Judge A.K Rajan !!
By Dhiwaharan
Retired Justice AK Rajan has been tasked with a committee by Tamil nadu Chief Minister MK Stalin. It is reported that the committee would assess the impact of NEET on admission for students in medical courses. Most recently, actor requested people to send mail to neetimpact2021@gmail.com before 23 of June to register their opinion on the bad impact caused by NEET in the future of children. He said that education should be the right of states in a country like India which is known for its diversity. "That is the only solution. I request all the political parties to work on making "Education as a right of our state" the actor said in his press release.
[wp_ad_camp_1]
Now, father of Anitha who committed suicide in the year 2017 due to the emergence of NEET, sent a letter to retired Judge A.K Rajan about the impact of NEET in the lives of children who hail from villages. Mr. Shanmugan, in his letter, vented his emotions out and explained how "wealthy" students managing to get medical seat through "NEET" examinations despite of scoring poor marks.
Anitha scored 1176 marks out of 1200 in her plus two board examination and was denied to get a medical seat due to NEET examination. It is very well known that the syllabus of Tamil Nadu schools were different from NEET syllabus. However, as admissions were conducted solely on the basis of NEET scores, Anitha did not qualify as she had scored just 86 marks out of 720 in the test. Now, in his letter to retired judge A.K Rajan, Anitha's father Shanmugam had said that students who scored less than 150 marks out of 720 are managing to get medical seat by using their power and money.
Here's the +2 mark sheet of Anitha :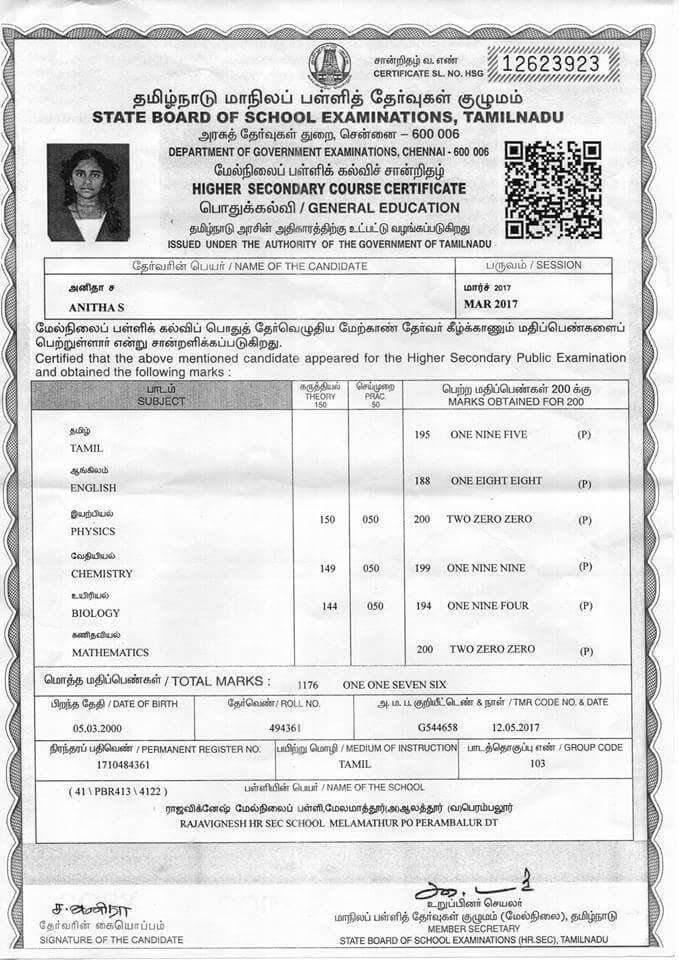 [wp_ad_camp_1]
Shanmugam is a daily wager and his wife died when Anitha was studying her second standard. She was born on 05.03.2000. "I belong to Ariyalur district which is one of most backward districts of the state. Till today, there is no proper water, toilet and transport facilities in our district. I belong to scheduled caste and is working since my 16th age as a daily wager" Shanmugam said in his letter.
"Me and my wife didn't go to school but invested all our hard works in the education of our children. Despite of our poverty, our children continued to study." Shanmugam said in his letter. "My daughter Anitha was determined since her child hood days on becoming a Doctor in the future. She studied in a Government school in our village and scored 478 out of 500 marks in her 10th board exam." Shanmugam's letter read.
He joined his daughter in a private school for her higher studies by mortgaging his agricultural land. "She didn't participate in any celebrations for two years and concentrated on her studies. She scored 1176 marks in her 12th board examination and it is enough to study in two top medical colleges in the state. When me and my family members thought that our Anitha will become a daughter soon, "NEET" entered our life" Shanmugam said.
Shanmugam, in his letter, narrated how his daughter struggled to get the "NEET" banned. Despite of Nirmala Seetharaman's promise of removing NEET for that one year, Union government failed to implement it and Supreme court issued a judgement saying that Medical seats will be provided based on NEET results, Anitha's father said in his letter.
"My daughter died on 1st September 2017 and 13 more students were forced to commit suicide due to this NEET. Several other children are choosing some other courses without interest due to this NEET. We who are eating food with the help of ration shops, don't have lakhs of money to get our children trained for NEET. We don't have enough options in our circumstance. If my daughter was born a year earlier, she would have got the medical seat or if she was born one year later, she would have got herself prepared for the NEET. However, she would have been alive either way" Shanmugam said in his letter.
[wp_ad_camp_1]
He also condemned the mall practice that are taking place during NEET examinations and pointed out the legal cases that are pending regarding it. "The main reason NEET supporters stating is "students admission" based on "right qualification". After denying a seat for my daughter who scored 1176 out of 1200, nowadays students who are getting marks below 150 out of 720 are getting qualified by using their money. The "qualification" they referred went on toss now" Shanmugam said and requested government to ban "NEET" which killed 13 other children after his daughter's demise.
#BREAKING | "நீட் தேர்வின் விளைவாக பணமிருப்பவர்கள் மட்டுமே மருத்துவம் படிக்க வாய்ப்பு"

ஏ.கே.ராஜன் குழுவுக்கு அனிதாவின் தந்தை எழுதியுள்ள கடிதத்தில் குமுறல்!#SunNews | #NEETExam | #Anitha pic.twitter.com/bK5ksqrG2r

— Sun News (@sunnewstamil) June 21, 2021