Health Minister Replied To The Koyambedu Bus Stand Controversy For The First Time !!
Written by Dhiwaharan Published on Mar 26, 2020 | 11:56 AM IST | 116
Follow Us
Comments: 0
Health Minister Vijaya Bhaskar who is very much busy in combating against the deadly coronavirus, took part in an interaction with Galatta youtube channel. In the 14 minute long interview, he replied to many questions regarding the pandemic situation including the controversy took place due to the people's presence in Koyambedu bus terminus, day after the announcement for lock down till March 31 across the state by Chief minister which was later extended till April 21 by Prime minister Narendra Modi.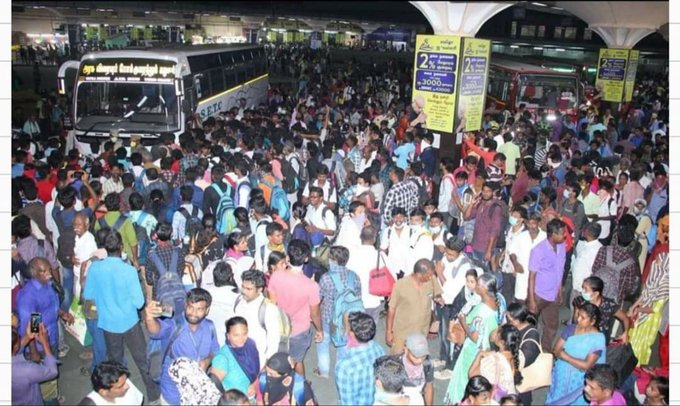 Vijaya Bhaskar also shared about the patient who got affected in Madurai without having travel history. As the interview was shot on 23rd of March, he says that he will discover the cause of his disease soon. The Minister informed us that he is a high risk patient The Madurai based patient happened to be the first person to die due to COVID 19. Vijayabhaskar clarified that though the patient did not have a travel history to an affected nation, it has been proved through his contact history that he had come in contact with some Thailand nationals, who were on Tour in the State. Two of them had tested positive and have been admitted to IRT, Perundurai.
Talking about the unnecessary rush in Koyambedu bus terminus and Perungaluthur bus terminus due to less number of government buses during the day before the 21 days lock down, Vijaya Bhaskar says "It is no time for difference of opinions, or to raise questions by representing a particular party. It is also no time for people to introduce themselves as socialist to give advice. It is not a right time to debate as well. Please understand. World Health Organisation has announced it as a pandemic for the first time in history. It is threatening 157 countries across the world. No one expected this to happen. It is a huge threatening. We must try to handle it be giving full cooperation to the government" he said.
"We must not give room to contradictory statements and must not participate in debates. We all should join hands to combat. Please come forward. It will be better if we choose to save our fellow citizen at this time. It is my humble request" said Vijaya Baskar who also talked about the medical facilities of our state and explained how many hospitals are going to be inaugurated only for isolation.
Watch the video here :
Source : Galatta
As soon as Tamilnadu government announced lockdown in the state, people who were working in Chennai rushed to Koyambedu bus stand to reach their respective hometowns. Pictures and videos of the same stormed Internet only to create a debate among netizens. One set of people supported the act of the people as they have no other option whereas others slammed them for being irresponsible at this crucial situation. However, most number of them criticized the government for not providing enough buses at that situation.
Comment your views on these answers provided by The Health Minister of Tamilnadu !!