Hashtag "Myna" Is Trending With "Vikraman" In Internet!! Check Why
Written by Dhiwaharan Published on Nov 05, 2022 | 20:47 PM IST | 97
Follow Us
Comments: 0
Hashtag "Myna" is trending in the micro blogging social media site after a video of herself confronting her fellow contestant Vikraman during one of the recent episodes went viral in the social media platforms. Along with the duo, video of Maheshwari confronting the same contestant is also doing rounds in the social media platforms.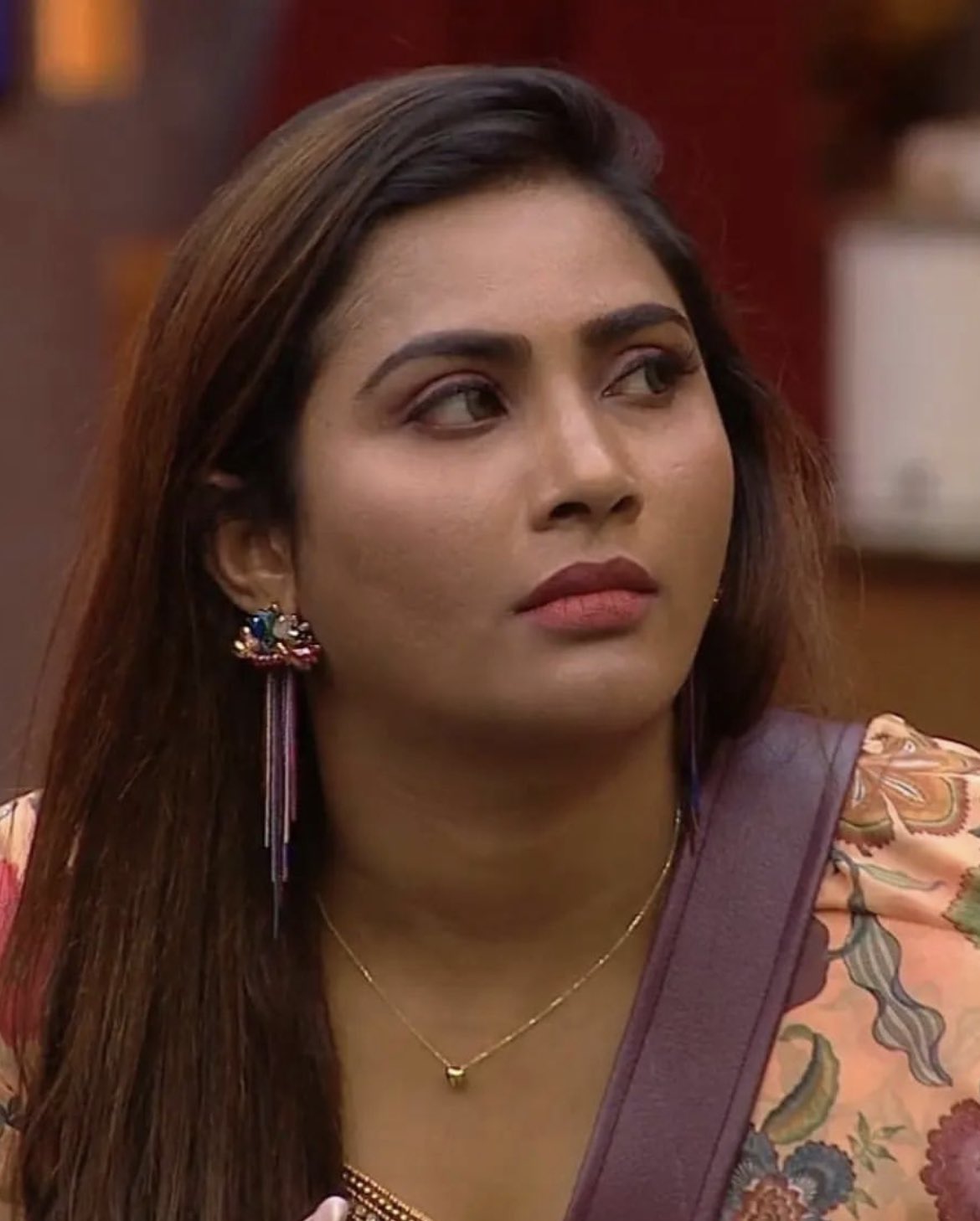 After the completion of each and every task, contestants of the Bigg Boss show will be asked to name the worst and best performers of the week. Vikram named Mynaa as one of worst performer for not providing equal chances to her teammates.
Countering the same, Myna shouted at Vikraman saying that he should talk about the things he saw not what he heard.
Watch the video below :
If people say Asal behavior is like rowdy.. what do you call ? A street rowdy ? Or rowdy lady? #vikramanarmy #vikraman #Myna #BiggBossTamil #bb6tamil pic.twitter.com/yvSNELaXS8

— Shiva's Honest View (@Shiva46975951) November 4, 2022
Video of Maheshwari confronting Vikraman also doing rounds in Twitter.
Maheshwari vs Vikraman#BiggBossTamil #BiggBoss #BiggBossTamil6 pic.twitter.com/JIUECgfwa1

— BIGG BOX TROLL (@drkuttysiva) November 4, 2022
"Only thing these BULLIES are good at is these WEIRD body language. The more you both do it's gonna backfire at you Myna & Mahe" a Twitter user said after seeing the episode whereas another user said "Annoying behaviour & mannerism from Myna , Maheshwari , Manikantaa towards #Vikraman"
Check out some of the reactions below :
#KamalHassan episode la indha varam payasam.. #Maheshwari ku dhaa poda poraanga..

She is getting exposed day by day…#VjMaheshwari #VJKathiravan #Azeem #Vikraman #Myna #BiggBossTamil6 pic.twitter.com/mS6U2Fnedq

— Joseph Praveen (@Joseph24007) November 4, 2022
Worst gesture & disrespectful from #myna but #Vikraman maintain decorum and acceptance is truly appreciable!#BiggBoss #BiggBossTamil pic.twitter.com/n8i5DMsfJX

— Vikraman Army (@vikraman_army) November 4, 2022
Only thing these BULLIES are good at is these WEIRD body language.

The more you both do it's gonna backfire at you Myna & Mahe. #BiggBossTamil #BiggBossTamil6 pic.twitter.com/PQkTvzugS3

— Raja (@whyrajawhy) November 4, 2022
Annoying behaviour & mannerism from Myna , Maheshwari , Manikantaa towards #Vikraman.

worst😤😤😤😤#BiggBossTamil6

— . (@bbstan43) November 4, 2022
#Myna 's body language and attitude is not acceptable 👎👎#BiggBossTamil6

— Pragya🌈 (@Pragya_74) November 4, 2022
#Vikraman's point may be wrong, but #Myna's gesture is very uncultured and disrespectful. #Vikraman could have got his facts right too, but he atleast maintained decorum! #Vikraman's acceptance is truly appreciable. #BiggBossTamil6 #biggbosstamil

— Fake Name (@derrida_barthes) November 4, 2022
Myna walks out during Vikraman's vote for the worst performer. He was giving Myna reasons for him thinking Myna deserve a WP.

#BiggBossTamil6 pic.twitter.com/3FBQzZnXy7

— Bigg Boss Videos & Updates (@BBFollower7) November 4, 2022
This is what is gonna make this season as S4 repeat damnnn

Even if Mahe-Myna have truth on their side, these unwanted body language is going to backfire on them. #BiggBossTamil6 https://t.co/LZZOtJot4e

— Nivi (@Nivi5677) November 4, 2022
ONE THING IS FOR SURE #Myna going to tarnish her name worse than Nisha in S4 #BiggBossTamil6 She can't go soo worse anymore 🤧

— Rohit Rakshan (@ImRohit25_) November 4, 2022
Mahe and Myna convo seemed guilt ridden. It's very obvious they strongly dislike him. They're also aware that everyone has figured that out by now. This convo was just overly pretentious#BiggBossTamil6

— Smita Sup (@SmitaSup) November 4, 2022
Horrible myna, that was so rude to just walk away like that #BiggBossTamil6

— H Siddharth (@HSiddharth2) November 4, 2022
The same body language yesterday #Maheswari did to #Vikraman and today #Myna 🤦🏼‍♀️🤦🏼‍♀️ #BiggBossTamil6 https://t.co/jAi7s1KitC

— Priyanka (@priyankatony) November 4, 2022
When women like #VJMaheshwari & #Myna cannot speak facts face to face their immediate go to option is to Trigger by doing unwanted insulting Body Language mimics

Use your #WomenCard now#Vikraman is calm & composed

Wish #Azeem could do the same#BiggBossTamil #BiggBossTamil6 pic.twitter.com/TvLumb22YZ

— I'm Bigg Boss (@Rock96514812) November 4, 2022
#myna and #Maheshwari need to be warned for their body language actions kind of very cheap attitude they have #BiggBossTamil #BiggBossTamil6 https://t.co/90jJH9V5tZ

— _Black_Bird_ (@black_8ird) November 4, 2022
This season's Archana and Nisha is #Myna and #Maheshwari #BiggBossTamil#BiggBossTamil6 pic.twitter.com/12UtYz5Fog

— MOHAN VIJAY 💘💮 (@MohanVIJAY866) November 4, 2022