Hashtag "Leave Bengaluru" Is Trending In Internet Followed By The Flood Situation In The City !!
Written by Dhiwaharan Published on Sep 07, 2022 | 10:48 AM IST | 98
Follow Us
Comments: 0
Hashtag "Leave Bengaluru", "Get Lost Migrants" are trending in the social media platforms after the residents of the city found many blaming the city's infrastructure for the flood situations. Many users of online platforms who belong to Bengaluru, Karnataka could be seen harshly criticizing those who made offensive comments about the city and wanted to reach their natives due to the current situation. The hashtag currently trending at India level with thousands of tweets.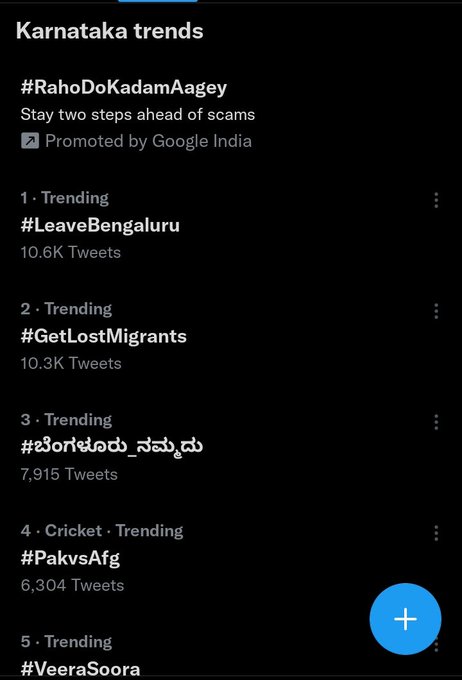 The continuous downpour in Bengaluru in recent days has completely wreaked havoc on the lives of those living in India's own Silicon Valley. Not just those who are living in the low lying areas but the rich are also bearing the burnt on nature.
As a result of additional rain during an unusually heavy monsoon season, On 6th of September, Bengaluru experience traffic bottlenecks, power outages and flooded houses. Reports suggests that heavy rain, thunderstorm and lightening is expected to continue till 9th of September in the Bengaluru Urban district and the city appears to face no relief soon.
In the meantime, a hashtag saying "Leave Bengaluru" is trending in the micro blogging social media site by the residents of the Karnataka's capital. They seem to have got offended by those who blamed the city's infrastructure for the flooding.
"Social media is full of trolls about BENGALURU FLOODS What is all the fuss about? When it floods in Chennai, Mumbai, Andra or Assam The same people post stories as pray Tor Assam Pray for Chennai But want to troll Bengaluru" says a post that is trending in the social media platforms whereas another post says "If you feel Bengaluru is worst then Better go back to your state and build your career there"
Check out some of the reactions under the hashtag below :
They came to me..Made a career..Bot a premium home..Partied..Enjoyed weather n night life..shifted their family's..got a life without learning my language #Kannada till yesterday 😁.
Today they call me "Ghanta" city.
Your's Truly, #Bengaluru.#LeaveBengaluru #GetLostMigrants pic.twitter.com/jaio9D9aeq

— Virat👑Rocky✨️ (@Virat_Rocky18) September 7, 2022
If you feel Bengaluru is worst then Better go back to your state and build your career there#LeaveBengaluru #GetLostMigrants #ಬೆಂಗಳೂರು_ನಮ್ಮದು pic.twitter.com/1F8wTnCADg

— Muttu ms (@muttu1745) September 7, 2022
#NammaBengaluru is our emotion. None has the right to defame it or feel that it's surviving only cos of them. We are self sufficient city.
That's it 💥
Message is loud and clear .
Those who have problem with our #ಬೆಂಗಳೂರು_ನಮ್ಮದು#GetLostMigrants#LeaveBengaluru

— Kicchasan❤️ (@san15saarthu) September 7, 2022
#LeaveBengaluru #GetLostMigrants
Nobody is forcing anyone to be in this city and waste your tax money Instead it's better to leave Bengaluru so stay and enjoy yourself in your home town and stop blaming Bangalore.

— imPratheeth (@Impratheeth) September 7, 2022
Fucking a$$h0les coming all way for studies, job, shelter, food and latter spread hate, fake news .
Fcuking beggars , If you don't like just leave Bengaluru.
We never tolerate some fcuking people disrespecting Bengaluru.#LeaveBengaluru#GetLostMigrants

— Ashish Kenganal (@ashishkenganal) September 7, 2022
So if you blame Bengaluru rather then questioning politicians,builders who are reason to this .. Please get lost…

Bengaluru💛❤️#ಬೆಂಗಳೂರು_ನಮ್ಮದು #LeaveBengaluru #GetLostMigrants https://t.co/odDDdQ1isI

— ಪ್ರಜ್ವಲ್ 💛❤️🇮🇳 (@prajwalhgs1300) September 7, 2022
Those complaining dogs pls make a way to ur native, we know what's our state and city everything ✌️

A waste garbage like you guys spoiled our beautiful garden City like this.

Dear politicians bring back our city#LeaveBengaluru #GetLostMigrants #ಬೆಂಗಳೂರು_ನಮ್ಮದು #LeaveBengaluru

— Guna Shekar (@imgunashekar03) September 7, 2022
Listen migrates,your inside Bengaluru to earn your bread and butter,just complete your work and get lost.
Your no one to slash Bengaluru even if you pay taxes.#LeaveBengaluru #GetLostMigrants #ಬೆಂಗಳೂರು_ನಮ್ಮದು pic.twitter.com/FbWK6FEIYX

— ಬಬ್ರುವಾಹನ (@Par_matma) September 7, 2022
Dear Migrants our Bengaluru is still better than these 👇👇#LeaveBengaluru #ಬೆಂಗಳೂರು_ನಮ್ಮದು #GetLostMigrants pic.twitter.com/ds1vZ0Yw8I

— Balu | ಬಾಲು (@TheNameIsBalu) September 7, 2022
Problems causing by migrants

*Ruining our launguage
*Ruining our culture
*Traffic problems
*Salary Problems
*Polluting our City #LeaveBengaluru #GetLostMigrants #ಬೆಂಗಳೂರು_ನಮ್ಮದು pic.twitter.com/BXokf0WJPu

— Balu | ಬಾಲು (@TheNameIsBalu) September 7, 2022
Bengaluru got spoiled because of migrants.

Its time for them to #LeaveBengaluru #GetLostMigrants#ಬೆಂಗಳೂರು_ನಮ್ಮದು pic.twitter.com/gYQrRlJFR0

— Yuvaraj S (@YUVA__YASHCULT) September 7, 2022
When many people regret that thay can't stay in Bangaluru
The people leaving here are blaming bangaluru#LeaveBengaluru #ಬೆಂಗಳೂರು_ನಮ್ಮದು #GetLostMigrants pic.twitter.com/EbuU82HguP

— SHRAVANI (@mahesh_shravani) September 7, 2022
Bengaluru belongs to the us, we are born here, we study, earn & we would even die here….If anything has to be said(+ve/-ve) it should be said by us🙌

Not by bloody idiots who came to #Bengaluru begging for food and shelter🥱#LeaveBengaluru#GetLostMigrants#ಬೆಂಗಳೂರು_ನಮ್ಮದು pic.twitter.com/j2ghq7MDc8

— 🄳🅁🅄🅅🄰 (@irli_bidi) September 7, 2022
Namma Bengaluru is more than heavenly place to Kannadigas,we owe our lifestyle,we earn here,at last we even eat here.

Just for drainage lashout migrates called it as slum city.
ಮೊದಲು ತೊಲಗಿ ನೀವು#LeaveBengaluru #ಬೆಂಗಳೂರು_ನಮ್ಮದು #GetLostMigrants pic.twitter.com/f2tfcyjzyg

— ಬಬ್ರುವಾಹನ (@Par_matma) September 7, 2022
We never called outsiders to get in Bengaluru,you are the one who have migrated.

Instead of posting Bengaluru is worst place to live,better go to your native, work their and pay tax to your state.#GetLostMigrants #LeaveBengaluru#BengaluruRains pic.twitter.com/TTDh0IC4GF

— ಬಬ್ರುವಾಹನ (@Par_matma) September 6, 2022
If u leave Bengaluru today
I'm too happy
If u leave Bengaluru Tommorow
I'm too bad

U pick the time to leave Bengaluru
Its time to #LeaveBengaluru #ಬೆಂಗಳೂರು_ನಮ್ಮದು #GetLostMigrants pic.twitter.com/Tx6FltVWfW

— ಸಂಪತ್⚡ (@thenameis_sam16) September 7, 2022
If u respect our land and language then we are welcome otherwise u guys free to leave our land ,no one forcing to stay in #Bangalore#LeaveBengaluru #ಬೆಂಗಳೂರು_ನಮ್ಮದು #GetLostMigrants pic.twitter.com/JG7oj0fAfi

— Virat👑Rocky✨️ (@Virat_Rocky18) September 7, 2022