Hashtag "Boycott VijayTV" Is Trending In Internet Platforms!! Check Why
Azeem
Bigg Boss
Boycott
Kamal Haasan
Shivin
Vijay Tv
Vikraman
2 months ago
By Dhiwaharan
Ever since the announcement on Azeem winning the Bigg Boss title surfaced, various kind of hashtags regarding the same are trending in the micro blogging social media site. Hashtag "Boycott Vijay TV" is trending in the micro blogging social media site as well. Many users who got upset over Azeem winning the title, has been expressing their displeasure through the hashtag.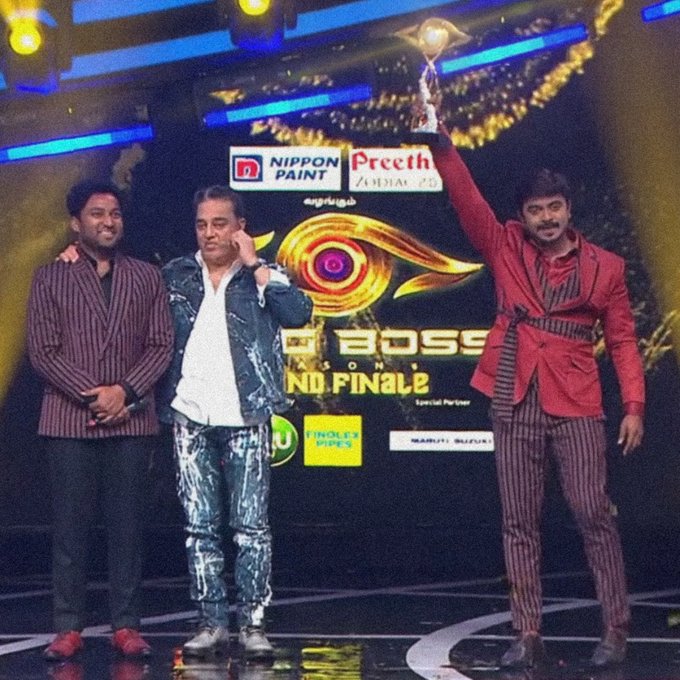 Mohammed Azeem who got condemned by Kamal Haasan throughout the season due to his behaviour towards other contestants, has been announced as the winner of Bigg Boss season 6. Majority number of viewers are not happy with his victory which is evident through the comments that are surfacing against Vijay Television in the internet platforms.
Not only Kamal Haasan, in several occasions, Azeem got severely criticized by the viewers of the show for the way he behaved towards his co-contestants. Now, after it was announced that he won the title, many of the show's ardent viewers couldn't swallow it.
Hashtag "Boycott Vijay Television" is trending in Twitter against the Bigg Boss final result as well. "#BoycottVijayTV Azeem lam win panna vaikurathuku antha trophy ah koluthidalam.. worst result" a follower tweeted by adding a video of actress Manorama from Gentlemen movie whereas another user said "#BoycottVijayTV is only trending unlike other seasons 🤣🤣🤣 Inda avamanam unaku thevaya"
Check out some of the reactions below :
#BoycottVijayTV is only trending unlike other seasons 🤣🤣🤣 Inda avamanam unaku tevaya @vijaytelevision #AramVellum#PeopleWinnerVikraman https://t.co/40O054C11Z pic.twitter.com/R3MDK75vJv

— VikramanStan (@VikramanStan_) January 22, 2023
Next biggboss contestants ku title win pana sile tips – abusive, masculinity, regressions, toxicity idulam senjutu weekend la sry ketutu.. repeat ta adhe process sa senjengana..nengathan title winner 🔥 @vijaytelevision#BoycottVijayTV #unfair #Vikraman #BiggBossTamil6 pic.twitter.com/oASDHZqKJZ

— Rolex_Barath (@Barathmohan1998) January 22, 2023
#BoycottVijayTV Azeem lam win panna vaikurathuku antha trophy ah koluthidalam.. worst result pic.twitter.com/aTsPUfl0Yj

— vimal nadarajan (@vimalnadarajan2) January 22, 2023
@RVikraman @vijaytelevision
ஏண்டா இப்படி பண்றீங்க#BoycottVijayTV pic.twitter.com/5fDs186YYQ

— Faraday CM (@MakeshxFaraday) January 23, 2023
Remember that Vijay Tv rejected these 2 and they're Top now.. Just saying..#BoycottVijayTv #BiggBossTamil6 pic.twitter.com/tLEF0ShG9N

— நாய்க்குட்டி (The Dog) (@KuttyNaai_) January 22, 2023
Mean while tonight #Azeem with his #BiggBossTamil6 Trophy 😂🤣😂🤣😂 #BoycottVijayTV The Real Winner is #Vikaraman pic.twitter.com/NEJXgWh6Mw

— சே குவேரா 🖤❤ (@007Kannadasan) January 23, 2023
பொது வெளியில் பேசும் போது பொறுப்போடு பேச வேண்டும்!
My brother has always set standards!!

Win or loose #Vikraman𓃵!!
We are proud of being your fan! Supporters! Followers!!

ஒரு தரமான ஆண்மகனை ஆதரித்ததில் மட்டற்ற மகிழ்வே!!!

We are proud of you! Vikraman 🧡💯💯#BoycottVijayTV pic.twitter.com/LOUG3KcWU6

— Kalai Vani (@imKalaiVani) January 23, 2023
#Azeem PR டீமின் அக்ரிமெண்ட் 106 நாளோடு முடிஞ்சுருச்சு போல. அவர் பெயர் கூட பெருசா டிரெண்ட் ஆகல. கப் ஜெயிச்சதுக்கு கழுவி ஊத்துறாங்க. யாருமே அவருக்கு ஆதரவா பேசல. விக்ரமனின் நிஜ ஆதரவாளர்கள் அவருக்காக இன்னும் குரல் கொடுக்குறாங்க.#BoycottVijayTV #BiggBossTamil #Azeem #Vikraman𓃵 pic.twitter.com/oTPIKoMZCF

— Noorul ibn Jahaber Ali (@nooruljourno) January 23, 2023
இந்த அசிங்கம் தேவையா 🤦#BoycottVijayTV @vijaytelevision @ikamalhaasan pic.twitter.com/ogHugmXNIk

— க.சரவணன் (@VckSaravanan6) January 22, 2023
I can show this picture to society and proudly say that. This guy is my hero.
I am from Kerala and don't know what politics going out in TN. But I am matured enough to understand who is right and wrong.
Aram Vellum. You are my hero 4 ever.#Vikraman #AramVellum #BoycottVijayTV pic.twitter.com/hjVJnhvrVv

— Rohith PB 🤘 (@rohithpb10) January 23, 2023
4 steps to win Big Boss Tamil vs 4 steps to Become a good person in life.

Believe me guys. Both are very easy to do.#vikraman #AramVellum #BoycottVijayTV #BigbossTamil #bigbosstamil6 #Shivin #VikramanBB6TamilTitleWinner pic.twitter.com/kuZLZaZyjP

— Rohith PB 🤘 (@rohithpb10) January 23, 2023
@RVikraman ஜாதி வெறி மதவெறி இனவெறி பாலின வெறி ஆணாதிக்க வெறி இது எல்லாமே இருக்கிற நாட்டுல இது எல்லாத்தையும் கிழிச்சு போடணும் ஒழியனும் சொன்னா எப்படியா நீ ஜெயிப்ப எங்க மனசுல நீ எப்பவோ ஜெயிச்சிட்டயா ❤️❤️ #BiggBossTamil6 #அறம்_வெல்லும் #vikraman#winnervikraman#boycottvijaytv pic.twitter.com/TxvPZgwqzm

— pavithra (@pavithraGuna3) January 22, 2023
#BoycottVijayTV @ikamalhaasan #BiggBossTamil6 #BiggBossTamil #Vikraman #Shivin pic.twitter.com/TL0DN8CVyi

— Magizh Amudhan (@Amuthan1015) January 22, 2023
அநியாயத்தை உலகமே சேர்ந்து நிறைவேற்றினாலும், அதில் நியாயம் கேட்டு மீண்டு எழ, ஒருவன் முளைத்து வருவான்…🔥 #RealWinnerVikraman @RVikraman ❤️👑#BoycottVijayTv pic.twitter.com/2LQeVZzAuv

— SM Surya® (@SMSurya_asm) January 22, 2023