Hardik Pandya Thrashed By Everyone For His Absurd Comment On Girls !! Really Nasty !!
By Dhiwaharan
On Sunday's episode of Koffee With Karan  season 6, host and filmmaker Karan Johar welcomed two cricketers on his couch for the first time. Young and fierce cricket stars, Hardik Pandy and KL Rahul were invited on the show as Karan's way of accepting more cricket in his life and paying a homage to the sport.
[wp_ad_camp_1]
Hardik was his usual confident self as he talked about his affinity for black culture and how he had never been a good student. He also talked about his love and sex life with great ease while KL couldn't help but feel embarrassed.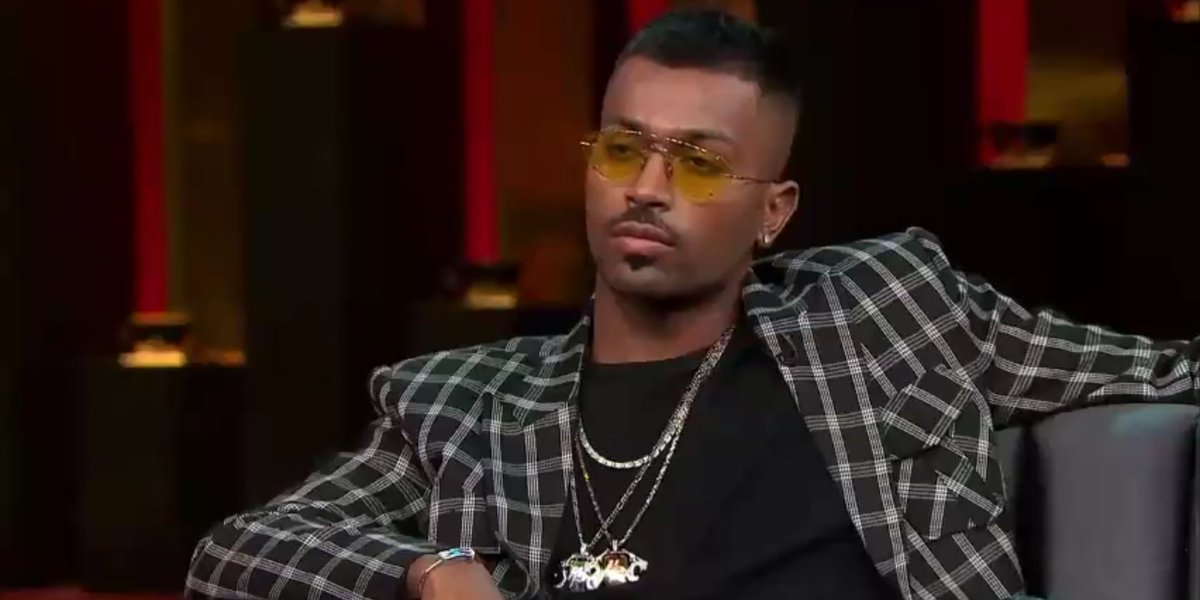 The two were seen talking about their unheard past and their off-field lives.Basically, it was all about party and girls from both the players and fans were totally not impressed. The social media users found it uncool and even lashed out at them for objectifying women.
Talking about his style inspiration, Hardik said he has always been a fan of how the black community expresses itself through style and fashion. He said people often wonder if he is from the West Indies.
When asked about his days in the school, he said he would fail every year after Class 2 but the school helped him pass to maintain their pass ratio. He said he would often just write his name and roll number on the exam sheet and his teachers and parents knew he would never take studies seriously. Hardik said he hasn't finished his education beyond Class 9.
[wp_ad_camp_1]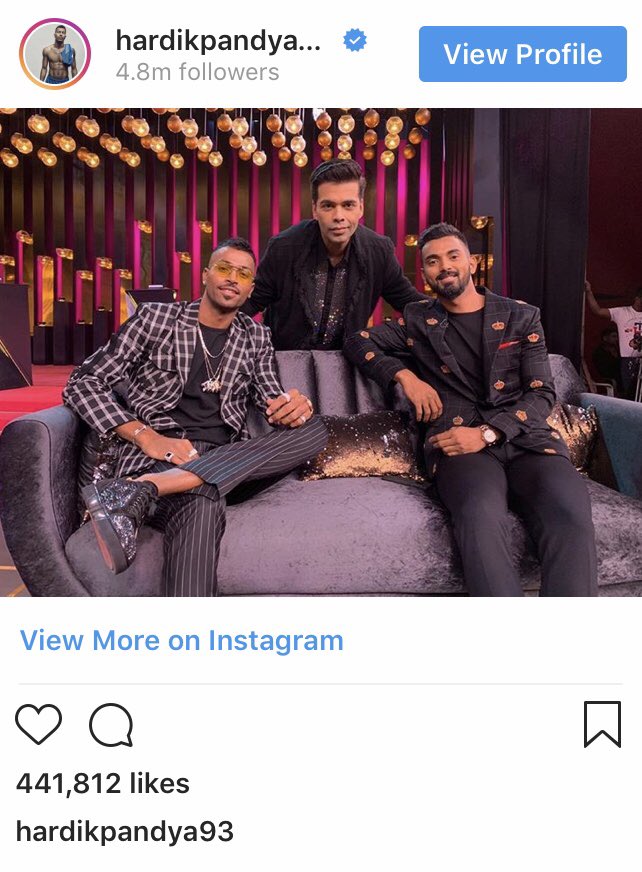 Karan asked KL about the embarrassing moment when his mother found a condom in his room when he was 18 and asked his father to scold him for it. While his father did thrash him, he later praised him for practising safe sex. Hardik jumped into the conversation by saying that his parents are too cool about his sex life. He said he tells them on his own "Aaj karke aaya (I did it today)." Karan couldn't believe a family could be so easy about such things.
Haven't see a cheap, disgusting and shameless cricketer than @hardikpandya7. Shakal toh srk ki level ki hai, phir bhi apne aap ko Tom Cruise samajhta hai#HardikPandya https://t.co/oVDauneSnA

— 🌟Shamir…!🌟#TD (@ShamirsStyle) January 7, 2019
Sample some of the statements made by Hardik Pandya in response to questions that themselves were loaded with innuendo.
Q: "Why don't you ask women their name in a club? What do you talk about, then?"
A: "I like to watch and observe how they (women) move. I'm little from the black side so I need to see how they move."
Internet went furious on the absurd comment of Hardik and roasted him like never before :
Misogynist, racist and a creep: #HardikPandya on 'Koffee with Karan' proves sexism sells if one's successful, writes @theotherbose.

Read here: https://t.co/x0HTcFSich pic.twitter.com/ncO2TSsHCB

— News18.com (@news18dotcom) January 7, 2019
I know #HardikPandya is star and all but @BCCI should teach him how to show some respect for women. You can't say on National television that " Waah Aaj tu karke aaya hai " (Sex) there are lot of people who thinks you as their inspiration.Treating women like another MOM trophy.

— harshit Singh (@harshits009) January 6, 2019
#HardikPandya is what happens when we allow a bunch of classless guys to think the entire country is waiting for their text message. #KoffeeWithKaran

— jyotsna mohan (@jyotsnamohan) January 6, 2019
The first ever episode of #KoffeeWithKaran where I couldn't sit through the one-hour show … #HardikPandya proved he is a 9th standard failure … no education, no etiquette & no respect towards women … what a waste of time!!!

— Poulami Mukhopadhyay (@poulamiofficial) January 6, 2019
Such classless act from #HardikPandya what is the example these cricketers are setting for future generation. Those were the days when Dravid and Sachin use to be so humble. Miss those cricketers.

— deepak chaudhary (@imperialboy) January 6, 2019
Sourav Ganguly would have slapped the way out of Hardik Pandya#KoffeeWithCricketers #KoffeeWithKaran #HardikPandya

— Madhur Jain (@maimadhur) January 6, 2019
#HardikPandya family asks him "inme se Kis kis ko liya hain tuney" "who all have you fucked between them women."@BCCIofficials should apologise because of his behaviour and his perpetual habit of objectifying women as objects of sex.#KoffeeWithCricketers #KoffeeWithHardik

— TandooriPaaplet (@NaanaKatekar) January 6, 2019
#KoffeeWithKaran #KoffeeWithCricketers #HardikPandya #KaranJohar @klrahul11 @hardikpandya7

Classless and the most creepiest episode of one of the most popular chat show!! I have never seen someone so shameless. @BCCI An official comment would be appreciated. pic.twitter.com/lMBRfWtiDx

— Aditya Date (@adityadate27) January 7, 2019
I really wanted to ask hardik parents that u both really proud when u heard "aaj mera beta karke(sex) aaya hai"? #HardikPandya

— sumanpalit (@amsumanpalit) January 8, 2019
Whatever little respect i had for #HardikPandya is completely lost after i have seen this episode.
CringeMaxxxx fellow. https://t.co/wQNkUytq8i

— shriram hemaraj (@shriramtweet) January 7, 2019
Cricket was supposed to be a gentleman's game… Now it's all about misplaced attitude. #HardikPandya showed what an uncultured and misogynistic person he is.. What does he mean by "main karke aaya" disgusting is the word. This is how they view women?.. What has he done in life?

— Smita0912 (@Smita09122) January 7, 2019
Will you understand any of this 🤣🤣 #HardikPandya?? Maybe ask the nuthead with you #KoffeewithKaran pic.twitter.com/VKjg3MEzIe

— Roma (@only4roma) January 7, 2019
Only when you watch the recent episode of koffee with karan, you'll truly understand whom you should inspire and consider as role model. Thank you for the lesson. #HardikPandya– absolutely no common sense in his DNA. #KoffeeWithKaran

— keerthana hari (@keerthanaharii) January 7, 2019
#KoffeeWithKaran #HardikPandya & #KLRahul Episode. @hardikpandya7 U truly r Pathetic & Disgusting. Ve sm Respect towrds Women. & WTF ws tht "Aaj Kar ke aya hoon" & Ur Family ws Cool wth it ? Wt Family is ths ? Or R U Jst Babbling to make Urself Look Cool?

— Anup Shanbhag (@Anup_Shanbhag) January 7, 2019
Just watched #KoffeeWithKaran just to check the reality of this pic & I'm shocked to see that it's a real one! #HardikPandya actually said this 🙈 😷 🤕 🤐 #KoffeeWithCricketers #KoffeeWithKaranSeason6 pic.twitter.com/nXaPjOjLqa

— Nikhil Apegaonkar (@iamnik7) January 7, 2019
Apparently the cheerleaders are to cheer the players after the match and @BCCI hotel rooms are used for bringing in girls.

Things revealed on #KoffeeWithKaran @BCCIWomen will be so proud watching #HardikPandya speak@M_Raj03 @mandhana_smriti @ReallySwara any words on Karan?

— XA (@ManWickyUtd) January 7, 2019
I'm glad that I don't follow #hardikpandya

— Ayushi Richa Mishra (@TheCyberFauji) January 7, 2019
If #HardikPandya spoke shit on the show thinking he is cool , my heart goes out to him !!
He was effortlessly creepy, annoying and disgusting !!
Speaks volumes on the need of education for younger generation of people !!#KoffeeWithKaran

— The Beast (@ChetaKadaChaaya) January 8, 2019
In the rapid fire round, KL says Dhadak was an overrated film but was embarrassed when Karan revealed that he was the producer of the film. He said he would love to take Katrina Kaif out on a date, Arjun Kapoor is an overrated actor and chose Virat Kohli as the better batsman than Sachin Tendulkar.
[wp_ad_camp_1]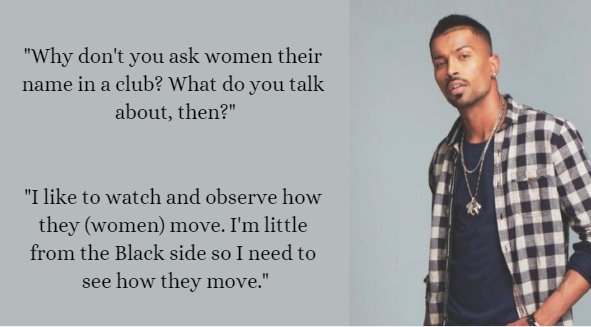 On his turn, Hardik said he would like to take Kareena Kapoor on a date, his go-to pick up like is 'Hard-d**k always', he also said that he found Akshay Kumar's Gold to be overrated. He said he would marry Parineeti Chopra, hook-up with Esha Gupta and kill Urvashi Rautela.