Hardik Pandya Gave Credits To Dhoni In front Of Gambhir !! Fans Can't Keep Calm
By Dhiwaharan
After playing a match winning knock against Pakistan in the ongoing Asia cup, Hardik Pandya who received Man of the Match award, gave credits to Dhoni for his calm and composed attitude in the middle even during the pressure situation. Former Indian player Gautham Gambhir who took dig at people for giving credits to Dhoni for winning the 2011 would cup tournament was present there. Fans were quick enough to notice the reaction of Gambhir and shared the video in Internet with reactions making fun of the cricketer cum BJP politician.
Pandya delivered a stunning all-round performance against Pakistan to help India get a complete five wicket win in a tense final over finish to open their 2022 Asia cup campaign with s win and almost assure themselves of a place in the Super 4 stage.
With his exemplary display of short pitched bowling to take a three wicket haul, Hardik played a vital role in restricting Pakistan to a score of 147. The defending captain of IPL tournament showed his brilliance with the bat as he scored a 17 ball 33 with 6 in the final ball of the match.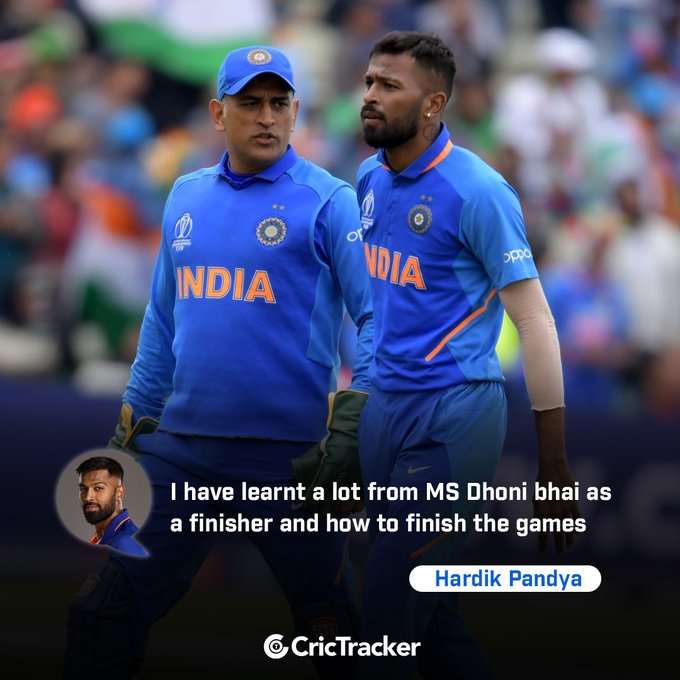 Apart from the display of quality cricket, Hardik Pandya reminded  so much of his idol Dhoni throughout his innings. His calm and composed attitude even during the pressure situation impressed fans and experts. Post the match, in an interview, Pandya credited Dhoni for his relaxed attitude at the crease and asserted that he learnt a lot from Dhoni during their time playing together for Team India. "I have learnt a lot from my MS Dhoni bhai as a finisher and how to finish the games." the cricketer said.
Watch the video below :
Hardik Pandya about @msdhoni 's influence on him ! pic.twitter.com/LQoC5ZYH4c

— 🎰 (@StanMSD) August 29, 2022
Hardik Pandya made the statement in front of Gautham Gambhir who grabbed headlines at the past for taking dig at people who credit Dhoni for 2011 world cup. "Just a reminder
@ESPNcricinfo: #worldcup2011 was won by entire India, entire Indian team & all support staff. High time you hit your obsession for a SIX" the cricketer tweeted when the sports publication uploaded a picture of Dhoni to celebrate the victory on it's anniversary.
Just a reminder @ESPNcricinfo: #worldcup2011 was won by entire India, entire Indian team & all support staff. High time you hit your obsession for a SIX. pic.twitter.com/WPRPQdfJrV

— Gautam Gambhir (@GautamGambhir) April 2, 2020
Here's how internet reacted to the reaction of Gambhir :
Pandya openly crediting Dhoni that too in front of Gambhir 🤣🤣🤣

— ' (@Ashwin_tweetz) August 28, 2022
Pandya swag 😎 #HardikPandya #dhoni #Gambhir pic.twitter.com/ej6rABKX5m

— Onion Meme – வெங்காயம் மீம் (@onionmeme) August 29, 2022
When Gautam Gambhir asked Hardik about his finishing skills :

Hardik said "I have learnt a lot from my MS Dhoni bhai as a finisher and how to finish the games."

Hardik Pandya take ❤️ man!! pic.twitter.com/NovTe1fewx

— its jeni (@jenish_jaya) August 29, 2022
Hardik Pandya credits MS Dhoni for his calm attitude look at Gambhir's reaction.#INDvsPAK #Cricket #HardikPandya #ViratKohli𓃵 #GautamGambhir #AsiaCup2022 pic.twitter.com/0J6D8foekS

— Faizal (@Faizalkhan94) August 29, 2022
Hardik Pandya :

"I have learnt a lot from my MS Dhoni bhai as a finisher and how to finish the games."

அவன நிக்க வச்சி சொன்னான் பாரு, Fan boy 😂🔥

Gambhir reaction 🤣🤣#INDvsPAK @msdhoni @hardikpandya7 pic.twitter.com/3R8kCJYWar

— ͏ ͏ ͏ ͏͏ ͏ ͏͏ ͏͏ ͏ ͏ ͏ ͏ ͏ ͏͏͏ ͏͏͏ ͏𝐀 𝐑 𝐔 𝐍 🛡 (@Itz_Aruntwitzz) August 29, 2022
Pandya praising Dhoni when Gambhir is standing next to him. Imagine the "pressure" gambhir would be in while this happened 😭 https://t.co/YZ2ZStamhM

— JITESH (@Jiteshrochalani) August 29, 2022
It was great seeing Gautam Gambhir's face when Hardik Pandya said that he learnt so much from Ms Dhoni 😂#INDvsPAK | #INDvPAK | #AsiaCup2022 | #MSDhoni𓃵 | #Dhoni | #HardikPandya | #AsiaCup

— Paritosh Kumar 🏏 (@Paritosh_2016) August 28, 2022