Celebrities from all over the world are subject to online harassment in a daily basis. Social media is a place where almost every individual would seek attention from others. In this digital era we could hardly witness anyone who does not have a Facebook, Instagram or Twitter account. Not only common accounts, even verified accounts with enough fame also requires attention to keep their forum engaged but Bella thorne who posted her nude pictures had a different reason to do it.
[wp_ad_camp_1]
She became a victim of online hacking and her personal pictures were sent to her by a hacked who threatened her. But what happened next is just astonishing and a bold decision ever made by an individual as far as her situation is concerned.
On Saturday, the actress took to her Twitter handle to share some of her topless pictures and with that, she shared a strong message too.
In her statement, she wrote, "Yesterday as u all know all my shit was hacked. For the last 24 hours I have been threatened with my own nudes I feel gross, I feel watched, I feel someone has taken something from me that I only wanted one special person to see, He has sent me multiple nude photos of other celebs, he won't stop with me or them he will just keep going."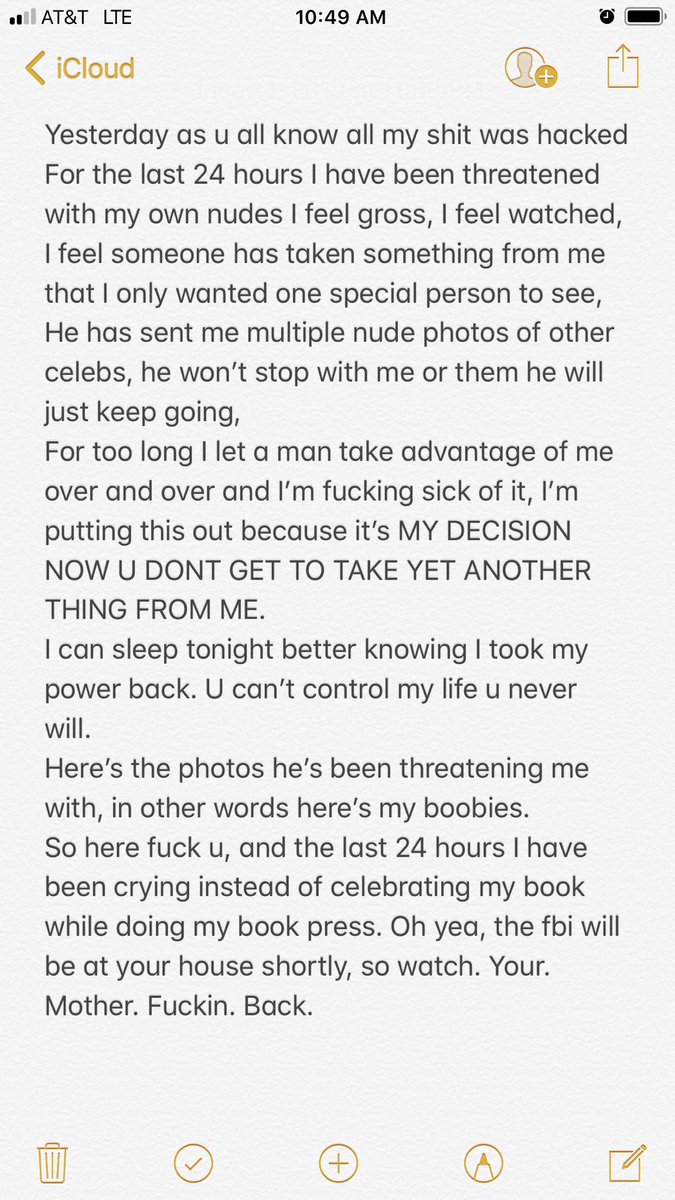 [wp_ad_camp_1]
At the end of her note, she stated, "Here's the photos he's been threatening me with, in other words here's my b****s. So here f**k u, and the last 24 hours I habe been crying instead of celebrating my book while doing my book press. Oh yea, the fbi will be at your house shortly, so watch. Your. Mother. F****n. Back."
Fuck u and the power u think you have over me. I'm gonna write about this in my next book😡😡😡 pic.twitter.com/0Ep0iXgW51

— BITCHIMBELLATHORNE (@bellathorne) June 15, 2019
The incident took a day after Bella Thorne's Twitter account got hacked. There were a series of racist slurs, tweets praising Hitler as a 'genius', pornographic images and screenshots from her other social media accounts posted on her hacked Twitter account. The tweets have since been deleted and the picture returned.
After her initial outburst though, Bella looks like in the mood to forgive thinking the hacker is just a teenager. "This kid sounds like he's 17… we make mistakes, and this mistake is a bad one. But I don't want some 17-year-old's whole life ruined because he wasn't thinking straight. Plus, he's obviously smart so if he got on the right side of the tracks, he could actually possibly help our community and be an alliance. You can't always tear someone down for their bad sides but more so build up their good sides," she told The Hollywood Reporter.
[wp_ad_camp_1]
However, Bella is not the first actress whose social media account has been hacked. A number of female stars have had their private pictures hacked and shared in past years, including Jennifer Lawrence, Aubrey Plaza and Kate Upton.