As every other movie of actor Vijay, Bigil also facing severe controversies as it is nearing its release date. The film which is director by Atlee, has actor Vijay in the lead in three different get ups. Produced by AGS Entertainements, Bigil has Nayanthara as lead lady. Kathir, Vivek, Yogi Babu, Indhuja Ravichander, Jackie Sheroff, Daniel Balaji are some of the other actors taking part in the film.
[wp_ad_camp_1]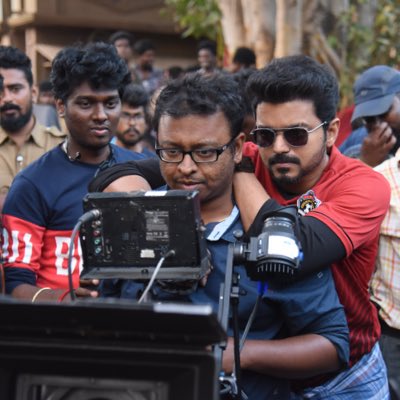 Unlike other Vijay movies which would get into controversy during its release time, BIGIL is facing controversies since the day the shoot of the movie went on floors. Starting from junior artist accusing director Altee's crew of physical harassment to Assistant director KP Selvah accusing the makers for plagiarism, the movie is facing controversy after controversy.
Recently flower sellers demanded the actor to apologize for his speech in Bigil audio launch. In the the launch, the actor told a story of a flower seller as an example to make people understand that they should know where to place whom. This made the flower sellers to demand apologize from the actor.
Now popular politician of BJP party, H.Raja has posted a comment regarding the "Bigil" release which gained the attention of Vijay fans. The politician asked the government to take appropriate action on those who sell tickets illegally. He commented it as an reply to ADMK's tweet about taking action against theatres which are planning to screen special shows on Diwali day.
[wp_ad_camp_1]
"அதோடு மட்டுமல்ல டிக்கெட் Black ல் விற்பவர்கள் விற்கின்ற தியேட்டர்கள் மீதும் கடும் நடவடிக்கை தேவை " read the tweet of H.Raja. Check out his tweet below :
அதோடு மட்டுமல்ல டிக்கெட் Black ல் விற்பவர்கள் விற்கின்ற தியேட்டர்கள் மீதும் கடும் நடவடிக்கை தேவை க்ஷ https://t.co/8vAzXV4SNt

— H Raja (@HRajaBJP) October 23, 2019
Vijay fans started trolling this tweet of H.Raja and said that he is doing the job of a PRO since Mersal. Check out some of their tweets below :
நரி ஊளையிட்டுடுச்சி… படம் சக்சஸ்… 🤣 pic.twitter.com/iWM5lbTscq

— B🅰️L🅰️ (@bala4u4everr) October 23, 2019
பங்கு சப்போர்ட் கைதி 👍#KaithiDiwali

— Akrosha Bakthan🤘🏻 கைதி 💥 (@KadavulinSeedan) October 23, 2019
அதோட மெர்சல் ரிலீஸ் டைம்ல தமிழ் ராக்கர்ஸ்ல படம் பாத்தேன்னு ஒருத்தன் சொன்னான் அவனையும் புடிச்சு உள்ள போடு

— CbeKing 😎 (@NithyNG) October 23, 2019
[wp_ad_camp_1]
அவா வாசிக்க இவா பாட பிரமாதம்.

— Mohi (@mohideenjmm) October 23, 2019
திரையில் கருப்பு பணம்,
கள்ளச்சந்தையை ஒழிக்க பாடுபடுவதும்,
நிஜ வாழ்வில் நேர்மறையாக இருப்பதும் சகஜமான ஒன்றாக நினைதமு விட்டனர்

— S.PARANTHAMAN 🇮🇳 (@sparjaga) October 23, 2019
தெய்வமே.. கொஞ்சம் சும்மா இருங்களேன். பிளாப் படமெல்லாம் நீங்க கொடுக்கிற பப்ளிசிட்டியால 💯 கோடி 200 கோடினு கலெக்ட் ஆகுது.

அந்த படத்துல அப்படி ஏதாவது ஏற்ப்புடையதா இல்லைனாலு அடுத்த மாசம் இரண்டாவது வாரம் பாத்துக்கலாம். அதுக்குள்ள தியேட்டரை விட்டே தூக்கிடுவாங்க.

பிளீஸ் 🙏

— Jesh 🇮🇳 (@hsejarsa) October 23, 2019
வா தலிவா.. வா… அர்ச்சனாக்கா ப்ரொமோவே இன்னும் விடல.. நீ அழுங்காம ஏறி ஒக்காரு.. #BIGIL #BigilDiwali pic.twitter.com/zypeoc2hKJ

— D α ρ ρ є R (@vinee_says) October 23, 2019
Blackல டிக்கட்டா? எந்த காலத்துல சார் நீங்க இருக்கீங்க? அந்த ப்ளாக் டிக்கெட் விற்பதை தான் இப்போ Online ticket booking app கள் செய்கிறதே…
டிக்கெட் விலை 120 , ஆனா online booking charges extra 30.

— Mohan Raj (@IammohanrajRaj) October 23, 2019
Singam kalam erangidichee 😂😂😂 pic.twitter.com/9IyDK7oeoA

— Gullyboy (@vishstaler) October 23, 2019
What do you think on this tweet of H.Raja ?? Comment your views !!